Ranveer Allahbadia is one of most popular Indian YouTubers with a huge fan following.
His YouTube channel, BeerBiceps mainly focuses on self improvement, entrepreneurship, etc.
Introduction-
Ranveer Allahbadia was born on 1 June 1993 in Mumbai, Maharashtra.
Both his parents are doctors.
His father, Gautam Nand Allahbadia is a doctor and medical director at Millennium Medical Center MMC IVF Fertility Center in Dubai.
His mother, Swati (Shroff) Allahbadia works as an endoscopist and fertility physician at Breach Candy Hospital, Mumbai.
Ranveer has an elder sister, Akanksha Allahbadia Gupta and she also is a doctor.
Schooling-
Ranveer did his schooling from Dhirubhai Ambani International School, Mumbai.
He was very inspired by his school motto, "Dare to Dream, Learn to Excel" which was printed on his school diaries and calendars.
His first video-
In 2005, at the age of 12, Ranveer received a digital camera from his father.
Thanks to this camera, he learnt photography and videography on his own.
Later, Ranveer shot a video of his neighbourhood stray dogs and kids.
After shooting this video, he downloaded a video editing software on his PC and learnt video editing and edited this video.
Bollywood dream-
After creating his first video, Ranveer developed a passion for filmmaking.
At that time, he was inspired by Yash Chopra and wanted to grow up to become a film director in Bollywood.
But his parents wanted Ranveer to think of becoming a director only after his graduation.
And while he was in 10th standard, his parents convinced him that he couldn't enter Bollywood as he belonged to a family of doctors and not Bollywood actors.
So, Ranveer gave up his dream of becoming a Bollywood film director.
Dark phase-
In high school, due to some personal problems, he started overeating junk food.
As a consequence, Ranveer became overweight and at 16, he developed a gallbladder stone and other health issues.
The silver lining was that these health issues got him introduced to fitness.
Ranveer later started working out from his second year of engineering.
Engineering-
Ranveer was a very well performing student until his high school and wanted to become a good engineer.
In 2009, he finished his schooling from Dhirubhai Ambani International School.
Later, Ranveer chose to graduate in electronics and telecom engineering.
Unfortunately, his first year of engineering turned out to be very bad.
Ranveer thought that engineering would be very practical and would teach him innovative solutions to real world problems.
But in college, the completely opposite happened.
Mugging up theory without any emphasis on practical education made him lose his interest in studies.
Bad friends-
At this phase of his life, he started to consume alcohol, thanks to the company of bad people with whom he surrounded himself with.
Ranveer was subjected to extreme negativism in his life in the form of bad company, bad relationship, bad education system, failures in his college, etc.
All these circumstances made him neglect his studies and he used to often cram up before the examinations.
Alcoholism-
Due to all the negative things occurring in his life, Ranveer started consuming alcohol too often, three times a week.
At this point of his life, he became an alcoholic.
His parents grew too concerned for his son by observing his habits.
Unfortunately, during this phase of life Ranveer also had a break-up.
And the new person with whom he established a relationship fooled around him.
First failure-
In his first year of engineering, Ranveer failed in a very important subject, Basic Electrical Engineering.
He got to know about this failure in the month of February.
Ranveer was very pained by this failure because he never failed in his life before.
In fact, he was a topper in his high school.
Ranveer was subjected to immense pressure because all his family members were well-educated from the top most institutions in the country, so he felt a little awkward to present himself in front of his well-accomplished family members.
Thinking of committing suicide-
Due to all these failures, Ranveer thought of committing suicide.
Luckily, his parents understood his situation and the circumstances which led him to fail and they supported him well enough.
His mother explained to him that life is much more than failing exams and that college life is just a small part of life.
Getting tattooed-
So, the next day, his mother gave Ranveer the freedom to do anything which makes him feel happy.
So, he got a tattoo on his arm, so that he can remember the lowest part in his life whenever he looks at his tattoo.
By looking at the tattoo Ranveer affirms himself that he had experienced the darkest phase of his life and nothing can get worse than that.
This tattoo reminded him that he won over the bad phases in his life and so, he can handle any challenges in his life.
After this, Ranveer reduced his alcohol intake because he realised that this habit made him fail.
Hitting the gym-
In his second year of engineering, Ranveer started gymming because since his childhood he wished to have a good physique.
He was inspired by John Cena, Brock Lesnar and a cartoon character by the name Goku.
Both weight training and gymming shifted Ranveer Allahbadia's life in a very positive way.
After a period of one month, Ranveer noticed the effects of physical exercise on his body and was amazed by the results.
This habit changed his life in more than one way, he abandoned consuming alcohol and started eating healthy food, because he realised that to obtain a good physique, one must eat healthy and should not drink and smoke.
Later, he became a certified fitness coach.
Adding positivity-
These developments added positivity in Ranveer Allahbadia's life and he started to like engineering and started studying hard, even though many of his friends dropped out of college.
Finally, in 2015, he graduated with first class from Dwarkadas J. Sanghvi College of Engineering.
Entrepreneurship-
After graduating, Ranveer wasn't interested in making a career in engineering.
As he was into fitness, he wanted to start a fitness business.
Initially, Ranveer started training people to become fit but later he realised that he could earn even more by launching a fitness related app.
He wanted to launch an Uber like app for fitness trainers by which people could order trainers to their place.
After developing the app, Ranveer approached potential investors and he was suggested to start working on social media for marketing purposes.
At that time, someone recommended him to start a YouTube channel because many YouTube channels were rapidly growing at that time and also because there weren't any good YouTube channels focusing on fitness of Indians.
Starting BeerBiceps-
Ranveer started his YouTube channel in August 2015 by the name BeerBiceps.
Ranveer rekindled his childhood dream of filmmaking through his YouTube channel.
After a while, he learnt about YouTube monetisation and then, dropped his idea of the fitness app to solely focus on his YouTube channel.
His typical day consisted of shooting videos from morning till afternoon, and then editing those videos until evening.
Then, Ranveer used to go to the gym after which he used to train people until night; he also used to distribute pamphlets about his YouTube channel.
After completing all these tasks, he used to reach home at midnight.
Pursuing his dream-
Even though Ranveer did not have money or proper investment, he pursued his dream of starting a YouTube channel.
He started his YouTube channel with the help of his laptop and a smartphone.
Soon, Ranveer realised the importance of good equipment like cameras, etc. in YouTubing.
Selling his most precious thing-
For purchasing the gear required for YouTubing, Ranveer sold his PlayStation 2 and all the video games.
He had a great attachment with PlayStation because he played on it for almost 10 years.
But Ranveer sold his most favourite things to realise his dream and also to not depend on his parent's money.
Initially, he used to upload videos related to fitness, but later he also started uploading videos related to life hacks.
A million views-
Unfortunately, many of Ranveer Allahbadia's life hack videos couldn't perform well.
So, he tried his luck by producing men's style and fashion videos.
One of his newest videos became very popular and it garnered over one million views within a single week.
Being disciplined helped Ranveer immensely in becoming a successful YouTuber.
Luckily, he acquired this habit of discipline from gymming.
All the negative things which occurred in his life, transformed Ranveer into a much stronger person.
And this enabled him to attain great success which many people only dream of.
Ranveer also runs BeerBiceps in Hindi and this YouTube channel is named as Ranveer Allahbadia.
This channel was founded on March 29, 2017.
Additionally, Ranveer also operates a podcast channel in English, TheRanveerShow Clips.
This was founded on December 7, 2019.
Interviewing famous people-
Ranveer interviewed many famous personalities on BeerBiceps like-
Never looking back again-
Now, Ranveer successfully runs two companies, BeerBiceps and Monk Entertainment and provides employment to many people.
Monk Entertainment also known as Monk-E is a private management consulting company founded in 2017 by Ranveer and Viraj Sheth and is headquartered in Mumbai, Maharashtra.
Monk-E is a media organisation which specialises in influencer marketing, social media management, digital advertisement and video production.
Ranveer is a very successful YouTuber and entrepreneur.
His YouTube channel, BeerBiceps is blessed with more than 3 million subscribers.
Feedback from readers is highly appreciated, it helps me to deliver better results to you.
Infographic-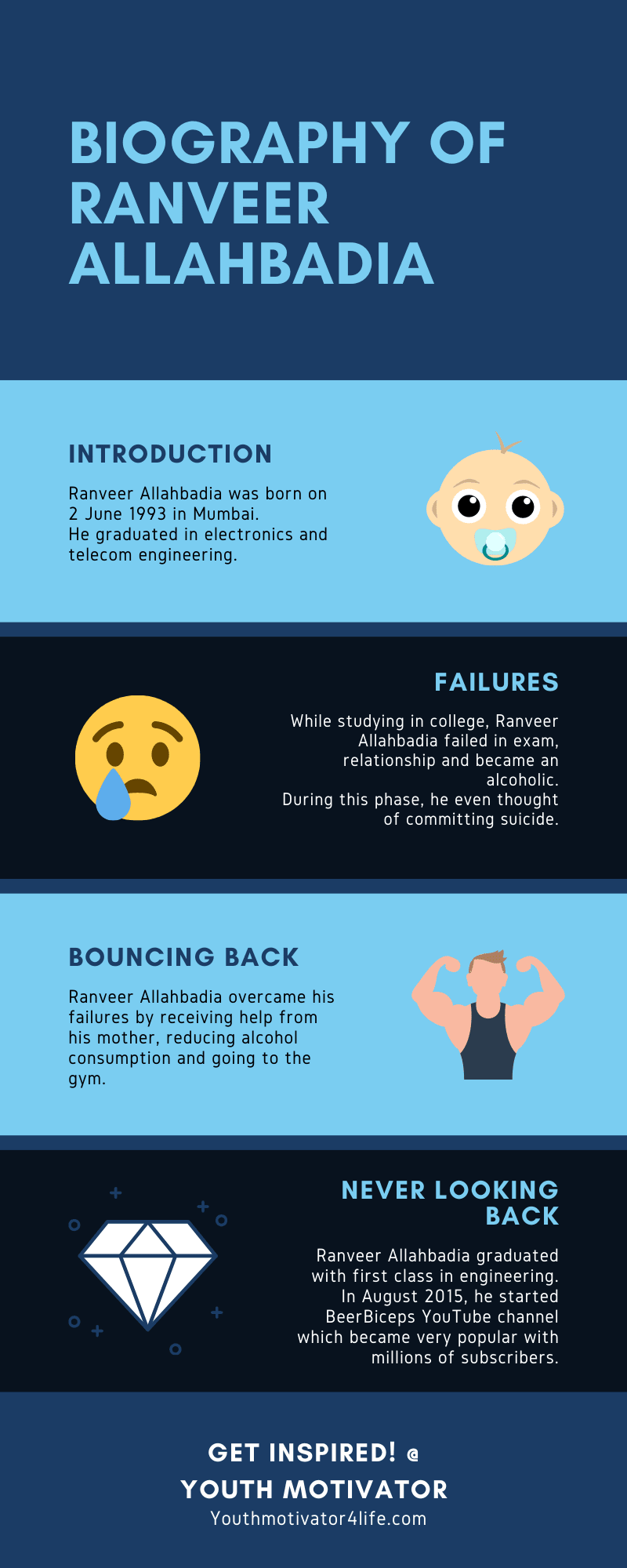 Frequently Asked Questions (FAQs)
What does Ranveer Allahbadia do?
Ranveer Allahbadia wears many hats like-
• He is a YouTuber. Ranveer motivates masses through his four YouTube channels namely, Ranveer Allahbadia, BeerBiceps, TRS Clips and TRS Clips हिंदी.
• Ranveer is a motivational speaker. He mainly motivates the youth with his speeches. Ranveer Allahbadia's speeches are very popular and he delivered speeches at various locations like Reliance Corporate Park, Navi Mumbai and TEDx Talks, etc.
• He is a social media entrepreneur and founded BeerBiceps and co-founded Monk Entertainment.
• Apart from these, Ranveer is also a life, leadership and career development coach.
• He is also authoring a book on weight loss.
Is Ranveer Allahbadia vegetarian?
Yes, Ranveer Allahbadia is a vegetarian.
Until he turned 26, he was a non-vegetarian and used to love eating mutton and chicken.
But Ranveer realised that non-vegetarian food isn't that healthy for his mind and body.
Also, he didn't like causing pain to the other creatures. Ranveer Allahbadia's love for his pet dogs made him think about the sufferings of other animals.
Thanks to all these realisations, he completely abandoned eating non-vegetarian food and now, he is a complete vegetarian.
Through his videos, he urges others to become vegetarian.
Ranveer says that it is completely possible to build a great body and muscles with a vegetarian diet.
Where does Ranveer Allahbadia live?
Ranveer Allahbadia currently lives in Mumbai, Maharashtra.
His office of Monk Entertainment is located at Kamat Industrial Estate, SVS Road, Prabhadevi, Mumbai.
Is Ranveer Allahbadia from Allahabad?
No, Ranveer Allahbadia is not from Allahabad.
He was born and raised in Mumbai.
Who is Viraj Sheth?
Viraj Sheth was a junior of Ranveer Allahbadia in engineering at
Dwarkadas J. Sanghvi College of Engineering.
Both Viraj Sheth and Ranveer co-founded Monk Entertainment.
Also, Viraj Sheth is the CEO of Monk Entertainment.
He is skilled at digital marketing and brand management.