Johnny Lever is a very popular comedian and Bollywood actor.
He acted in hundreds of Bollywood films and won many awards.
Introduction-
John Prakash Rao Janumala (Johnny Lever) was born on 14 August 1957 in Kanigiri, Prakasam district, Andhra Pradesh.
His father, Prakash Rao Janumala worked at the Hindustan Lever Limited (now known as Hindustan Unilever).
Johnny Lever's mother is Karunamma Janumala.
When he was a child, he and his family shifted to Mumbai.
Johnny Lever has two children, a daughter, Jamie Lever and a son, Jesse Lever.
Jamie Lever followed her father's footsteps and became a comedian and actress.
Jesse Lever is also a Bollywood actor.
Living in a slum-
Initially, Johnny Lever and his family lived in a chawl in Matunga Labour Camp, Dharavi, Mumbai.
When he was ten years old, he and his family shifted to live in the slums at Kings Circle.
Johnny Lever lived here in a hut until he turned 18.
He experienced poverty all through his childhood.
Johnny Lever married Sujatha in 1984 and he lived in a rented house until 1990 and he purchased his own house in 1990.
And in 1991, Johnny Lever shifted to live in his own house.
Currently, his residence is near Lokhandwala Complex.
A born artist-
In his childhood Johnny Lever picked up the habit of mimicking and imitating people.
While studying in the Andhra education society English high school, he used to mimic his teachers and he also received appreciation from his class teacher for his acting skills.
When Johnny Lever turned 10, he started entertaining people by his mimicry and dances.
While living in the Kings Circle, he observed diverse people who settled there from different parts of India and this greatly helped him improve his mimicry.
Working from a young age-
Johnny Lever started working when he was 10 years old.
At that time, he used to return from school and do some odd jobs to earn money.
After completing his 7th grade, Johnny Lever dropped out from school.
Thinking of committing suicide-
Johnny Lever's father was an alcoholic and used to torture his mother and neighbours.
When Johnny Lever turned 13, he became very fed up with his father and thought of committing suicide.
So, he laid on a railway track to commit suicide but fortunately, at the last moment he realised his responsibilities towards his three sisters and refrained from committing suicide.
Selling pens-
When Johnny Lever turned 10, he started dancing and performing in some orchestras on the streets.
Even though he used to earn only ₹5 per show, he used to get many awards for his performances.
But when Johnny Lever turned 15, Arjun, his Sindhi neighbour wasn't happy with his work and opined that dancing could never become his profession and so, he suggested he do some business.
As Arjun was already in the business of selling pens, he helped him to set up a business of selling pens.
Arjun purchased Johnny Lever some ball and fountain pens to sell.
And he started selling pens on the road located in front of the Shanmukhananda Auditorium and was earning around ₹20-25 per day.
Using mimicry to sell pens-
Initially, Johnny Lever couldn't earn well by selling pens.
Then, he started selling pens by mimicking the voices of famous Bollywood actors like Ashok Kumar, Jeevan and Sanjeev Kumar.
And thanks to this, Johnny Lever was able to attract many people and sell pens to them and this greatly improved his earnings.
But his Sindhi friend, Arjun who was also selling pens nearby him wasn't happy with his success because all the people would flock to Johnny Lever and this negatively affected Arjun's business.
Stock gets confiscated-
Even as his business was going well, Johnny Lever wasn't satisfied with it as he badly missed acting.
His business of selling pens continued for around three months until one day the municipal authorities confiscated all his pens and took them away in a lorry.
This forced Johnny Lever to quit this business.
His inspiration–
As a child, Johnny Lever was impressed by the performance of Dinesh Hingoo at Shanmukhananda Auditorium.
And he inspired him to become a mimicry artist.
At 16, Johnny Lever learnt mimicry from Pratap Jani and Ram Kumar.
Meeting Kalyanji-
Musharraf Khan, a tabla player and another musician, Kishore who plays side rhythms in films introduced Johnny Lever to Kalyanji Virji Shah, a famous film musician.
Kalyanji was very impressed by his talent and agreed to take him along with his world tours.
When he turned 17, Johnny Lever started doing mimicry and stand-up comedy on stages.
He did his life's first successful auditorium show in Ravindra Bharathi, Hyderabad.
Joining Hindustan Lever Limited-
When Johnny Lever turned 18, he got a job in the Hindustan Lever soap factory where his father was already working.
He obtained this job because his father wasn't happy with him acting.
As Johnny Lever wasn't well educated, he was given a job of a labourer in the catalyst department of the factory.
Even while working here, he used to take the time out to do shows and perform all across India.
When Johnny Lever was 19, he performed for the first time in the Shanmukhananda Auditorium, one of the biggest auditoriums of Asia.
In 1975, he used to earn ₹30 per show.
John Rao becomes Johnny Lever-
Once Johnny Lever did a mimicry show in the Hindustan Lever factory and mimicked his senior officials.
Everyone was very impressed by his performance and at that time, his union leader, Suraj Bhosle christened him Johnny Lever (prior to this, he was known as John Rao).
In 1980, he became so busy with going on tours and doing shows that he couldn't attend his job well.
So, after working for six years from 1975 to 1981, Johnny Lever resigned for his job in 1981.
He resigned for his job because he was confident that he could make a living by doing shows.
On 23 February 1986, Johnny Lever released a comedy cassette by the name, Hasi Ke Hangame.
Entering the film industry-
Initially, Johnny Lever was performing in the shows of Kalyanji and once a producer from Chennai approached Kalyanji looking for a comedian to act in his film.
Then, Kalyanji referred him and thanks to this, he got a chance to act in the film.
So, in 1980, Johnny Lever travelled to Chennai to act in his first ever film, Yeh Rishta Na Tootay.
Later, Sunil Dutt observed his talent and gave him an opportunity to act in the film Dard Ka Rishta.
Since then Johnny Lever started getting chances to act in the films.
Becoming famous-
Initially, as Johnny Lever had no knowledge of acting in movies, he struggled to act.
Fortunately, N. Chandra greatly helped and guided him.
People loved his acting in the film Love 86 and thanks to this, Johnny Lever got an opportunity to act in Jalwa.
During that time, Hum Log television serial was very famous and he did an act on it and with this he became very famous.
Johnny Lever became famous in Bollywood only after his performance in Baazigar in 1993.
Learning everything on his own-
Johnny Lever never attended acting classes and learnt everything on his own by watching movies and observing people around him.
Apart from acting in movies, he used to also do ticket shows all across the world.
In 2021, Johnny Lever acted in Hungama 2 and this is his recent film.
He won two Filmfare Best Comedian Awards and also won a Screen Award for Best Comedian and a Zee Cine Award for Best Actor in a Comic Role.
Some interesting facts about Johnny Lever-
Johnny Lever is a fan of Charlie Chaplin.
Ashok Kumar was the first actor whom he mimicked.
Johnny Lever loves solving movie crossword puzzles and word search puzzles.
Apart from acting in Hindi films, he also acted in Marathi, Tamil, Telugu, Tulu, Gujarati and Kannada films.
So, how are you inspired by the success story of Johnny Lever?
Tell me in the comment section below.
Please appreciate my work by sharing this article.
Frequently Asked Question (FAQ)
Can Johnny Lever speak Telugu?
Yes, Johnny Lever can speak and read Telugu.
He knows Telugu very well because his mother tongue is Telugu and also he studied Telugu in school.
Even Johnny Lever's children speak Telugu.
Apart from Telugu, he speaks many languages like Hindi, Marathi, English and Tulu.
An infographic on biography of Johnny Lever-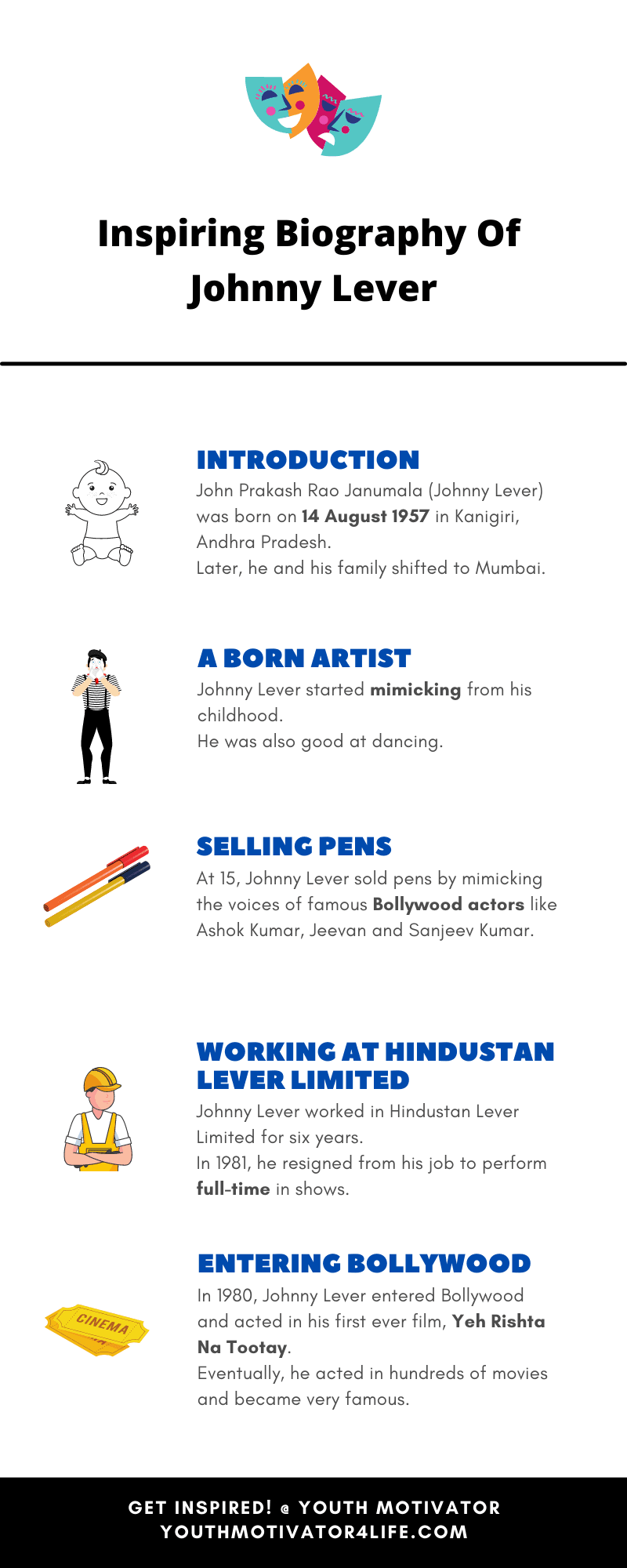 Featured Image credit: Bollywood Hungama/Wikimedia Commons