Jamie Lever is a famous comedienne and actress.
She is popular for her mimicry and is also a talented singer.
Introduction-
Jamie Lever was born on 19 October 1987 in Mumbai and she grew up in Mumbai.
Her father, Johnny Lever is a renowned comedian.
Her mother, Sujatha Lever is a housewife.
Jamie Lever has a younger brother, Jesse Lever and he is a Bollywood actor.
Education-
Jamie Lever was a poor student in school and wasn't much interested in studying.
She scored 73% in her tenth standard and 56% in her twelfth standard.
Jamie Lever's mother wanted her to grow up to become a gynecologist.
After completing her intermediate, she enrolled in St. Xavier's College in 2004 to study H.S.C Arts.
Then, in 2006, Jamie Lever joined Jai Hind College, Mumbai to study Bachelor of Mass media (BMM) and here, she specialised in advertising.
She scored 75% in BMM.
Later, in 2009 Jamie Lever moved to London to study MA Marketing Communications from University of Westminster.
First stand-up comedy show-
Jamie Lever participated in many plays while studying in school.
While studying at the Jai Hind College, she and her friend did a stand-up comedy show and won the first prize.
Jamie Lever invited Johnny Lever as a judge to this show.
Mimicking at a young age-
As a child Jamie Lever used to mimic her teachers after returning from school in front of her mother.
During that time, little did she know that she would grow up to become an artist.
Inspired by Michael Jackson and Rowan Atkinson-
In her childhood, Jamie Lever watched countless DVDs of Michael Jackson and Rowan Atkinson (famous for Mr. Bean) and got very impressed by them.
During that time, Johnny Lever used to perform in many shows all over the world and pick up many DVDs of Michael Jackson and Rowan Atkinson.
He would store all these DVDs in his cupboard and as he was too busy to watch them, Jamie Lever watched all of them.
Starting in London–
While studying at the University of Westminster, Jamie Lever attended acting workshops in her university and she also watched stand-up comedy shows and dramas in London.
In July 2010, she joined Fold7 as a digital marketing intern.
Even while working, Jamie Lever performed with a European group.
At that time, she didn't have the confidence to become a full-time comedienne as she knew that her father wouldn't like her becoming a comedienne.
So, initially, Jamie Lever thought of becoming either a producer or director but later, she decided to follow her heart and become a stand-up comedienne.
Convincing her parents–
Jamie Lever phoned her mother in India and requested her to allow her to become a stand-up comedienne.
When Johnny Lever came to know about her decision, he wasn't happy.
He didn't want Jamie Lever to become a comedienne because as he himself is a comedian, he knows the struggles and the amount of work to become a successful comedian or comedienne.
But she didn't give up and pleaded with him to allow her to become a comedienne.
Johnny Lever gives a chance-
Johnny Lever wasn't sure if she could become a successful comedienne or not and so he decided to give Jamie Lever a small chance.
He had a show in London and he met her prior a week in London and told her to perform stand-up comedy for 10 minutes in his upcoming show.
Jamie Lever's future was dependent on those ten minutes, if she performed well, Johnny Lever would give her a green signal to become a comedienne.
A standing ovation-
Jamie Lever prepared a show on the people and life in London and Johnny Lever took her audition in a closed room.
Then, he agreed to let her perform on the stage.
Thanks to Jamie Lever's excellent performance, she received a standing ovation.
And Johnny Lever got completely convinced with her and allowed her to follow her passion.
Then Jamie Lever returned to India to start her career as a comedienne.
Fighting obesity-
During that time, Jamie Lever was very overweight thanks to the unhealthy food that she had while in London.
After returning to India, her mother presented her with two choices, either to become fit and be known only because of her talent or to be overweight and allow herself and people to joke on her appearance.
Luckily, Jamie Lever chose the former because she didn't want to get offended because of her appearance.
So, she rectified her diet and became fit by losing 20 kgs of excess weight.
This transformation boosted her confidence.
Receiving training-
Jamie Lever took training in singing, dancing and also Urdu.
As her uncle Jimmy Moses is a comedian, she took training from him.
During that time, Jamie Lever also learnt comedy from Aditi Mittal doing Open Mic.
Joining The Comedy Store-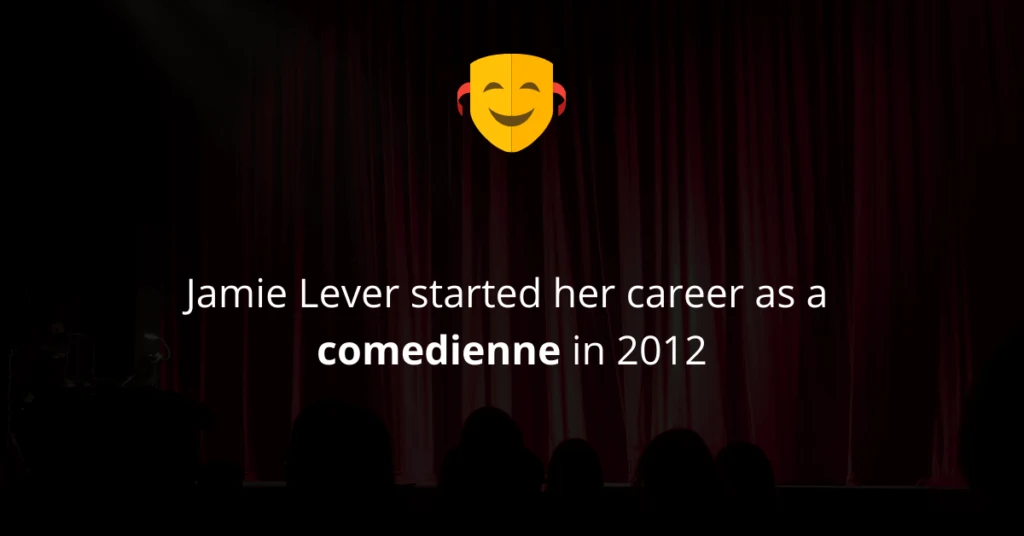 In 2012, Jamie Lever joined The Comedy Store in Mumbai as a stand-up comedienne.
And during that time, there were very few comediennes in India.
Once Jamie Lever had to give a show at 10 p.m. but unfortunately, she was overconfident and went to the show without any preparation.
And she couldn't perform well on the stage and at that moment she learnt the importance of preparation.
Later, in December 2012, Jamie Lever exited from The Comedy Store.
Joining Comedy Circus-
Then, Jamie Lever gave an audition for the Comedy Circus and in August 2013, she got selected.
She also acted in other television shows and her mimicry of Asha Bhosle made her very popular.
Later, Jamie Lever also became popular on social media.
She runs a YouTube channel by her name and in September 2020, she received a Silver Play Button for passing 100,000 subscribers.
Acting in films-
Thanks to some of her viral videos, Jamie Lever got a chance to act in the Kis Kisko Pyaar Karu film.
After acting in this movie, she started performing in a TV show and here someone noticed her and gave her an opportunity to act in another movie.
Likewise, Jamie Lever acted in Rashtraputra and then in Housefull 4.
Some interesting facts about Jamie Lever-
Thanks to her excellent acting skills, Jamie Lever received praise from many Bollywood personalities like Javed Akhtar, Sunil Shetty, Abhishek Bachchan and Anil Kapoor.
Her biggest critiques are her father and mother.
Jamie Lever's favourite actors are Hrithik Roshan, Vicky Kaushal, Aamir Khan, Amitabh Bachchan and Shah Rukh Khan.
Her favourite actress is Kareena Kapoor.
Jamie Lever's favourite comedians are Kunal Kamra and Varun Grover.
She can not only sing Hindi songs but also Arabic, Gujarati, English and Spanish songs.
So, how are you inspired by the biography of Jamie Lever?
Tell me in the comment section below.
Please appreciate my work by sharing this article.
Featured Image credit: Bollywood Hungama/Wikimedia Commons