Amit Bhadana is one of India's most popular YouTubers.
His YouTube channel by the name, Amit Bhadana has more than 23 million subscribers.
Introduction-
Amit Bhadana was born in 1993 into a middle class family in Bulandshahr, Uttar Pradesh.
His father used to work as a truck driver whereas his mother is a housewife.
Amit Bhadana has a younger brother, Sumit and a younger sister.
Currently, his sister is studying MBBS.
After living in Bulandshahr for the first five years of his life, Amit Bhadana moved to Delhi.
He currently resides in Delhi.
Losing his father-
Amit Bhadana at a young age of 5 lost his father.
A sad incident was that Amit Bhadana's father also lost his father at the age of 5.
Amit Bhadana's grandfather was an army personnel.
Losing his father made Amit Bhadana understand the responsibilities of his family at a young age.
He was brought up by his mother and uncle.
Education-
Amit Bhadana completed his schooling from a government school in Delhi.
Even though his family members pressured him to study, he didn't like studying.
After completing his schooling in 2011, Amit Bhadana joined Satyawati College in New Delhi for his graduation.
After completing his graduation, he studied law, then did Master of Arts (MA) in English and later studied Master of Laws (LL.M.).
Amit Bhadana did advocacy in Ghaziabad, Uttar Pradesh.
Struggling financially-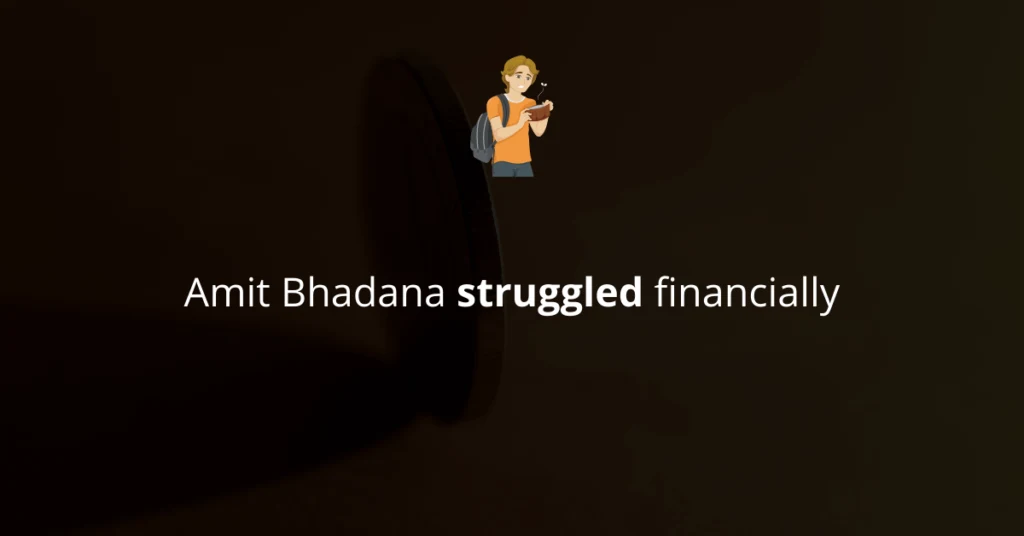 As Amit Bhadana hailed from a middle class family, he and his family struggled financially.
Due to their poor financial condition, their relatives looked down on them.
Many dreams-
As a child Amit Bhadana was inspired by many cricketers like Sachin Tendulkar, Robin Singh, Sourav Ganguly and Rahul Dravid and he too wanted to grow up to become a cricketer.
Also, he was a very mischievous child and due to this, he got beaten by his uncle many times.
When Amit Bhadana was 12, he realised his responsibilities towards his family and gave up his dreams of becoming a cricketer and wanted to graduate and get a job.
When he was 16, someone appreciated his dance and thanks to this, he wanted to become a dancer.
Later, someone appreciated his singing and due to this, Amit Bhadana changed his mind to become a singer but later when he realised that he couldn't sing well, he abandoned his dream of becoming a singer and focused on his education and wanted to become a lawyer.
Starting with dubbing-
In 2013, while in graduation, Amit Bhadana dubbed a scene of the Border movie.
He uploaded this dubbed video onto Facebook and this video got five million views.
Soon, he started creating these kinds of dubbing videos and he also dubbed the songs of Adele and Eminem.
Later, Amit Bhadana dubbed the songs of Justin Bieber and Jennifer Lopez with Haryanvi songs.
He was very happy with his work and he also started gaining popularity.
Borrowing his friend's phone-
During that time, as Amit Bhadana didn't have money, he borrowed his friend's unused iPhone 5s for creating videos.
His friend had two phones and he wasn't using his other phone, so he gave away his phone.
Amit Bhadana started editing his videos with the iMovie software of iPhone and as he became involved with editing videos, he used to spend nearly eight hours editing videos.
Videos got deleted-
As Amit Bhadana started gaining popularity, Facebook deleted his videos.
And this made him choose YouTube for uploading his videos.
So, from March 2017, Amit Bhadana started uploading videos on his Amit Bhadana YouTube channel.
Even though he created this channel on October 24, 2012, he started working on it only from 2017.
At that time, Amit Bhadana's brother used to help him as a cameraman.
Embracing desi slang-
Amit Bhadana observed his elders and was very influenced by their desi slang and sarcasm.
He observed that the content on YouTube lacked desi slang and sarcasm and so he decided to make videos with them.
At that time, Amit Bhadana didn't like doing a normal 9-5 job and so he decided to make his career in YouTube and started working hard.
Many health issues-
Amit Bhadana started his YouTube career while in hospital.
At that time, he underwent a surgery on his chest and he used to edit his videos on the hospital bed.
Later, Amit Bhadana also underwent a surgery for the removal of his kidney stones.
Inspired by Bhuvan Bam-
During that time, the videos of Bhuvan Bam (BB Ki Vines) were getting very popular and this inspired Amit Bhadana to work on YouTube more seriously.
His video titled- Gully Cricket-School Cricket Be Like was his first video to get viral and this video was uploaded on March 22, 2017.
Achievements-
Amit Bhadana is India's first YouTuber to cross 20 million subscribers.
On February 20, 2019, he was awarded Dada Saheb Phalke International Film Festival Award 2019.
Amit Bhadana received Gold Play Button and Diamond Creator Award from YouTube.
Some interesting facts about Amit Bhadana-
Amit Bhadana loves writing poems and he created many songs for his YouTube channel.
On October 26, 2020, he created his second YouTube channel by the name, Amit Bhadana Dwitiya.
Amit Bhadana also worked with the famous Bollywood actors like Akshay Kumar and Ajay Devgan.
His favourite Bollywood actors are Amitabh Bachchan, Deepika Padukone, Johnny Lever, Rajpal Yadav, Ranbir Kapoor, Govinda, Akshay Kumar, Shah Rukh Khan and Kangana Ranaut.
Amit Bhadana's favourite rappers are Yo Yo Honey Singh and Raftaar.
He loves farming and rap music.
So how are you inspired by the success story of Amit Bhadana?
Tell me in the comment section below.
Please appreciate my work by sharing this article.
Featured Image credit: Bollywood Hungama/Wikimedia Commons