Amitabh Bachchan is one of the most famous and influential actors of Bollywood.
Apart from being a great actor, he is also a television presenter, playback singer, film producer, gardener and a former politician.
Introduction-
Amitabh Bachchan was born on 11 October 1942 in Allahabad, Uttar Pradesh, India.
His father, Harivansh Rai Bachchan was a well-known poet and his mother, Teji Bachchan (Teji Suri Harivansh Rai Srivastava Bachchan) was a social activist.
This couple was blessed with two sons, Amitabh Bachchan (the elder one) and Ajitabh Bachchan.
Teji Bachchan greatly inspired Amitabh Bachchan to make a career in films.
Harivansh Rai Bachchan and Teji Bachchan were very patriotic, and they initially named Amitabh Bachchan as Inquilaab Srivastava because at that time, they were inspired by the Quit India Movement and by the phrase Inquilab Zindabad which was widely being used at that time.
Inquilab Zindabad means long live the revolution (Indian revolution).
Later, Sumitranandan Pant, a fellow poet, suggested Harivansh Rai Bachchan to change his son's name from Inquilaab Srivastava to Amitabh.
So, Inquilaab Srivastava was renamed to Amitabh Bachchan. The word Amitabh means the light which never turns off.
Education-
Amitabh Bachchan did his primary schooling at the St. Mary's Convent School located at Allahabad.
He joined Sherwood College in Nainital, Uttarakhand for his further education.
Later, Amitabh Bachchan attended Kirori Mal College, University of Delhi. He holds a double Master of Arts degree.
After completing his education, Amitabh Bachchan started searching for jobs at several places in Delhi but was unable to secure any job.
So, along with his friends he moved to Kolkata, West Bengal.
There, in the 1960s, Amitabh Bachchan secured an executive job at the Bird and Company.
He was paid a meagre salary of 500 rupees per month for his first job. Amitabh Bachchan lived in Kolkata for around five years.
Getting rejected by All India Radio-
Before entering into Bollywood, Amitabh Bachchan wanted to become a radio announcer for All India Radio and one of his friends suggested him to try for a job of radio presenter at All India Radio (Akashvani).
So, he gave auditions in both Hindi and English languages for that job.
Unfortunately, during the late 1960s, Amitabh Bachchan got rejected twice at the voice test conducted by the All India Radio.
Ameen Sayani, a famous former radio announcer rejected him on the grounds that his voice was not suitable for radio.
He was a very busy man during those times and was doing 20 shows a week and one day Amitabh Bachchan came to meet Ameen Sayani without an appointment.
Amitabh Bachchan badly wanted the job of radio announcer, so he visited the studios of All India Radio many times.
Around this time, when he was getting rejected many times for the job of radio announcer at All India Radio, he realised his passion for acting.
Later, Ameen Sayani was shocked and could not believe his eyes when he saw the performance of Amitabh Bachchan in the Anand film.
Ameen Sayani regretted denying Amitabh Bachchan a chance but he felt happy that this rejection made him one of the biggest stars of the Indian cinema.
He also said that if he would have given him a chance at All India Radio, Amitabh Bachchan would have given him a very tough competition.
Moving to Mumbai-
In 1968, Amitabh Bachchan moved to the city of Mumbai to try his luck in films.
In the initial days, he used to sleep on the footpaths of Marine Drive.
In 1969, Amitabh Bachchan made a debut as a voice narrator in the film Bhuvan Shome for which he was paid a sum of 300 rupees.
You will be surprised to know that the voice which was rejected by the All India Radio gave him a chance at Bollywood.
In the initial days, even after trying very hard, Amitabh Bachchan was not given any offers at Bollywood and this made him feel upset and he even felt that he could not make it into Bollywood.
At that time, he even decided to act as an extra in the films and so, one day he was standing in the crowd to act as an extra.
Luckily, Shashi Kapoor, a legendary actor noticed him and requested him to not to act as an extra as he is born to act for big roles.
Shashi Kapoor felt that Amitabh Bachchan cannot make a career in the films by standing amidst the crowd.
Thankfully, the words of Shashi Kapoor actualised and he was rejected to act as an extra and later, as we all know he went on to become a great actor.
His first film-
During that time, an upcoming artist, Tinnu Anand got an offer to work as an assistant director and so, he did not want to act in a film directed by K.A. Abbas.
So, Tinnu Anand sent a photograph of Amitabh Bachchan to K.A. Abbas and made a recommendation for him.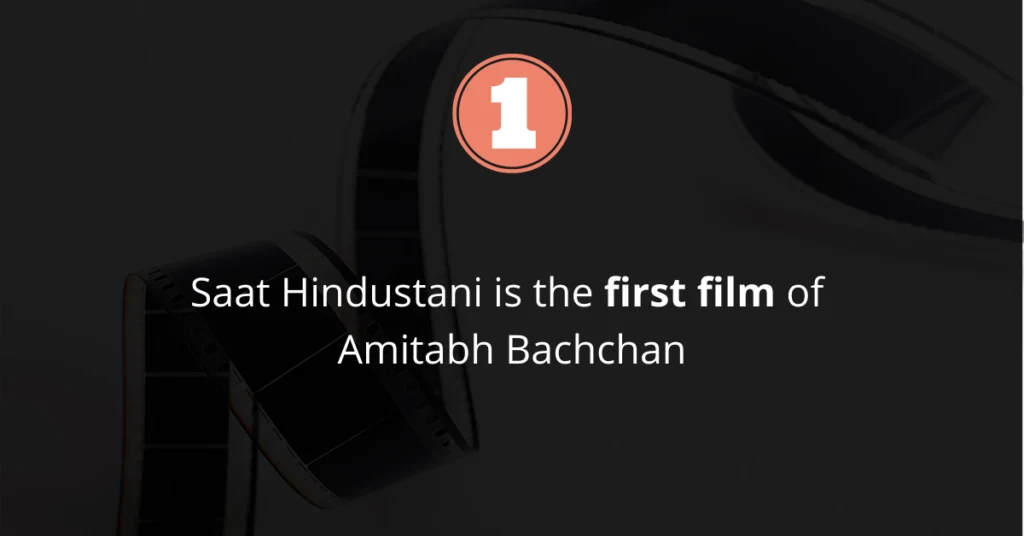 Because of this, Amitabh Bachchan got a role in a K.A. Abbas's film, Saat Hindustani.
In this film, his role was as one of the seven protagonists.
Unfortunately, the first film of Amitabh Bachchan, Saat Hindustani could not do well at the box office.
Later, he also acted in a 1970 film, Bombay Talkie and in the 1971 film, Parwana.
Unfortunately, these two films also flopped at the box office.
During these difficult times, many people advised Amitabh Bachchan to return home or to become a poet.
But he did not lose hope and kept trying.
First success-
Luckily, in 1971, Amitabh Bachchan got a chance to act in a film called Anand.
By this movie, he got a chance to act with the first superstar of the Indian cinema, Rajesh Khanna.
In the Anand movie, Amitabh Bachchan acted very well for which in 1972, he was awarded a Filmfare Award for best supporting actor.
Eventually, the public started to like his films.
His godfather-
Hrishikesh Mukherjee is considered as the god father of Amitabh Bachchan.
Hrishikesh Mukherjee signed Amitabh Bachchan for the films, Guddi and Anand.
He was offered a secondary role in the Guddi movie.
But later, Amitabh Bachchan was not allowed to act in the Guddi movie because Hrishikesh Mukherjee was very impressed by his acting in the Anand movie and he felt that the secondary role in the Guddi movie could not justify his excellent acting skills.
Eventually, he started to receive many offers to act in Bollywood films.
The blockbuster films like Zanjeer, Deewaar and Sholay changed Amitabh Bachchan's life and career forever.
The angry young man-
Many big actors refused to act for the Zanjeer movie as they disliked its story. At last, Amitabh Bachchan agreed to act for Zanjeer.
This film was directed by Prakash Mehra and was released onMay 11, 1973.
In this film, he was portrayed as an angry young man. Thankfully, Zanjeer became a blockbuster hit.
In this film, Amitabh Bachchan played a negative role and this film was one of the most successful films of that time.
Thanks to Zanjeer, he became a superstar and began to be known as an angry young man.
After the grand success of Zanjeer, Amitabh Bachchan never turned back again and acted in many films like Adalat and Amar Akbar Anthony, etc.
During those times, he became a very popular actor because he successfully conveyed the unrest growing in the public through the silver screen.
This angry young man image of Amitabh Bachchan was portrayed for the first time in a movie, Namak Haraam.
This film was directed by Hrishikesh Mukherjee and was released on November 23, 1973.
Later, Amitabh Bachchan worked with many great filmmakers like Yash Chopra, Ramesh Sippy, Prakash Mehra, Manmohan Desai, etc.
Getting married-
Amitabh Bachchan and Jaya Bhaduri decided to holiday in London on the occasion of their film Zanjeer becoming successful.
But Amitabh Bachchan's parents opposed his plan and asked him to travel with her to London only after marrying her.
So, Amitabh Bachchan married Jaya Bhaduri on 3 June 1973.
This couple was later blessed with a son, Abhishek Bachchan and a daughter, Shweta Bachchan.
The life-threatening incident-
Everything was going fine until 26 July 1982, when Amitabh Bachchan suffered a life-threatening injury during the shooting of Coolie film.
He got badly injured while performing an action scene.
As a part of the script, Puneet Issar, a co-actor was instructed to push Amitabh Bachchan and Amitabh Bachchan was instructed to collide with a table and later, fall down.
When Amitabh fell on the table, the corner of the table strongly hit him in the stomach, thus causing a splenic rupture. This accident made him bleed profusely.
Amitabh Bachchan was promptly admitted to the hospital where for many months, he fought with death.
Fortunately, the efforts of the doctors and the praying of his well-wishers made him recover from the injury.
Later, Amitabh Bachchan resumed acting for the film, Coolie and this movie was released on 2 December 1983. Coolie became a blockbuster super hit and was the top-grossing film of that year.
Later, he was diagnosed with Myasthenia gravis, a rare neuromuscular disorder that causes weakness in the skeletal muscles. This disease disturbed Amitabh Bachchan mentally and physically.
Entering into politics-
Later, Amitabh Bachchan took a bold decision of quitting films and entering into politics.
In 1984, he was elected as the Member of Parliament from the Allahabad Constituency.
Finally, in 1987, Amitabh Bachchan left politics after facing some troubles and returned to act in films.
In 1988, he acted in a film, Shahenshah and this film was a box office success.
But unfortunately, many of Amitabh Bachchan's other films were not as effective as they previously used to be.
So, he decided to take a break (temporary retirement) after the film, Khuda Gawah in 1992.
Amitabh Bachchan took a lengthy sabbatical of five years because he wanted to take a break from his work and as at that time, he felt that he was financially well secured and so, he felt that he did not need to work anymore.
He and his family also run Ipca Laboratories, a pharmaceutical company based in Mumbai.
Amitabh Bachchan took the break to relax, travel and spend some time with his family.
During these five years, he distanced himself from the film industry and spent some time abroad.
Later, Amitabh Bachchan realised that taking this five years break was not a very good idea and so he returned to acting and acted in several films like Mrityudaata, Major Saab, Bade Miyan Chote Miyan, etc.
Starting ABCL-
In 1996, Amitabh Bachchan founded Amitabh Bachchan Corporation, Ltd. (ABCL).
ABCL was started to produce and distribute films and manage events. In the first year, ABCL succeeded in achieving its targeted budget of 15 crores rupees.
ABCL wanted to do something big, so it decided to sponsor the 1996 Miss World beauty pageant, Bangalore.
But ABCL lost millions of dollars due to poor planning and management of this event.
It produced a total of 15 films and this corporation employed 150 employees.
Getting bankrupt-
ABCL experienced huge losses when it decided to stage shows in North America. In 1999, all the projects of ABCL came to a halt and the company went bankrupt.
Even though the ideas of Amitabh Bachchan regarding ABCL were smart and ahead of its time, ABCL failed mainly because of poor execution.
Another reason for the failure of ABCL can be attributed to employing inexperienced people who had no idea in producing films and they were also not well aware of the film industry.
ABCL failed because it was too ambitious and for Amitabh Bachchan the concept of filmmaking was too new.
With the failure of ABCL, Amitabh Bachchan's career also got negatively affected.
At that time, ABCL was completely out of cash and was not even in a position to pay salaries to its employees.
Amitabh Bachchan suffered a huge debt of around 90 crore rupees, thanks to the failure of ABCL.
ABCL took many loans from banks, financial institutions and Amitabh Bachchan also took many personal loans and these loans were personally guaranteed by Amitabh Bachchan and Jaya Bhaduri.
Additionally, ABCL was faced with nearly 55 legal cases.
All the properties, assets and house of Amitabh Bachchan were attached. The creditors even wanted to seize his house.
Amitabh Bachchan felt very embarrassed and humiliated because everyday creditors used to knock on his door.
He even mortgaged his bungalow, Prateeksha to Sahara India Finance in order to raise funds for his corporation and repay the loans of the financiers.
Amitabh Bachchan faced many financial struggles and this snatched all of his life's earnings and savings.
During this period, he did not have any film in his hand and was bankrupt; all he had were debts, legal cases and notices from tax authorities.
Many people thought that Amitabh Bachchan was finished by this failure.
In the initial days of ABCL, many people were very excited to get associated with ABCL, Amitabh Bachchan and Jaya Bhaduri but these same people became very rude and hostile when they got to know about the failure of ABCL.
Later, Amitabh Bachchan personally repaid the loans of ABCL.
Learning important lessons-
This failure of ABCL taught him many lessons regarding the importance of money and finances.
Amitabh Bachchan also learned an important lesson that one should only focus and work on the things in which he is good at and must leave the other things to the other people.
The great realisation-
On one fine morning, Amitabh Bachchan woke up at 4 AM and went to his office.
There, he sat on his desk and was introspective about his strengths and soon he got his answer- acting, as acting is his biggest strength and he knew that he can act well.
Thanks to this realisation, Amitabh Bachchan decided to restart his acting career. In the same morning, he walked to the house of Yash Chopra.
Yash Chopra was one of his best friends and he resided just behind his house.
Amitabh Bachchan requested Yash Chopra to provide him a job.
Thankfully, Yash Chopra immediately offered him a role in the Mohabbatein film.
Mohabbatein was released in 2000 and became hit thus helping him to revive his career.
Amitabh Bachchan's acting was very well praised in this film and he even received a Filmfare Award for being the best supporting actor.
Later, he entered into the world of television where he became very successful.
During these times, Amitabh Bachchan got a chance to act in Kaun Banega Crorepati (KBC).
And for the first time ever, he acted on television.
Appearing on television-
Amitabh Bachchan started a new chapter in his life, by hosting a television show by name, Kaun Banega Crorepati (KBC).
KBC is the Hindi version of Who Wants to Be a Millionaire?
By this show, Amitabh Bachchan got a chance to directly interact with the people of the nation and this made him even more popular.
KBC established a connection between him and the common people of the nation.
It was a great eye-opener for Amitabh Bachchan and gave him many great experiences.
Initially, Jaya Bhaduri (Jaya Bachchan) doubted his decision of appearing on the television screen because she felt that it would be inappropriate for a Bollywood superstar to act on television.
But Amitabh Bachchan chose to appear on television because he felt that when a person doesn't have any opportunities, he should accept whatever comes along his way.
So, he became the host of KBC despite facing opposition from his wife and some of his friends.
Many people felt that Amitabh Bachchan was making the biggest mistake of his life by appearing on the television as they felt that it was not good for him to reduce himself from a 70 mm screen on to a 25 inch TV screen, as it was akin to reducing his stature.
Thankfully, KBC became very successful and broke many TRPs (Television Rating Point) at that time.
Later, Amitabh Bachchan also acted in many TV commercials.
Thanks to his decision of appearing on TV, he was able to financially recover and repay his debts.
Even though Amitabh Bachchan went bankrupt, he tried hard to repay all the loans of the financers.
This increased his credibility and trustworthiness.
Remembering the worst days-
In the initial days of his career, Amitabh Bachchan used to sleep on the payments of Mumbai and he remembers those days as his worst days.
Whenever he experiences any failures in his life, he obtains relief by remembering those worst days, because he believes that things can never go worse than those days.
And remembering those days motivates Amitabh Bachchan to move forward in life.
He believes that moving even a little bit forward in life is more important than sitting idle.
Awards and accolades-
Amitabh Bachchan has won numerous awards and accolades in his career.
He has won a total of fifteen Filmfare Awards and is the most-nominated actor for Filmfare Awards with a total of 41 nominations overall.
In 2007, Amitabh Bachchan had been honoured Knight of the Legion of Honour, the highest civilian honour of the Government of France.
He has been awarded four National Film Awards for his acting skills.
In 2019, Amitabh Bachchan was awarded a Dadasaheb Phalke Award.
He has been also honoured by the Government of India with the Padma Shri in 1984, the Padma Bhushan in 2001 and the Padma Vibhushan in 2015.
In June 2000, Amitabh Bachchan became the first living Asian whose statue has been modelled in wax at Madame Tussauds Wax Museum, London.
Hobbies of Big B-
Amitabh Bachchan's hobbies include spending time with his grandchildren, learning new languages, instruments and gardening.
In gardening, he likes to grow vegetables like potatoes and tomatoes.
Amitabh Bachchan feels very satisfied when he sees his garden grow in front of his eyes.
Start small to achieve big-
Amitabh Bachchan once narrated this interesting incident related to his father, Harivansh Rai Bachchan.
During those times, his family used to live at Mother Teresa Crescent in Delhi and his father used to go for a morning walk daily in the wilderness area of the Diplomatic Enclave.
For this, Harivansh Rai Bachchan used to daily wake up at either 3 AM or 4 AM in the early morning and used to return home after completing his walk at around 5 AM or 6 AM.
During that time, he developed a taste for keenly observing the rocks which lie on the either sides of the road and used to identify some kind of image or figure in those rocks.
Later, Harivansh Rai Bachchan used to bring those rocks to the home and paint them to bring out the image or he used to leave them intact and describe the images in the rocks.
And on one fine day, after returning from his walk, Harivansh Rai Bachchan woke up Amitabh Bachchan at around 6 A.M in the morning and requested him to help him to carry a big object inside the home, as he was unable to do it alone.
Amitabh Bachchan was surprised to see a huge boulder lying near the gate.
The boulder was so huge that both the father and son were unable to lift it and so they requested some 10 to 20 people to help them to push that boulder into the veranda of their home.
Later, Amitabh Bachchan was excited to learn about how his father managed to bring that huge boulder to the gate.
To which Harivansh Rai Bachchan replied that around three months ago, while on a morning walk, he saw that boulder and noticed some image in it and wished to bring that large rock home.
From that day onwards, he started moving that boulder one inch daily and within a period of three months, he managed to bring it near the gate of his house.
This incident teaches a very important lesson that no task is big and one can accomplish a big task by dividing it into small doable tasks and by working consistently.
Amitabh Bachchan attributes one of the main reasons for his success to his father, Harivansh Rai Bachchan because his father supported his every decision.
He is also known as the superstar of the century and is regarded as the finest actor of Bollywood.
Amitabh Bachchan acted in more than 199 films and was also known as the one man industry.
Staunch supporter of gender equality-
Amitabh Bachchan wholeheartedly supports gender equality as he announced that after his death, his assets will be equally shared between his daughter and his son.
Feedback from readers is highly appreciated; it helps me to deliver better results to you.
Frequently Asked Questions (FAQs)
How Amitabh Bachchan became an actor?
After being rejected by the All India Radio, he moved to Mumbai in 1968 to try his luck in films.
Once an upcoming artist by the name Tinnu Anand didn't want to act in a K.A. Abbas's film, so he recommended Amitabh Bachchan to K.A. Abbas.
And luckily, Amitabh Bachchan got a chance to act in the film, Saat Hindustani.
How much does Amitabh Bachchan donate?
Amitabh Bachchan donated millions of rupees for various causes like to clear the debts of farmers of Andhra Pradesh and Maharashtra.
He also donated ₹2.5 million to Plan India charitable trust.
How did Amitabh Bachchan get injured in Coolie?
On 26 July 1982, Amitabh Bachchan got severely injured during the filming of Coolie.
As part of the script, Amitabh Bachchan had to collide with a table and fall down but unfortunately, the corner of the table strongly hit him in the stomach causing a splenic rupture.
He bled profusely and thankfully, later he recovered from this injury.
What is Amitabh Bachchan's diet?
Amitabh Bachchan's diet consists of balanced quantities of dal, vegetables and roti.
He loves Indian diet even when he is abroad.
Amitabh Bachchan is a strict vegetarian and loves home-cooked meals.
He is very health-conscious and never consumes sugary foods, alcohol, tea and coffee.
What is the educational qualification of Amitabh Bachchan?
Amitabh Bachchan holds a double Master of Arts degree from Kirori Mal College, University of Delhi.
How many hours does Amitabh Bachchan sleep?
Amitabh Bachchan sleeps four hours a night.
Is Amitabh Bachchan a billionaire?
No, he is a millionaire with a net worth of $400 million.
Did Amitabh and Jaya get married during Sholay?
No, Amitabh Bachchan and Jaya didn't get married during Sholay.
They got married on 3 June 1973, two years before the Sholay film was released.
How are Amitabh Bachchan and Rishi Kapoor related?
Both of them are friends.
Amitabh Bachchan fondly calls Rishi Kapoor as Chintu and both of them acted in films for many decades.
They acted together in films like Amar Akbar Anthony and 102 Not Out.
Do Abhishek and Amitabh Bachchan live together?
Yes, they both live together in their home, Jalsa.
Is Jaya Bachchan a Bengali?
No, Jaya Bachchan is not a Bengali because she was born in Jabalpur, Madhya Pradesh.
Is Amitabh Bachchan's daughter married?
Yes, Amitabh Bachchan's daughter, Shweta Bachchan Nanda is married.
On 16 February 1997, she married Nikhil Nanda and this couple has two children.
Featured image credit- Wikimedia Commons
Table of Contents