Sachin Tendulkar is an Indian former international cricketer and former captain.
Introduction-
Sachin Ramesh Tendulkar was born on 24 April 1973 at Nirmal Nursing Home in Dadar, Bombay into a Maharashtrian Rajapur Saraswat Brahmin family.
His father, Ramesh Tendulkar worked as a professor at Kirti College and was also a popular Marathi novelist and poet while his mother Rajni Tendulkar worked for an insurance company.
Sachin Tendulkar was born to the second wife of Ramesh Tendulkar, Rajni Tendulkar and has two elder half-brothers Nitin Tendulkar and Ajit Tendulkar and an elder half-sister Savita.
Ramesh Tendulkar named Sachin Tendulkar after his favourite music director and singer, Sachin Dev Burman.
Even as Sachin Tendulkar's father was a writer, he never forced him to become a writer or to pick up the cricket bat.
He gave him the full freedom to follow his passion of becoming a cricketer and play for India.
When Sachin Tendulkar was five or six years old, he used to enjoy holding a cricket bat and swinging it randomly and showed a great passion for playing tennis and cricket.
A naughty kid-
Now, the world knows him as a gentleman with a calm and composed nature but in his childhood, he was a naughty kid and a bully.
At school, the mischievous young Sachin Tendulkar used to fight with other kids and bully them.
Also, in his childhood he was a very difficult child to manage.
His elder brother, Ajit Tendulkar was fed up with the mischief of Sachin, so in 1984, in the summer holidays, he decided that Sachin Tendulkar must go on the field and spend all his energy on playing cricket rather than in doing mischiefs.
When Sachin Tendulkar was 11 years old, Ajit Tendulkar took him to Ramakant Vitthal Achrekar, a famous cricket coach in Mumbai and this started a new chapter in his life.
Although he loved cricket, he had no prior experience in playing the seasoned ball cricket, so Sachin Tendulkar did not perform his level best in front of Ramakant Achrekar.
As the coach was standing right behind the net observing his game, this pressured him to bat well and as a result of tension, he could not play well.
Because of this Ramakant Achrekar rejected Sachin Tendulkar into his academy.
As he was young at that time, the coach politely told his brother to give Sachin Tendulkar six more months to work on his game and then to bring him to the academy.
The second chance-
Ajit Tendulkar realised that he was unable to play well because he became self-conscious in the presence of the coach.
Luckily, Ajit Tendulkar informed Ramakant Achrekar and told him that Sachin Tendulkar can bat better than this and requested him to give another chance to Sachin.
Thankfully, he agreed to this and hid behind a tree which was 50 meters away to observe Sachin Tendulkar's batting.
This time he noticed that the coach was not observing his game, so he made the connection and played all his shots and hit most of the deliveries.
Ramakant Achrekar was astonished by the performance of Sachin Tendulkar.
Later, he accepted him into Ramakant Achrekar's academy.
And the cricket career of the 11 year old Sachin Tendulkar started from here.
Being comfortable really helps-
As the young Sachin Tendulkar used to play with his elder brother's bat, he found it difficult to get hold of Ajit's full-size bat with his small hands and so, he developed the habit of handling the bat at the bottom of the handle.
But Ramakant Achrekar wanted to change this habit because he thought that Sachin Tendulkar cannot play well by handling the bat like this.
So, he advised him to hold the bat further up but he could not play well as he was not comfortable with this change.
Sachin Tendulkar also experimented by playing with the lighter bats but unfortunately, these changes did not go well with him and so, he resumed batting by holding at the bottom of the heavy bat's handle.
His father, Ramesh Tendulkar encouraged Sachin Tendulkar to give his best in cricket.
In his initial days, sometimes he used to feel like bunking the practise sessions and play tennis or soccer or hockey with his friends but his brother and coach did not allow him to bunk the practise sessions.
Later, all these sessions and the hours of cricket practise helped Sachin Tendulkar to a great extent.
Shifting the school-
Initially, Sachin Tendulkar studied at the Indian Education Society's New English School but later on the suggestion of Ramakant Achrekar, he shifted to Sharadashram Vidyamandir High School.
Sharadashram Vidyamandir High School provided good sport facilities, good environment for playing cricket and also had a very commanding cricket team.
This school is credited with providing many outstanding cricketers like Vinod Kambli, Ajit Agarkar, Atul Ranade, Praveen Amre, etc.
Here, Sachin Tendulkar played cricket with the professional cricket team.
During the morning and evening times, under the supervision of Ramakant Achrekar, he practised cricket for hours in nets in Shivaji Park.
And during that time, Sachin Tendulkar used to hit the ball harder than most of the senior players on the ground.
He loved to practice cricket for long hours and would continue practising till the night and his coach had to actually pull him out of the nets because Sachin Tendulkar wouldn't stop practising even after it became dark.
After completing the training sessions, all the school friends would get together to devour vada pav (Sachin Tendulkar's favourite dish) and Sachin relishes this memory.
Earning his most prized possessions-
Whenever Sachin Tendulkar used to get tired after practising, his coach used to place a one-rupee coin on the stumps and used to challenge the bowlers to win the coin by dismissing him.
And if the bowlers were unable to dismiss him for the whole session, he was given that coin.
Even today, Sachin Tendulkar treasures the thirteen coins which he earned and considers them as his greatest prize.
During that time, his exceptional performance made him very famous in his school and in local cricket circles and many people were confident that he would grow up into a great cricketer.
Sachin Tendulkar shifted to his aunt's house located near Shivaji Park because he did not want to waste his time in commuting between his home and Shivaji Park.
He was a very energetic child and even after practising for long hours on the field, he used to play cricket in his aunt's home.
Here, Sachin Tendulkar would take a golf ball and alter its shape with a blade and make his aunt chuck balls at him.
After hitting the floor, the golf ball would change its direction and this practise taught him to play back foot defence with soft hands and also helped him to play on his toes.
As Sachin Tendulkar was short, he played on his toes throughout his career.
In addition to playing for his school team, he also started representing and playing for the well-known clubs of Bombay like John Bright Cricket Club and Cricket Club of India (CCI).
Focusing on his greatest strength-
In 1987, at the age of 14, Sachin Tendulkar wanted to train his fast bowling skills and become an all-rounder.
So, he left for the MRF Pace Foundation at Chennai to receive fast bowling training from Australian fast bowler Dennis Lillee.
Dennis Lillee is regarded as the greatest fast bowler of his generation and he holds the world record of 355 Test wickets.
After observing Sachin Tendulkar's excellent batting skills, he advised him to stick to batting.
Thankfully, he agreed to him and started focusing mainly on batting rather than on bowling.
Dennis Lillee also gave this same advice to another youngster Sourav Ganguly.
Later, Sachin Tendulkar re-joined Ramakant Achrekar to better his batting techniques.
A significant gesture-
On 20 January 1987, he played in an exhibition game held by the Mumbai Cricket Association in between India and Pakistan at Brabourne Stadium in Bombay.
In this game, the 14 year old Sachin Tendulkar did not receive Best junior cricket award and was saddened by this.
During that time, Sunil Gavaskar, a former Indian cricketer gifted him his pair of ultra-light pads to increase the morale of the disheartened Sachin Tendulkar and also comforted him and encouraged him to practise even more.
This gesture played a pivotal role in encouraging him.
In the 1987 Cricket World Cup, Sachin Tendulkar also served as a ball boy during the semi-final match held between India and England.
The flood of centuries-
The performance of Sachin Tendulkar greatly improved by immense hard work and long hours of practise.
In 1988, when he was just a school student, he scored a century in every match he played.
In the same year, in an inter-school game, Sachin Tendulkar and his friend Vinod Kambli created a world record by scoring a 664-run partnership.
In this match, Sachin Tendulkar scored 326 runs (not out) and thanks to this mammoth score, the bowlers of the opposite team refused to continue the match.
This accomplishment brought him into limelight.
In this tournament, Sachin Tendulkar scored more than 1000 runs and this performance helped him to represent Bombay in the Ranji Trophy held on 14 November 1987.
But unfortunately, he could not secure a place in the final eleven and he was only utilised as a replacement fielder.
Debuting into the first-class cricket-
On 11 December 1988, at the age of 15, Sachin Tendulkar debuted into first-class cricket and represented Bombay.
He completely utilised this golden opportunity and scored a century (not out) in his first Ranji match against the Gujarat team.
He also stood as the Bombay's highest run-scorer in the 1988–89 Ranji Trophy season.
Later, Sachin Tendulkar got selected to play for the Duleep Trophy and this time also, he scored a century in his Duleep Trophy debut match.
He also scored a century in his debut Irani trophy tournament and in this match; he played for the Rest of India against Delhi.
Sachin Tendulkar is the only cricketer to score a century on debut in all three top-tier championships which include the Ranji, Irani, and Duleep Trophies.
Towards the end of his school cricket career, he started playing first class cricket and in a season, he only got once out and scored an average of 1025 runs.
Getting selected into the Indian national cricket team-
Sachin Tendulkar's numerous records caught the attention of the selectors and at the age of 16, he got selected into the Indian national cricket team.
Initially, the Indian selection committee wanted to select him for the West Indies tour but later this plan was dropped because the selectors believed that the 16 year old Sachin Tendulkar cannot withstand the forceful fast bowlers of West Indies.
Later, in 1989, he was selected for the Pakistan tour by Raj Singh Dungarpur, a selector of the national cricket team.
Becoming fearless-
In November, 1989, at the age of 16 years, Sachin Tendulkar made his test debut against Pakistan in Karachi.
In the first match of this series, he faced the bowling of Waqar Younis and scored 15 runs.
As the first three matches were drawn between India and Pakistan, Imran Khan was very determined to win the fourth (last) Test match.
During that time, Pakistan had world-class bowlers like Imran Khan and Wasim Akram.
In the final test match held at Sialkot, many Indian star batsmen like Krishmachari Srikanth, Sanjay Manjrekar, Azarhuddin and Ravi Shastri got ousted and reached the pavilion because they were unable to withstand the attack of the Pakistani pace bowlers.
Also there was a large amount of grass on the pitch and many Indian batsmen opined that it was the fastest pitch they had ever seen in their lives.
The probability of India losing the match was high, so the Indian team wanted to at least draw the match and did not want to get all out.
During that time, India's score was 34-4 and many people were sure that India would lose the match but during that time, the 16 year old Sachin Tendulkar came to bat.
This match was the fourth test match of his career.
Many people thought that this teenager might not play well as most of the senior Indian batsmen already got ousted.
Getting injured-
In the bowling of Waqar Younis, Sachin Tendulkar managed to play the first two balls well.
But he encountered the third ball at a speed of 150 km per hour and this ball rose higher than expected and hit his flap of the helmet, got deflected and then hit his nose.
Sachin Tendulkar's T-Shirt got drenched with blood and he fell down to the ground.
He realised that he broke his nose and later, everyone gathered around him and Javed Miandad, a Pakistani player told him to abandon batting and go to the hospital.
A physiotherapist came running to the ground and dressed Sachin Tendulkar and helped him to stand up and then requested him to return to the pavilion.
But he was well aware that the Pakistan team with its wonderful bowling attack would dominate the game if he abandoned the match.
At that time, Sachin Tendulkar feebly uttered two words, main khelega (I'll play) and his bravery stunned the whole world.
This incident was a make or break situation for him because after getting hit on the nose, he had two options, either to develop fear of the seasoned ball or to become fearless.
Fortunately, Sachin Tendulkar chose to become fearless.
So, he continued batting shortly after the physiotherapist applied bandage around his eyes and nose.
Prior to this, Sachin Tendulkar's nose was injured a couple of times and so, this injury couldn't scare him.
Also, while practising, his coach taught him to be fearless.
Waqar Younis again bowled at Sachin Tendulkar with a great speed but this time he moulded that ball into a boundary.
The audience celebrated his surprising comeback with claps.
Gaining a moral victory-
By observing the 16 year old Sachin Tendulkar fearlessly tackling the world class Pakistan bowlers, Navjot Singh Sidhu regained the confidence and he formed a great partnership with him.
Also, Sachin Tendulkar came to Navjot Singh Sidhu at the non-striking end and motivated him to fight (play well).
Despite getting injured, he played for another four hours and in this match, Sachin Tendulkar scored 57 runs (not out) in 135 balls (in 22 overs) and received praise from the Pakistan pacers.
In this match, Navjot Singh Sidhu scored 97 runs (not out).
This helped India to draw the series and gain a moral victory over Pakistan.
This incident proved that great players like Sachin Tendulkar are born only when talent combines with the right attitude
This teaches us a great lesson that we must never get distracted from our goals even after facing obstacles and like Sachin Tendulkar we must also say I'll perform in the times of hardships.
His confidence helped him to create many world records and become the god of the cricket.
Later, in a 20-over exhibition game held in Peshawar Sachin Tendulkar played extremely well and scored 53 runs off 18 balls.
In this match, in an over he scored four sixes and one four off Abdul Qadir, who was considered as the best leg spinner of that time.
This excellent performance got Sachin Tendulkar selected for One Day Internationals and at the age of 16, he became the youngest player to debut for India in both Tests and ODIs.
Becoming a world class cricketer-
From 1991, Sachin Tendulkar became known as a world class cricketer after he played exceptionally well in the Test matches held in Australia.
He scored a whopping 148 (not out) in the third Test match held at Sydney and this made him the youngest batsman to make a century in Australia.
On 24 May 1995, Sachin Tendulkar married Anjali Mehta, (now Anjali Tendulkar) works as a paediatrician and is six years older than him.
This couple is blessed with a daughter Sara Tendulkar (born on 12 October 1997) and a son Arjun Tendulkar (born on 24 September 1999).
Later, Arjun Tendulkar followed his father's footsteps and became a cricketer.
Sachin Tendulkar scored the most number of runs in both 1996 Cricket World Cup (523 runs) and 2003 Cricket World Cup (673 runs).
In 1998, he scored three consecutive centuries against Australia.
Later, in an interview, Shane Warne, a legendary bowler of Australia, said that he used to get nightmares about Sachin Tendulkar scoring boundaries.
Losing his father-
Unfortunately, on 19 May 1999, Ramesh Tendulkar passed away and during that time, Sachin Tendulkar was playing in the midst of the 1999 Cricket World Cup.
So, he returned to India to attend the last rituals of his father.
Later, Sachin Tendulkar returned to participate in the World Cup and in a match against Kenya, he scored 140 runs (not out) in 101 balls and dedicated this to his beloved father.
This showcases his commitment.
Captaincy-
Sachin Tendulkar was made the captain of the Indian cricket team but as a captain, he could not perform well and so, he resigned from the role of captaincy.
In 2000, Sourav Ganguly succeeded him as the captain of the Indian cricket team.
In the 2003 Cricket World Cup, Sachin Tendulkar scored 673 runs in 11 matches and this won him the Man of the Tournament award.
Although India went to the finals with his help, India lost to Australia.
On 10 December 2005, in a match against Sri Lanka, Sachin Tendulkar scored his 35th Test century and thus broke Sunil Gavaskar's record of 34 Test centuries.
In the 2007 World Cup, he displayed poor form and Ian Chappell, a former cricketer of Australia opined that Sachin Tendulkar should retire from cricket.
Thankfully, he regained his old form and in the following Test series against Bangladesh, he played well and got selected as the Man of the Series and this made it clear that this is not the right time for him to retire.
On 24 February 2010, Sachin Tendulkar scored a mammoth double century (not out and includes 25 fours and 3 sixes) by facing just 147 balls in an ODI against South Africa and became the first batsman in the world to score a double century in ODI cricket.
He holds the record for scoring the most centuries in international cricket.
Helping India to win the World Cup-
Sachin Tendulkar was India's top run-scorer in the 2011 World Cup tournament and played a pivotal role in helping India to win the 2011 World Cup.
Upon winning the 2011 World Cup, he became emotional and stated this as the proudest moment of his life.
On 16 March 2012, Sachin Tendulkar scored his 100th international century against Bangladesh in the Asia Cup.
He is the only cricketer to score 100 international centuries (consists of 51 test centuries and 49 ODI centuries) and this record is still unbroken.
Sachin Tendulkar also holds the record for playing the most number of One Day International cricket matches.
He is the highest run scorer (34357 runs in entire career) and is also the highest boundary scorer in cricket (2211 boundaries in entire career).
In his cricket career, Sachin Tendulkar played 664 international cricket matches and scored 34,357 runs.
From 2008 until 2013, he played in IPL (Indian Premier League) for his home team, Mumbai Indians.
Sachin Tendulkar is a big fan of tennis and his favourite tennis player is Roger Federer.
His favourite cricketers are Jonty Rhodes (a fielder), Sunil Gavaskar and Sir Isaac Vivian Alexander Richards (batsmen).
Apart from being a great cricketer, Sachin Tendulkar is also a kind-hearted person and every year he sponsors 200 disadvantaged children through Apnalaya, a non-governmental organization.
Sachin Tendulkar is the brand ambassador of many brands like Boost, ESPN Star Sports, BMW India, etc.
Getting retired-
On 23 December 2012, Sachin Tendulkar retired from the One Day Internationals (ODIs).
On November 16, 2013, he played his last test match in Wankhede Stadium, his home ground and retired from all forms of cricket after playing international cricket for 24 years.
India won this test match against West Indies and gave Sachin Tendulkar an emotional farewell.
Awards and recognitions-
Sachin Tendulkar had been awarded numerous awards for his outstanding contributions to the game of cricket.
In 1994, he was awarded Arjuna Award by the Government of India and in 1997 he received Rajiv Gandhi Khel Ratna award.
In 1999, Sachin Tendulkar was awarded Padma Shri, the fourth highest civilian award of India.
In 2002, he was ranked as the second greatest Test batsman of all time by the Wisden Cricketers' Almanack.
In 2008, Sachin Tendulkar received Padma Vibhushan, the second highest civilian award of India.
In 2010, he became the first person without an aviation background to be made an honorary group captain by the Indian Air Force.
In 2012, Sachin Tendulkar was nominated to the Rajya Sabha and he became the first cricketer to assume a seat in Rajya Sabha.
In 2012 Simon Crean, a former Australian politician, honoured him an Honorary Member of the Order of Australia.
And in 2014, Sachin Tendulkar was awarded with Bharat Ratna, the highest civilian award of India.
He is the first sportsperson and the youngest person (at the age of 40 years) to receive Bharat Ratna.
In 2013, India Post released postage stamps on the occasion of Sachin Tendulkar's 200th Test Match.
He is the only Indian cricketer on whom the postage stamps had been released.
On 5 November 2014, an autobiography of Sachin Tendulkar, Playing It My Way was published.
The success mantras from the life of Sachin Tendulkar –
Sachin Tendulkar urges everyone to dream big.
You should believe that you are uniquely talented and you must work on realising (identifying) your talents.
Also, you must improve yourself by trying new things and should work with discipline.
One cannot attain success without discipline and even if someone achieves success without discipline, that success won't last long.
You must cultivate the habit of thinking ahead of time as this helps in planning your future. By doing this, you can mould your life accordingly.
You should also mentally prepare for the upcoming obstacles as this will help you to face the obstacles more efficiently.
Chase your dreams-
First of all, you should dream big and have the courage to chase your dreams.
Only with persistence and patience your dreams will come true.
Sachin Tendulkar chased his dream of winning a world cup for India and he realised it after 21 long years.
Many of us try to achieve our dreams but after trying only for some time, we find excuses and eventually give up on our dreams.
In many cases, to attain our dreams, it requires just a little more effort and time but due to the lack of patience, we don't end up taking the success.
So, it is important to be prepared to work harder than initially anticipated.
Be passionate towards your work-
When you are passionate towards your work, the time flies away because you don't look at your watch.
And you will work until you are satisfied with your work or you get tired.
To become successful, working hard and gaining work satisfaction are equally important.
Others can only notice your hard work but not your satisfaction, only you can know from within whether or not you are satisfied from your work.
Sachin Tendulkar considers himself very lucky because he turned his passion of playing cricket into his profession.
Tackle the bigger problems first-
When you tackle the bigger problems first, your work gets easier and you will gain confidence.
Sachin Tendulkar always wanted the better of the best bowlers of the opposite team like Waqar Younis and Shane Warne to bowl at him and he targeted them first.
He used to feel confident by subjugating the fastest and the quickest bowlers and this helped him in winning half the battle.
This made the other bowlers lose their confidence and be less effective.
This great quality immensely helped Sachin Tendulkar and his team in winning the matches.
Be confident-
In a match against Pakistan, even when Sachin Tendulkar's nose broke and started bleeding, he did not stop playing because he was confident in himself that he could play.
You become confident and fearless only if you are confident of your ability and preparation.
Be grounded-
It is good to enjoy and celebrate your success but you should not get carried away by the success and not stop planning for the future.
Sachin Tendulkar considers himself very lucky and always maintained the perfect balance between the excitement of success and the disappointment of failures.
He took great care to not get carried away by the success.
Even when Sachin Tendulkar succeeded in school cricket, he just offered a box of sweets to god to thank god for the opportunities and avoided any extravagant celebrations.
Develop a good character and be a good person-
When Sachin Tendulkar first realised his dream of playing for India, his father took him aside and asked about his future plans.
At that time, he wanted to continue playing for India and his father said that nothing in life will be permanent and he might play cricket for 15 to 20 years.
So, he urged Sachin Tendulkar to not only be a good cricketer but also a good person, as he wished him to be remembered by the people not only as a good cricketer but also a person with a good character.
This signifies the need for developing a good character because only a good character remains with a person till his last breath.
Compete with a good sporting spirit-
In any sport only one player or team can win but it is important to respect the team members and the opposite team.
By doing this, even if you lose the game you can at least win everyone's hearts.
The importance of playing sports-
Everyone should play sports because it teaches the importance of getting up and competing again in the right spirit even after encountering failures.
The sport also teaches that it is alright to fail and instill a spirit of fighting back with life's obstacles.
Even Sachin Tendulkar has not won all the games but he bettered himself with each passing match.
Both in sport and in life, it is good to compete hard but it is equally important to play in the right spirit.
Importance of preparation-
Sachin Tendulkar was always aware of the importance of preparation and he gave the due importance to the pre-match preparation.
You can be confident only if you have prepared well.
No one can control the outcome of any match or any event but the best and the right thing one can do is to prepare well.
You can exert your control only on preparing well and giving your 100 percent and hope for the best results, this rule applies everywhere in life.
You should focus all your energy and time on the things which can be controlled by you and you should not waste your time and energy on the things which are out of your control.
Never give up and walk the right path-
In your path of realising your dreams, you should not give up or find shortcuts even if you encounter obstacles.
As there are no shortcuts to success, you can only achieve true success by working hard, sticking to the values and not cheating because cheating at your work means cheating yourself.
You should always follow the right path and should remember that during the tough times only tough men last.
The importance of execution-
Many people know how to succeed and realise their dreams but only a few of them take care to execute their plans to become successful.
Sachin Tendulkar learned the importance of execution from the sport of cricket.
Cricket taught him to plan and prepare for an event beforehand and to execute those plans.
Win with the team-
A team wins only when great individuals collaborate to collectively contribute their brilliant performances.
Sachin Tendulkar always played for the greater good of the team.
Become a legend-
In Sachin Tendulkar's long cricket career, he only focused on playing for the country but not for the milestones.
Both his brother and coach were instrumental in teaching him the importance of leading a disciplined and focused life.
Sachin Tendulkar used to celebrate his success only for a short period of time and he would be always busy thinking about the next game.
This habit became an unwritten formula for him throughout his whole career.
His family members used to not talk about the last game but instead they used to discuss the upcoming games.
Even after the last test match of his career, his brother Ajit Tendulkar called Sachin Tendulkar to discuss his game.
Even when he used to score big runs, he would be always hungry to score even more.
Sachin Tendulkar used to have restless nights both when he had not scored runs and when he scored runs and used to always think to score more runs in the upcoming matches.
Both his brother and coach never appreciated him when he scored big runs and as Sachin Tendulkar longed to receive appreciation from them, he kept on playing well and giving his best and this continued throughout his career.
Importance of fitness-
Exercise is important for every one of us to stay fit and lead a healthy life.
While Sachin Tendulkar was growing up, his grandmother always told him that health is wealth and used to remind him there is no use of having whatever wealth in the absence of good health.
Since the beginning of his cricket career, as he wanted to play cricket for many years he quickly realised the importance of physical fitness.
This made Sachin Tendulkar avoid late nights, parties and junk food.
He took great care to stay fit during his entire cricket career and even when he retired from cricket, he didn't stop gymming.
While cricketing, Sachin Tendulkar used to undergo basic training to maintain his good shape and used to vary his workout plan according to the cricketing seasons.
In the pre-season, he tried to improve his fitness level but in between the matches, he used to maintain his fitness and tried to recover.
Recovery is important for every sportsman to perform well.
Actions speak louder than anything-
He became a brilliant player after he spent thousands of hours on the field working on his game.
Whenever Sachin Tendulkar faced criticism for his performance, he answered the critics with his actions.
Be down to earth-
Sachin Tendulkar is a very down to earth person and he never had ego problems even when he played under the captaincy of his juniors.
In fact, when he was offered the captaincy role, he refused it and instead recommended Mahendra Singh Dhoni for it.
The right values-
Sachin Tendulkar was fortunate to have the parents who taught him the right things in life.
His father used to treat every individual with respect and he learnt this quality from his father from a very early age.
Make sacrifices for your dreams-
Sachin Tendulkar became successful because he worked hard and sacrificed many things to realise his dreams.
He from a young age of 14 started travelling because he played for India and because of this he was unable to spend time with his family and friends.
Sachin Tendulkar spent most of his time practising cricket while his friends used to hangout and watch movies.
Later, he also missed many special occasions and even the birthdays of his children.
When Arjun Tendulkar was 3 years old, he used to be unhappy with his father leaving him to play cricket.
Also, he used to not speak to Sachin Tendulkar on the phone when he would be away for more than one month and this continued for around six years.
All these things pained Sachin Tendulkar and he once said that the toughest part of his life was when he was far away from his children.
Don't forget to celebrate-
Celebrating our success and milestones will motivate us to accomplish even more.
Once in a semi-final Ranji trophy match held between Tamil Nadu and Bombay, Bombay lost eight wickets and had not scored much and was on the verge of losing the game.
And Sachin Tendulkar came to bat when Bombay had to score around 40 runs with only two wickets remaining.
He helped Bombay to win the match by playing well.
Sachin Tendulkar celebrated this victory feverishly even when the stadium was empty and there was no media coverage.
His quality of battling the odds with a fighting spirit and dominating the situations served him very well.
Infographic-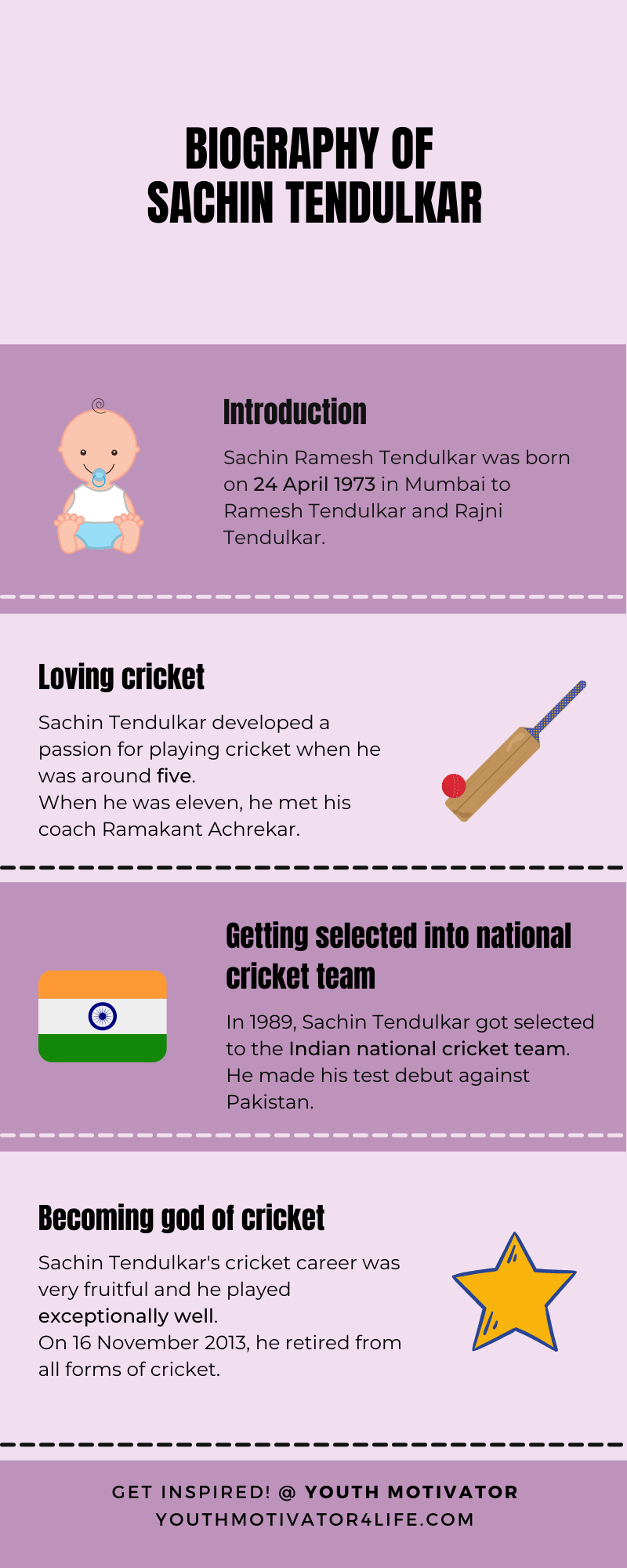 You might also like-
Inspiring Biography of Virat Kohli
Feedback from readers is highly appreciated; it helps me to deliver better results to you.
Frequently Asked Questions (FAQs)
How did Sachin Tendulkar become a cricketer?
Sachin Tendulkar showed a great passion for playing cricket when he was around five years old.
At the age of 11, he was taken to the Ramakant Vitthal Achrekar, a famous cricket coach.
And this paved the way for Sachin Tendulkar to become a cricketer.
Who is Sachin Tendulkar's inspiration?
Many people inspired Sachin Tendulkar to become a great cricketer, some of them are-
• Ramesh Tendulkar, the father of Sachin Tendulkar inspired him to give his best in cricket.
• His elder brother, Ajit Tendulkar and coach, Ramakant Achrekar inspired Sachin Tendulkar to practise playing cricket well.
• Sunil Gavaskar, a former Indian cricketer motivated Sachin Tendulkar by giving him his pair of ultra-light pads.
What do we learn from Sachin Tendulkar?
Sachin Tendulkar teaches us many invaluable life lessons like-
• Face your fears straight on.
• Be fearless in your endeavours.
• Dream big, be disciplined and chase your dreams.
• Love your work.
• Tackle the bigger problems first.
• Be confident and grounded.
• Be a good person with a good character.
• Compete with others' in a good spirit.
• Play sports, it not only makes you fit but also teaches you the importance of getting up.
• Never ignore preparation.
• Do the right things and never give up.
• Perform well because actions speak louder than anything.
• Be ready to make sacrifices for your dreams.
• Celebrate every small success.
Who said Sachin Tendulkar is the God of cricket?
In 1998, Matthew Hayden, an Australian cricketer referred Sachin Tendulkar as god.
Also, the fans of Sachin Tendulkar mention him as the God of cricket.
But as Sachin Tendulkar is very humble, he politely disagrees that he isn't god because unlike god he made some mistakes.
Why is Sachin Tendulkar called master blaster?
Sachin Tendulkar is fondly called as the master blaster because he scored massive runs in cricket.
In fact, he is the highest run scorer in cricket (34357 runs).
Where did Sachin Tendulkar score the 100th century?
Sachin Tendulkar scored his 100th international century on 16 March 2012 in Mirpur, Bangladesh in the Asia Cup against Bangladesh.
Why did Sachin Tendulkar retire?
In October 2013 Sachin Tendulkar realised that his physical fitness and strength of mind weren't in their optimum states for playing cricket at his best level.
So, in the same month he retired from Twenty20 cricket and a month later (on 16 November 2013) from all forms of cricket.
Is Sachin Tendulkar left handed?
No, Sachin Tendulkar isn't left handed but is a cross-dominant person.
This means he prefers to use his left hand for doing some tasks and his right hand for doing other tasks.
Sachin Tendulkar uses his left hand for writing and his right hand for batting, bowling and throwing.
Is Sachin Tendulkar in the Air Force?
Sachin Tendulkar was made an Honorary group captain by the Indian Air Force in 2010 despite not having an aviation background.
Is Sachin Tendulkar a billionaire?
No, Sachin Tendulkar is not a billionaire but a millionaire with a net worth of approximately $170 million (₹1250 crore).
Featured image credit- Wikimedia Commons