Ola Cabs is India's first taxi aggregator company and is one of the fastest achievers of the unicorn status in India.
Unicorn status refers to achieving one billion dollar valuation by a privately held startup.
Introduction-
Ola Cabs was co-founded by Bhavish Aggarwal and Ankit Bhati, the alumni of Indian Institute of Technology (IIT) Bombay.
Bhavish Aggarwal completed computer science and engineering in 2008 from the prestigious IIT.
He started his career in the Microsoft Research centre.
Bhavish Aggarwal studied in an IIT, where the spirit of entrepreneurship is induced by regular seminars on topics like entrepreneurship and business.
By listening to these speeches, Bhavish Aggarwal decided in his college days that, one day he will definitely become an entrepreneur and stand on his own feet.
The sooner, the better-
He strongly felt that if he didn't take risk to become an entrepreneur at this young age, he will never be able to take risks again in his whole life and as a consequence might not achieve his dreams.
This thought and the guilt of not moving in the direction of his dreams made him resign from his job.
So, Bhavish Aggarwal resigned from Microsoft after working for 2 years.
Even though he was a high-spirited entrepreneur, he didn't get a concrete business idea to work upon.
Becoming a travel agent-
Bhavish Aggarwal started his own tour and travels Company by name Ola trips, a travel agency company.
He started offering local weekend and holiday trips to the nearby locations like Lonavla, Lavasa, etc.
Unfortunately, Bhavish Aggarwal did not get any response for his holiday trips offerings.
So, he decided to test his luck by marketing his own company.
Bhavish Aggarwal even distributed pamphlets about his company in New Delhi, in 2010, outside the stadium where Commonwealth Games were being held.
Even after marketing for an entire day, he was unable to sell even one single tour package.
His father was very worried for his son; he feared that his well-educated son might eventually settle as a travel agent.
An unfortunate incident-
One day, Bhavish Aggarwal was travelling by a cab from Bangalore to Bandipur.
After travelling half of the distance, the cab driver abruptly stopped the car in the middle of a forest and demanded an exorbitant amount of money from Bhavish Aggarwal to complete the journey.
This was completely unexpected, as Bhavish negotiated the price of the travel beforehand.
Bhavish was very angered about the unjust behaviour of the driver, so he got down the cab and started walking on foot.
This incident made him realise that without proper contacts, it is very difficult to get a cab which offers fair services.
And without proper contacts, one has to become a victim of arrogance of the drivers and their overpriced services.
Here, Bhavish Aggarwal understood the untapped business potential.
Understanding customers-
And after a few days, when he was bent on selling his tour package to a customer, the customer interrupted Bhavish Aggarwal by stating that he just needs a vehicle to reach his destination.
At that movement he realised that the people do not need his tour packages but instead need vehicles to reach their destinations.
So, Bhavish Aggarwal quit his travel agency business and completely focused on his new startup, Ola Cabs.
Birth of Ola Cabs-
On 3 December 2010, Ola Cabs was born as a consequence of the above mentioned incidents.
Bhavish Aggarwal knew that he should need vehicles and drivers for those vehicles to meet the needs of his passengers.
So, he started incorporating drivers into Ola Cabs.
The initial struggle-
During the initial days, the booking of an Ola cab was mostly a manual process.
Many customers used to book a cab by phone calling, very few used to book cabs by using the Ola website.
Ankit Bhati used to call the drivers, when a customer books a cab by using Ola website.
Also, in the initial days, Bhavish Aggarwal himself used to borrow a car for picking up customers, as some drivers didn't arrive on time.
Using technology-
After a few days, Bhavish Aggarwal realised the importance of connecting drivers with customers, for which he took the help of technology.
So, he requested his friend Ankit Bhati, to develop a very simple to use app.
Ankit Bhati focused on coding to make the cab booking process seamless by using automation techniques.
Complimenting each other-
So, Bhavish Aggarwal took the responsibility of strengthening the team by acquiring new drivers into Ola Cabs, whereas Ankit Bhati took the responsibility of strengthening the technology by developing an app for Ola Cabs.
In their initial days, Bhavish Aggarwal himself used to do multiple tasks like producing the Identification cards (ID cards) of the drivers and strived to bring his business on a low price model.
Over the time, Ola Cabs became popular because of the word by mouth publicity, which gained them the first angel investor, Kunal Bahl, co-founder and CEO of an e-commerce platform Snapdeal.
With the passage of time, many investors like Anupam Mittal, the founder of Shaadi.com also invested in Ola Cabs.
By 2012, Ola Cabs has garnered decent investments.
Facing the real challenge-
Even though Ola Cabs successfully garnered cab drivers and investors, gaining the customers was a real challenge, as the cab culture was not widely prevalent in India.
To make the customers get accustomed to the cab rides, they played the marketing game very effectively.
The win-win strategy-
So, Ola Cabs initiated a referral programme, which gave 50 rupees for referring a friend and also offered a free ride for fetching a new customer to the Ola Cabs.
This strategy was mainly focused on college and university students.
They also offered huge discounts.
Initially Ola Cabs also offered its rides for very cheap rates, like 6 rupees for one kilometre of travel; this pricing is similar to the pricing of the auto-rickshaws.
Bhavish Aggarwal realised that for any business to get successful, marketing plays a pivotal role.
In the first three years of Ola Cabs, they didn't focus on earning profits but on building a huge ecosystem of drivers and passengers.
Making entrepreneurs-
Ola Cabs attracted many new drivers by the entrepreneur ideas and provided them with huge incentives.
They also helped many drivers to purchase their own cars by offering them EMI services.
Along with the passage of time, Ola Cabs slowly raised the cost of its rides and decreased the incentives which were being paid to the drivers to make Ola Cabs profitable.
But many drivers are still continuing with Ola Cabs because Ola Cabs provide them with many non-monetary benefits like converting a driver into an entrepreneur, giving them their due respect, providing them with a constant stream of passengers, etc.
Bigger than Uber-
By the time Uber was trying to figure out the marketing strategy of Ola Cabs, Ola Cabs garnered a huge market share in India.
Now, Ola Cabs operates in over 250 cities, whereas Uber operates in just 46 cities in India.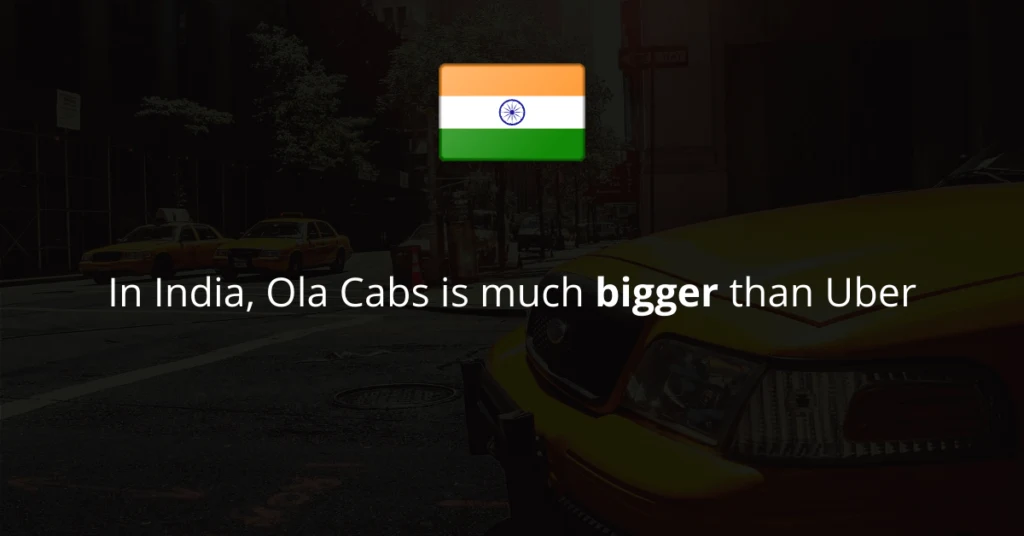 Also, the customer base of Ola Cabs is around twice than that of Uber in India.
The net worth of Bhavish Aggarwal is around ₹3,100 crore.
The wide range of offerings-
Now, in addition to offering cabs, Ola Cabs also offers auto-rickshaws (by name Ola auto), bicycles (by name Ola pedal), boats (by name Ola boat), share cabs (by name Ola Share), prime cabs (by name Ola Prime), electric vehicles, etc.
Reasons for success-
The keen-sighted co-founder of Ola Cabs, Bhavish Aggarwal knew that the majority of people will not afford cars, even when they are capable of affording cars.
The main reason for this behaviour can be attributed to the maintenance costs of cars, the cost of hiring a driver, the fuel costs, the hassle of parking, paying the taxes of vehicles and the congestion and poor condition of the country's roads.
Only 36.49 percent of Indians own cars.
So, he recognised that many will utilize the cab services instead of owning a car.
In the future, no one wants to spend his majority of his time driving in the midst of the snail-paced vehicular traffic and to reduce the traffic congestion, many will eventually prefer shared transport, like shared cabs, shared buses, etc.
The light weight strategy-
Even now, in many parts of the country the internet speed is not great, so many people still rely on 2G internet connections, so Ola Cabs has developed its own light weight app by name Ola Lite, which works on very slow internet connections.
This strategy has helped Ola Cabs to penetrate the rural parts of the country.
These are the reasons why Ola will become even more successful in the coming future.
Now, Ola Cabs is giving a very stiff competition to a very big global player, Uber.
Interesting facts-
Till date, Bhavish Aggarwal hasn't purchased his own car, even after becoming a millionaire.
He uses Ola Cabs to travel anywhere and this also provides him with an opportunity to personally check the quality of the cab services.
Ola Cabs doesn't own a single car, all the cars are owned by their respective owners (drivers), and the maintenance and fuel costs are also minded by the drivers, so Ola Cabs just acts as a platform to connect passengers with the drivers.
Now, Ola Cabs has around 45,000 cabs.
Ola Cabs has launched its own virtual wallet service by name, Ola Money. This money can not only be used in the Ola Cabs services, but can also be used in several places like restaurants, metro trains, in booking air tickets, insurance, Café Coffee Day, Domino's Pizza, etc.
Ola Money is similar to the other wallet services like Paytm, Airtel money, etc.
Now, in India Ola Cabs rules over 60 percent of cab services, whereas the remaining percent is occupied by players like Uber, Jugnoo, Meru, etc.
Also, Ola Cabs has expanded its business in new countries like UK, Australia and New Zealand.
Ola Cabs has also acquired Foodpanda business in India as for giving answer to the Uber Eats. Ola has not paid any money in acquiring Foodpanda, instead offered them equity shares of the Ola Cabs.
If all the Ola Cabs are lined in a vertical line, then these cabs cover the entire distance of India from Kashmir to Kanyakumari.
Ola Cabs cover ten times the distance between the earth and the moon on a daily basis.
Infographic-
Feedback from readers is highly appreciated; it helps me to deliver better results to you.
Frequently Asked Questions (FAQs)
How did Ola start?
Ola Cabs was started on 3 December 2010.
The following incidents inspired Bhavish Aggarwal to start Ola Cabs-
• Once while travelling from Bangalore to Bandipur, Bhavish Aggarwal had a bad experience with a cab driver. Initially, Bhavish Aggarwal was demanded an exorbitant amount of money and when he didn't agree to pay, he was left in the middle of the forest.
• In another instance, Bhavish Aggarwal realised that there was more demand for cabs than for tour packages.
Ola was started thanks to these two instances.
How did Ola become successful?
Ola Cabs is a very successful Indian ridesharing company and the main reasons for its success are-
• First-mover advantage. As Ola was the first ridesharing company in India it had no competition.
• Addressing the pain point of customers. Prior to Ola, customers faced difficulties in booking taxis and bargaining with the taxi drivers.
• Being tech-savvy. Ola took the help of technology to seamlessly connect customers with the drivers.
• Choosing the right co-founder. Bhavish Aggarwal partnered with Ankit Bhati and both of them complemented each other.
• Understanding the market. Bhavish Aggarwal understood the Indian market that majority of Indians don't own cars and they are also concerned with traffic and maintenance of cars, so they have a good reason to prefer travelling by Ola Cabs.
• Building an ecosystem. In its initial years, Ola Cabs focused on building its backbone, that is an ecosystem of drivers and passengers instead on profits.
• Expanding. In addition to offering cabs, Ola expanded to offer auto-rickshaws, bicycles, boats, etc. Ola also entered new markets like the UK, Australia and New Zealand.
• Attracting investments. Ola attracted investments from Ratan Tata, Kunal Bahl and Anupam Mittal.
What is the full form of Ola?
There is no full form of Ola in Ola Cabs.
The word Ola was derived from the Spanish word Hola.
Hola in Spanish means Hello.
Is Ola still a startup?
No, Ola Cabs is now not a startup but a company.
As it has been more than ten years since Ola was founded, it cannot be considered a startup now.
Which came first, Ola Cabs or Uber?
Uber was founded in March 2009 whereas Ola Cabs was founded in December 2010.
But Uber entered India only in 2013.
Is Ola a Chinese company?
No, Ola is not a Chinese company.
Ola is an Indian ridesharing company.