Satya Nadella is the current Chief Executive Officer of Microsoft.
Introduction-
Satya Narayana Nadella was born in Hyderabad, Telangana, India into a Telugu family.
His father Bukkapuram Nadella Yugandher worked as a civil servant for the Indian Administrative Service and he was also a Marxist economist while his mother Prabhavati Yugandhar worked as a Sanskrit professor.
Prabhavati Yugandhar encouraged Satya Nadella to live deeply in the present moment and be satisfied with his work.
As Bukkapuram Nadella Yugandher was in the civil services, he travelled to different parts of the country and this gave Satya Nadellaan opportunity to spend his childhood in different parts of India like Srikakulam, Tirupati, Mussoorie, Delhi, and Hyderabad.
He worked in many important positions like secretary of PV Narasimha Rao, the 9th Prime Minister of India.
Between the years 2004 and 2009, Bukkapuram Nadella Yugandher also served as a member of the Planning Commission under Manmohan Singh, the 13th Prime Minister of India.
While in Mussoorie, Uttarakhand Satya Nadella was very much attracted to the Nanda Devi and Bandarpunch mountain peaks.
His mother tried very hard to continue her profession but she had to stop working in 1992 after the death of her five-month-old daughter.
During that time, Satya Nadella was six years old and he and his whole family was very saddened by this unfortunate incident.
Developing the intellectual curiosity-
Satya Nadella spent most of his childhood in Hyderabad and did his schooling from the Hyderabad Public School, Begumpet.
His father was very ambitious and possessed high intellectual curiosity and he acquired these qualities from him.
Although Bukkapuram Nadella Yugandher was academically very strong, Satya Nadella wasn't that great in academics.
He used to get surprised by looking at his scorecard and wonder how his son could be so weak in academics.
Bukkapuram Nadella Yugandher took great care to not make Satya Nadella feel bad about his poor grades and this gave him a lot of confidence.
He envisioned life as a marathon and was confident that his son will sooner or later catch up in life while Prabhavati Yugandhar wanted him to be satisfied and happy with himself.
Slow and steady wins the race-
Many people believe that one need not to do or achieve anything in life after excelling in the competitive exams but Satya Nadella's father was against this thought because he believed that one must strive every single day to become and remain successful.
Unlike others, his father did not believe that one's life would all be set by only excelling in one competitive exam, like the Indian civil services exam.
Luckily, Satya Nadella understood these things and although he was a slow learner, he ensured to improve himself everyday and this helped him immensely in his success.
Even if you cannot perform well in an exam, you need not worry because life gives you many opportunities.
Becoming a die-hard cricket fan-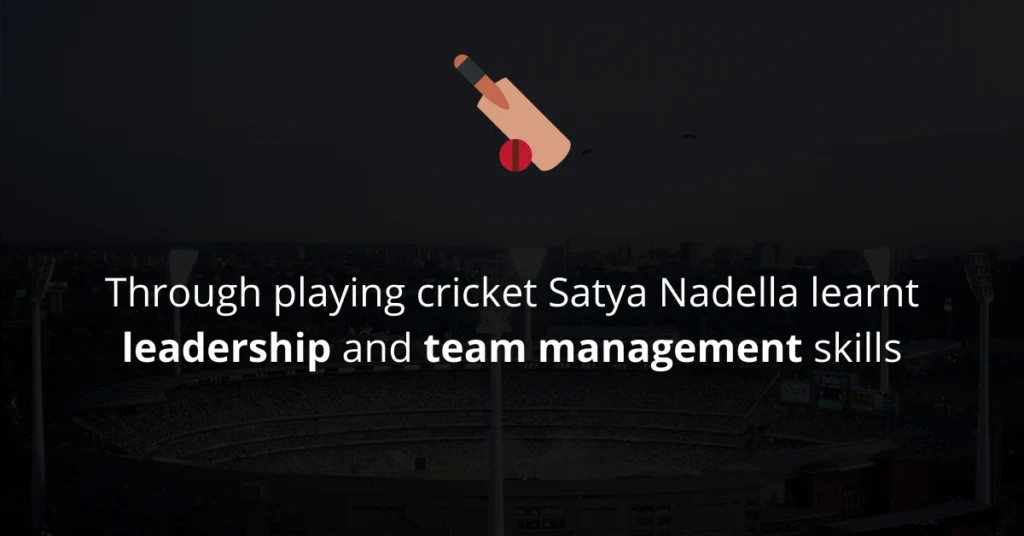 Like many Indians, Satya Nadella was a die-hard cricket fan and during that time, he prioritised playing cricket more than his academics.
In many interviews, he credited the game of cricket for teaching him the valuable leadership and team management skills.
Satya Nadella's father hung a picture of Karl Marx in his room while his mother hung a photo of goddess Lakshmi.
But both those posters failed to influence him and he was very much influenced by M. L. Jaisimha, an Indian Test cricketer.
In his high school and college days, Satya Nadella was very much obsessed with playing cricket and he made for a very good school cricket team.
The Hyderabad Public School is credited for producing many great cricketers like Venkatapathy Raju and CEOs like Ajaypal Singh Banga (CEO of Mastercard), Shantanu Narayen (President and CEO of Adobe), etc.
Through playing cricket, Satya Nadella realised the importance of teams and this immensely helped him in Microsoft.
Learning a valuable leadership lesson-
Once while playing a cricket match, Satya Nadella was bowling really bad.
Then, his captain replaced him and he himself started bowling and helped the team to perform really well in the game.
After sometime, the captain handed Satya Nadella back the ball and asked him to bowl.
This gesture of the captain surprised him because he believed that the captain could have simply replace him for not bowling well.
Only after a while, Satya Nadella realised that the captain did this to him to revive his confidence because the captain required him for the rest of the season.
This time, as he developed the confidence, he bowled really well in the second half of that game and also had a reasonably decent season.
Satya Nadella was very surprised by the leadership quality of his high school cricket captain and it's no wonder that this captain later went on to become a professional cricketer.
This particular incident taught him a very important leadership lesson to not eliminate the important people in the team and not to judge them harshly because this might break their confidence.
Satya Nadella also realised that not everyone can always perform at the highest level.
Developing a new passion-
Although Satya Nadella was an avid cricketer, he realised that he cannot become a professional cricket player after he understood that he cannot further beyond playing first class cricket.
Also, his parents wanted him to stop playing cricket and focus on studying well.
So, Satya Nadella abandoned the thoughts of making cricket as his profession and developed a new passion towards the computers.
He is very lucky to build his profession around his passion of computers.
When Satya Nadella was 15 years old, his father gave him his first computer, Sinclair ZX Spectrum.
Later, he developed a passion for the computer software after he understood that the software is one of the most malleable resources and just a few lines of code can be utilised to perform many things.
By the 1980s, Satya Nadella learnt to write BASIC code and later, he realised that his true passion lied in computers and so, at a later stage of life, he decided to pursue computer science.
Later, he received an IBM PC with the DOS (Disk Operating System) and Microsoft BASIC and this was the real life changing event for him.
Dreaming big-
In his initial days, Satya Nadella did not have big ambitions and wanted to stay in Hyderabad and study economics and political science and later become a bank employee.
But his father interfered with his thoughts and forced him to dream big and later, joined him into an engineering college.
This incident changed Satya Nadella's life forever and from there, he never looked back again.
In 1988, he completed his bachelor's degree in electrical engineering from the Manipal Institute of Technology, Manipal, Karnataka.
And in the same year, at 21, Satya Nadella flew to Chicago to pursue Master of Science in computer science from the University of Wisconsin–Milwaukee.
Initially, as he always wanted to build things, he decided to pursue electrical engineering but later, he changed his mind to study computer science.
Satya Nadella chose to study computer science because one of his friends from the The Hyderabad Public School chose to study the same at the University of Wisconsin–Milwaukee.
Here, he along with his friends, rented a house in Sunnyvale, California.
Getting rid of a bad habit-
Satya Nadella developed a bad habit of smoking while studying in college in India.
Later, when he went to Milwaukee to pursue his masters, the smokers were instructed to go out and smoke in winter.
Luckily, the one harsh winter of Milwaukee cured Satya Nadella's bad habit of smoking.
A studious student-
Satya Nadella was a very studious student and used to spend his nights in the research lab.
On one early morning, K. Vairavan, a professor of electrical engineering and computer science at the University of Wisconsin–Milwaukee visited the research lab where he noticed the sleeping bag of Satya Nadella on the floor.
In 1990, after completing his masters, he started working as a software developer and was also a part of the technology staff at the Sun Microsystems.
Joining Microsoft-
In 1992, after working for the Sun Microsystems, Satya Nadella attended for an interview at Microsoft.
As usual, the interview process took around eight hours and was very exhausting.
In the interview, Satya Nadella was asked to code on screen and as everything went well, he was very confident that he will secure a job at Microsoft.
But this confidence couldn't last long because he failed to properly answer the final question of the interview.
Richard Tait asked Satya Nadella that what will be his action if he saw a baby laying on the street and crying.
Initially, he felt that this question was related to some unknown algorithm which he missed reading.
Finally, he answered that he would call the emergency phone number, 911.
After listening to Satya Nadella's answer, the interviewer got up and escorted him out and said that he should first pick the baby up and give it a hug and also advised him to develop some empathy.
He thought that he lost this job but fortunately, he got the job at Microsoft.
Later in 1992, Satya Nadella was at crossroads whether to work for Microsoft or to study MBA from the University of Chicago Booth School of Business.
He decided to pursue both his dreams, so he joined Microsoft in 1992 and also got enrolled to the University of Chicago Booth School of Business.
Getting married-
Around this same time, in 1992, Satya Nadella married his school friend Anupama, an architect.
She is the daughter of K.R. Venugopal, Nadella Yugandher's IAS batchmate.
He did not give up on his dreams even after getting burdened by the responsibilities of job, family and education (MBA).
During the weekdays, Satya Nadella used to work for Microsoft at Redmond, Washington and on weekends he used to commute to Chicago, Illinois to attend business school.
Within two years, he completed his MBA and during that time, he was determined to go to Wall Street but a recruiter at Microsoft convinced him to change his mind and continue working in the field of technology.
Realising his superpower-
Later, Satya Nadella was given an opportunity to give some career advice to the students of the University of Chicago Booth School of Business.
He advised them to find their superpower (passion) and work hard.
Satya Nadella followed his passion of technology and abandoned the thoughts about joining the investment banking because it never interested him.
His life story teaches us that we should fall in love with our work and by doing so, our work becomes a lot more easier and we can find meaning in the work.
Everything changes-
On 13 august 1996, Satya Nadella's first child, Zain Nadella was born.
At that time, Satya Nadella was 29 years old and before his child's birth, he and his wife were busy discussing about the nursery for the child and she getting back to her job.
Both of them anticipated that everything will go according to their plans.
During this period, his career was going very well and he also completed his business school and he made great plans for the future.
But everything changed with the birth of Zain.
Unfortunately, he suffered an undetected in-utero asphyxiation which caused severe brain damage leading to cerebral palsy.
Zain is confined to a wheelchair and is quadriplegic and blind.
For around 2 years, Satya Nadella was very disappointed as all of his previous plans got disturbed and was also thinking why did this happen to him.
But his wife responded very naturally, by giving up her career and taking care of Zain.
Anupama used to drive him to many therapies and by watching her Satya Nadella slowly changed his outlook and he realised his responsibilities as a father.
Learning empathy-
Slowly but surely, Zain shaped his life in many ways and impacted him very deeply.
This was one of the significant moments in Satya Nadella's life.
He started learning empathy when he began to see life through his son's eyes and care for him.
Later, Satya Nadella was blessed with two daughters, Divya Nadella and Tara Nadella.
His youngest daughter was born with severe learning disabilities and here also, empathy helped him is helping his daughter.
Anupama joined her youngest daughter in Eaton Arrowsmith Academy, a special education school in Vancouver, Canada.
Later, the Eaton Arrowsmith Academy was supported by Satya Nadella.
This school is primarily focused on the neuroplasticity of the brain, neuroplasticity or neuroelasticity means the brain can be trained to learn.
Anupama and her daughters moved to Vancouver BC while Satya Nadella stayed with his son in Seattle and they decided to commute on weekends.
He currently resides in Bellevue, Washington.
Empathy helped Satya Nadella to rise to great heights in his career.
Losing Zain-
Zain passed away on 28 January 2022 at the age of 26.
Extending the empathy to the workplace-
Satya Nadella extended the empathy which he learnt from his family to his workplace.
He believes that it is very essential for any business to have empathy in order to innovate to meet the unmet and unarticulated needs of customers.
Empathy is very important for the progress of any business and the businessmen should see the needs of the market through their customer's eyes.
Later, Satya Nadella's wife introduced him to a Dr. Carol Dweck's book, Mindset: The New Psychology of Success.
This book impacted him to a great extent and taught him the importance of growth mindset both in the personal and professional life.
Microsoft launched many products like Seeing AI, Hearing AI and Microsoft Narrator and is committed to helping the people with disabilities.
Seeing AI uses the device camera to identify the surrounding people and objects and then, it describes the surroundings to the blind.
Hearing AI, created by Swetha Machanavajhala aids in better hearing and Microsoft Narrator is a screen-reading app which is also used by visually impaired people.
A fruitful career at Microsoft-
As Satya Nadella's career at Microsoft was following an upward graph, his responsibilities at the company also increased.
At Microsoft, he was promoted to lead the Business Solutions division and he was absolutely loving this job.
But on one day, Steve Ballmer asked him to run the Bing search engine business.
This was somewhat a difficult business and was experiencing a high attrition rate.
But Satya Nadella turned things around and now, Bing is a very profitable business for Microsoft.
He also worked in the area of online advertising.
After this success, Satya Nadella was handed over the Microsoft's cloud computing business.
He played a pivotal role in shifting the Microsoft's business culture, database, Windows Server and developer tools to cloud infrastructure and services and he was the driving force behind the development of Microsoft Azure, one of the world's biggest cloud computing infrastructure.
Satya Nadella took over the Cloud Services in 2011 and in just two years, he grew its revenue from $16.6 billion to $20.3 billion.
After working as the President of Server and Tools Business, he was subsequently made the executive vice president of the Microsoft Business Division and its Cloud and Enterprise group.
Even in the face of strict competition from the Amazon Web Services, under Satya Nadella's leadership, Microsoft Azure managed to capture a significant cloud computing market and he is responsible for the cloud revolution at Microsoft.
Now, many world renowned companies like Adobe, HP, Lufthansa, Accenture, Airbus, Symantec, Tech Mahindra, etc. use Microsoft Azure.
Finding the real meaning at work-
While in his thirties, Satya Nadella was working under Doug Burgum and was doing a great job at Microsoft.
Doug Burgum is the founder of Great Plains, an accounting software firm and currently serves as the 33rd Governor of North Dakota.
On April 5, 2001, Microsoft acquired Great Plains for nearly $1.1 billion and renamed it as Microsoft Dynamics GP.
Doug Burgum enquired Satya Nadella whether he was satisfied with his work or not and he went on to say that he will definitely spend more time at Microsoft than with his kids.
So, he encouraged him to find his real purpose and deep meaning at work because he believed that only by doing this, he can be truly satisfied with his work.
These words changed Satya Nadella's mindset and outlook towards work and motivated him to find his soul at work and later, he integrated his life with the work.
He also realised that as the Microsoft is made up of thousands of people, it too would have a soul.
Later, after brainstorming, Satya Nadella understood that the soul and the reason behind the existence of Microsoft is to empower every person and institution in the world to achieve more.
He is also very influenced by Jeff Raikes, the Chief Executive Officer of the Bill & Melinda Gates Foundation and Kevin Johnson, a former president of the Windows and online services business.
Becoming the CEO of Microsoft-
When Microsoft was looking for the successor of Steve Ballmer, John W. Thompson, a lead independent Director on the Board of Microsoft took the responsibility for appointing a new CEO.
On January 24, 2014, he sent an email to Satya Nadellain which he asked him for sometime to talk.
Later, in the evening, John W. Thompson phoned him and asked whether he was sitting down.
But at that time, Satya Nadella was playing with a cricket ball and meanwhile, he communicated that he was going to be the next CEO of Microsoft.
On hearing this news, he was dumbfounded and it took him some time to comprehend the message.
On February 4, 2014, Satya Nadella was appointed as the Chief Executive Officer of Microsoft and prior to this he worked as the Executive Vice President of Microsoft's Cloud and Enterprise group.
All his previous work experiences and successes helped him to become the CEO of Microsoft.
Nothing is impossible-
After becoming the CEO, Satya Nadella wrote an email to his employees in which he motivated them to believe that nothing is impossible and remove the improbable.
In his message, he repeated the famous quote of Oscar Wilde, an Irish poet and he also said that becoming the CEO of Microsoft is a very proud moment for him because Microsoft is one of the few companies which has the potential to change the world with the power of technology.
On 15 September 2014, Microsoft purchased Mojang, a Swedish video game developer for $2.5 billion.
In 2015, Satya Nadella met Narendra Modi, the Prime Minister of India and extended his support to the ambitious Digital India programme by proposing to provide affordable broadband services to around 500,000 villages in India.
He also played a major role in the acquisition of LinkedIn.
On June 13, 2016, Microsoft acquired LinkedIn for a whopping $26.2 billion.
In the 44 years long history of Microsoft, Satya Nadella is the third CEO after Bill Gates and Steve Ballmer.
Both the former CEOs, Bill Gates and Steve Ballmer advised him to follow his own path and not to replicate them.
Both of them gave Satya Nadella the full freedom as a CEO to take the Microsoft in a new direction and under his direction, Microsoft rediscovered its soul.
In 2019, he received a compensation of $25.8 million by Microsoft.
In 2020, Satya Nadella's net worth is approximately $387 million.
Revitalising Microsoft-
Within a few months after becoming the CEO, Satya Nadella minimised the layers of management from the top to bottom level in order to hasten the flow of information and decision making as he knew that the technology industry only respects innovation at a fast pace but not tradition.
Under his leadership, the stock price and market value of Microsoft, the cloud infrastructure, services business and other products like Azure, Office 365, LinkedIn are growing by leaps and bounds and the company has also regained its relevance in the market.
Satya Nadella played a pivotal role in revitalising several businesses like Bing, Microsoft Edge,Skype, OneDrive, Xbox,etc.
Now, Bing is the world's third largest search engine only after Google and YouTube.
He has been working for Microsoft for around 28 years and he greatly contributed to the growth of the company.
Prior to Satya Nadella becoming the CEO, Microsoft was only known for its Windows and Office but he worked hard to change this image and now Microsoft is known for a wide range of products and services ranging from Microsoft Azure and Xbox to Microsoft Surface computers.
Now, he effectively runs Microsoft as a calm, committed and canny CEO.
The very successful company-
Microsoft is a very successful company (it's the world's fourth valuable company) and has withstood the test of time and the fierce competition from manycompetitors like Apple, Cisco, Google, Facebook, IBM, Oracle, Samsung, Sony, etc.
Microsoft has come a long way from making the basic interpreter for Altair to developing quantum computing solutions.
Throughout its existence, Microsoft motto has always remained the same, to create technology so that others can create more technology.
Receiving praise-
Bill Gates praised Satya Nadella that he is the right person to lead Microsoft in these changing times and also praised his far-sightedness, humility and practicality.
He also commended him that under his leadership, Microsoft is embracing newer technologies like artificial intelligence and cloud computing without deviating from the core principles of the company.
Steve Ballmer also heaped praise on his great technical skills and business insights.
Missing the train-
Initially, Microsoft missed both on mobile and cloud.
But later, it was able to recoup in the area of cloud services and now, Microsoft is one of the strong players in the field of cloud computing services.
Now, the cloud services are one of the fastest growing businesses of Microsoft.
Satya Nadella also played an important role in the development of the Cloud OS (Operating System).
Even though its Windows Phone couldn't take off, Microsoft realised the importance of being on the mobile, so it started developing software for mobile devices.
Rekindling a new mission-
At the time when Satya Nadella joined Microsoft, the mission of this company was to have a PC (personal computer)in every home and every desk.
Within a few years, at least in the developed countries this mission was accomplished and later, Microsoft struggled to find its next mission.
But fortunately, under the leadership of Satya Nadella, Microsoft realised that its next mission is to empower people and organizations all over the globe to accomplish more and also to equip people to build the institutions that outlive them.
Hitting Refresh-
Satya Nadella along with Jill Tracie Nichols and Greg Shaw co-authored a book, Hit Refresh: The Quest to Rediscover Microsoft's Soul and Imagine a Better Future for Everyone.
This book was published in 2017 and stood as the New York Times Bestseller List in the non-fiction category at #4.
His success secrets-
Thanks to his self-confidence, Satya Nadella has been able to achieve considerable success in his professional life.
His success signifies that any great achievement is possible only with self belief.
Satya Nadella's career graph is only moving in the upward direction because he knows the subtle difference between confidence and hubris.
He credits his success to the American technology and immigration policy, the former allowed him to dream big in the field of technology while the latter gave him a chance to actualise his dreams.
Satya Nadella takes great care to better himself with each passing day and also fosters this culture at Microsoft.
Always giving the best-
Satya Nadella always gave his best at his work, in each and every role and did not wait until he became CEO to do his best work.
This teaches us that we should consider each and every job we encounter as the most important job and must do the full justice to it.
Only by doing so, good things can happen to the career.
The lifelong learner-
Satya Nadella credits his habit of constantly learning as one of the main pillars for his astounding success.
He considers himself a lifelong learner and he loves buying more books and online courses than he can actually finish.
Finishing the online courses of short duration helps Satya Nadella to easily attain a sense of accomplishment.
This showcases his love towards learning and apart from learning on his own, he also learns from the others work.
Satya Nadella not only feels energised by learning but also applies the learnings in his real life and business to create products and programs and create new approaches to work with his colleagues and customers.
He firmly believes that one should keep on learning because a person stops growing when he stops learning.
Satya Nadella is very influenced by Gandhi's saying to live everyday as if it is your last day but to learn as if you are going to live forever.
His thoughts on the entrepreneurs-
Satya Nadella is very inspired by the mindset of the entrepreneurs and their self-confidence.
He once said that the entrepreneurs are slightly delusional in firmly believing in their own ideas and having deep passion to pursue them.
For any entrepreneur to become successful, it takes a lot of courage and energy in overcoming many roadblocks on their journey towards their dreams.
Persistence is the most important thing for all the entrepreneurs because many entrepreneurs fail due to lack of persistence for a sufficient period of time.
Satya Nadella is very inspired by all these desirable qualities of entrepreneurs.
Infographic-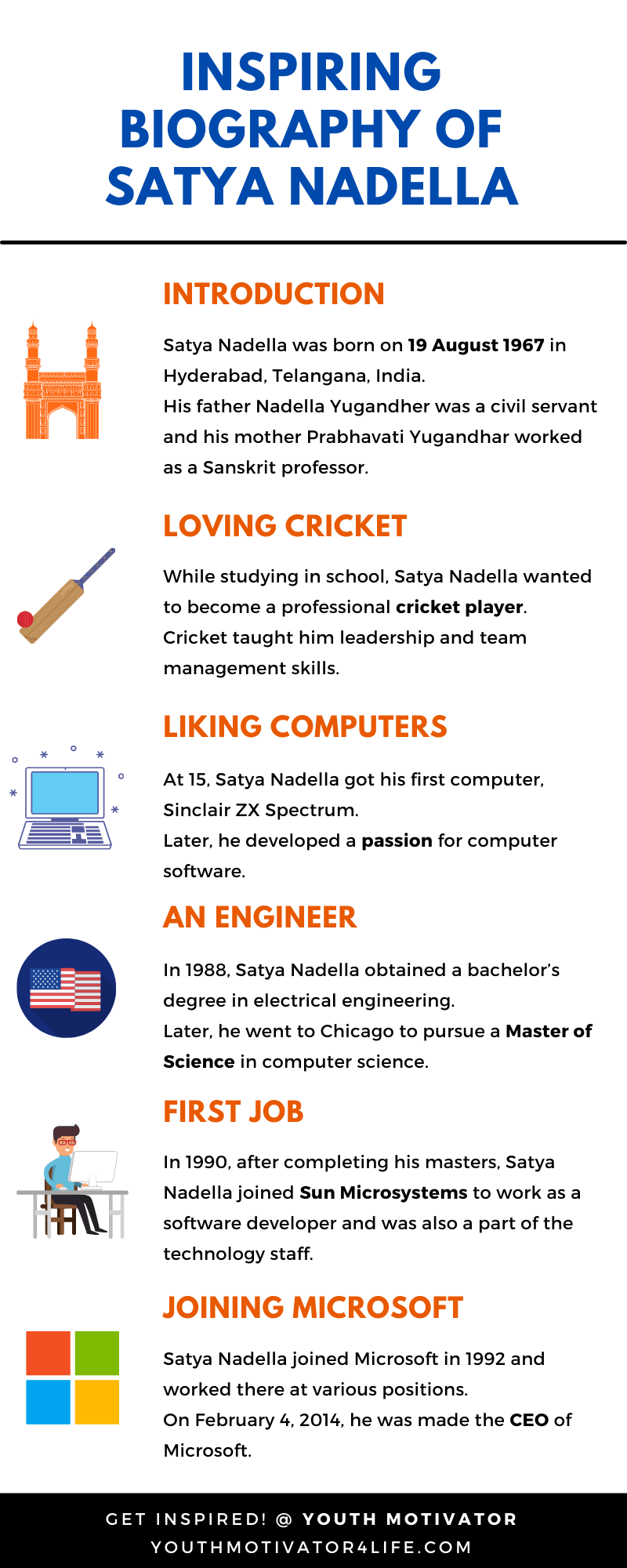 References-
Frequently Asked Questions (FAQs)
How did Satya Nadella become the CEO of Microsoft?
Satya Nadella's work experiences and successes helped him to become the CEO of Microsoft.
Satya Nadella joined Microsoft in 1992 and worked in various departments like business solutions division, Bing, online advertising, cloud computing, server and tools business, etc.
Thanks to all these work experiences, he was made the CEO of Microsoft on February 4, 2014.
What makes Satya Nadella a good leader?
The sport of cricket taught Satya Nadella many important leadership lessons like-
• To include important people in the team.
• To not judge the team players harshly because this might break their confidence.
Satya Nadella is a good leader because under his leadership-
• Microsoft Azure became a significant player in the cloud computing market.
• The stock price and market value of Microsoft and other products like Office 365, LinkedIn, etc. are growing by leaps and bounds.
How did Satya Nadella succeed?
Undoubtedly, Satya Nadella is very successful in both his personal and professional life.
These qualities contributed to his success-
• Constant learning
• Continuous improvement
• Great leadership qualities
• Empathy
• Passion towards his work.
Is Satya Nadella a good CEO?
Yes, Satya Nadella is an excellent CEO.
According to Bill Gates, Satya Nadella is the right person to lead Microsoft and he has the much needed far-sightedness, humility and practicality.
Steve Ballmer, a former chief executive officer of Microsoft also praised the technical skills and business insights of Satya Nadella.
What are the qualifications of Satya Nadella?
Satya Nadella is a highly qualified person and his qualifications are-
• A bachelor's degree in electrical engineering from the Manipal Institute of Technology, Manipal, Karnataka.
• A master's degree in computer science from the University of Wisconsin–Milwaukee.
• An MBA from the University of Chicago Booth School of Business.
Can Satya Nadella code?
Yes, Satya Nadella can code.
In the 1980s itself, he learnt to write BASIC code.
In the Microsoft interview, Satya Nadella was asked to code on screen and he did it very well.
How Satya Nadella revived Microsoft?
Satya Nadella revived Microsoft by minimising the layers of management from the top to bottom level in order to hasten the flow of information and decision making.
He also played an important role in the success of many Microsoft products and helped Microsoft to regain its relevance in the market.
Is Satya Nadella a billionaire?
No, Satya Nadella is not a billionaire but a millionaire with a net worth of $387 million.
What happened to Zain Nadella?
Zain Nadella suffered from in-utero asphyxiation which caused severe brain damage and this led to cerebral palsy.
He is confined to a wheelchair and is quadriplegic and blind. He passed away on 28 January 2022.
Featured image credit- Brian Smale and Microsoft/Satya Nadella/Wikimedia Commons
Table of Contents