Even though Srikanth Bolla was born blind, he founded Bollant Industries Pvt Ltd, a million dollar company.
He is also providing employment opportunities to many differently abled people.
Introduction-
Srikanth Bolla was born on 7 July 1992 in Seetharamapuram, Machilipatnam, Andhra Pradesh.
Unfortunately, he was born blind and because of this, he was widely discriminated against by society.
The parents of Srikanth Bolla were advised by their neighbours to throw away their child because they opined that he would grow up to become a burden to them.
The people were so superstitious that they believed that he was born blind due to the sins of his parents.
Fortunately, his parents accepted him and vowed to take his care.
Even though Srikanth Bolla was born into a very poor farmer family which even struggled to meet their basic needs, he was never neglected.
Even though his parents were illiterate they knew the importance of education thus Srikanth Bolla was joined in the nearby school, but at school he was discriminated against by the students and teachers alike.
He was always forced to sit on the last bench and was not even allowed to participate in any extra-curricular activities.
Getting humiliated-
Srikanth Bolla was looked down upon by everyone, so his father, unable to bear the humiliation of his child, took him to his work at farm to help him in farming.
But unfortunately, he was not able to assist his father.
His father realised Srikanth Bolla's passion for education, so he admitted him in the special school for blind in the nearby city.
Even though he was hated by the society, his parents always supported his endeavours.
In that school Srikanth Bolla was able to perform well, he soon topped the class with his hard work and dedication.
He even excelled at games like chess and was also a National level Cricketer.
After years of hard work, Srikanth Bolla passed his school education with flying colours.
His parents were very happy with his success and intelligence.
A leader-
Srikanth Bolla became a Youth Leader in the Lead India Program organised by Dr. APJ Abdul Kalam, the former President of India and here, he started his social service during which he trained about 8 lakh students.
Getting rejected-
Srikanth Bolla wanted to join the science stream, but the higher education authorities rejected his application saying that blind people are unfit for science.
He was greatly disappointed with the proceedings in his life but he turned that disappointment into stubbornness to succeed.
A kind teacher-
With the help of one of his kind teachers by the name Sumalatha, Srikanth Bolla raised his voice against the regulation which does not allow blind people into groups like science.
After a long fight of around 6 months, he won the case.
Finally, Srikanth Bolla got admitted into the science stream.
He toiled day and night and studied hard to achieve 98 per cent in examinations and everyone around him were stunned by his performance.
Hearing the books-
Srikanth Bolla was immensely helped by Sumalatha, who used to audio record the textbooks for him.
Even after so much success, he was again faced with let-down, when he applied for entrance exams of prestigious colleges like Indian Institute of Technology (IIT) and BITS.
Srikanth Bolla was not allowed to write the entrance exam.
Almost all of the Indian colleges closed doors on him.
Then at that moment Srikanth Bolla decided that if he doesn't deserve those colleges, those colleges also don't deserve him.
The brave man-
Even then, Srikanth Bolla didn't accept defeat.
Through online, he applied for some American Universities and four of them were ready to admit him.
Srikanth Bolla chose Massachusetts Institute of Technology (MIT) for his graduation.
There, he was the first international blind student and MIT offered him a full fee waiver.
After completing his graduation, Srikanth Bolla received many job offers from American companies.
But his love for his motherland made him return to India and contribute to its development.
In 2012, Srikanth Bolla started Bollant Industries in Nacharam, Hyderabad, Telangana.
Bollant Industries specializes in waste management services.
He likes to be seen as a role model to differently abled children all across the world and inspire them to pursue their dreams.
Today, Srikanth Bolla is an inspirational figure to the youth and promotes entrepreneurship.
Personal life-
On 19 February 2022, Srikanth got engaged to Swathi and he married her on 28 April 2022.
Infographic-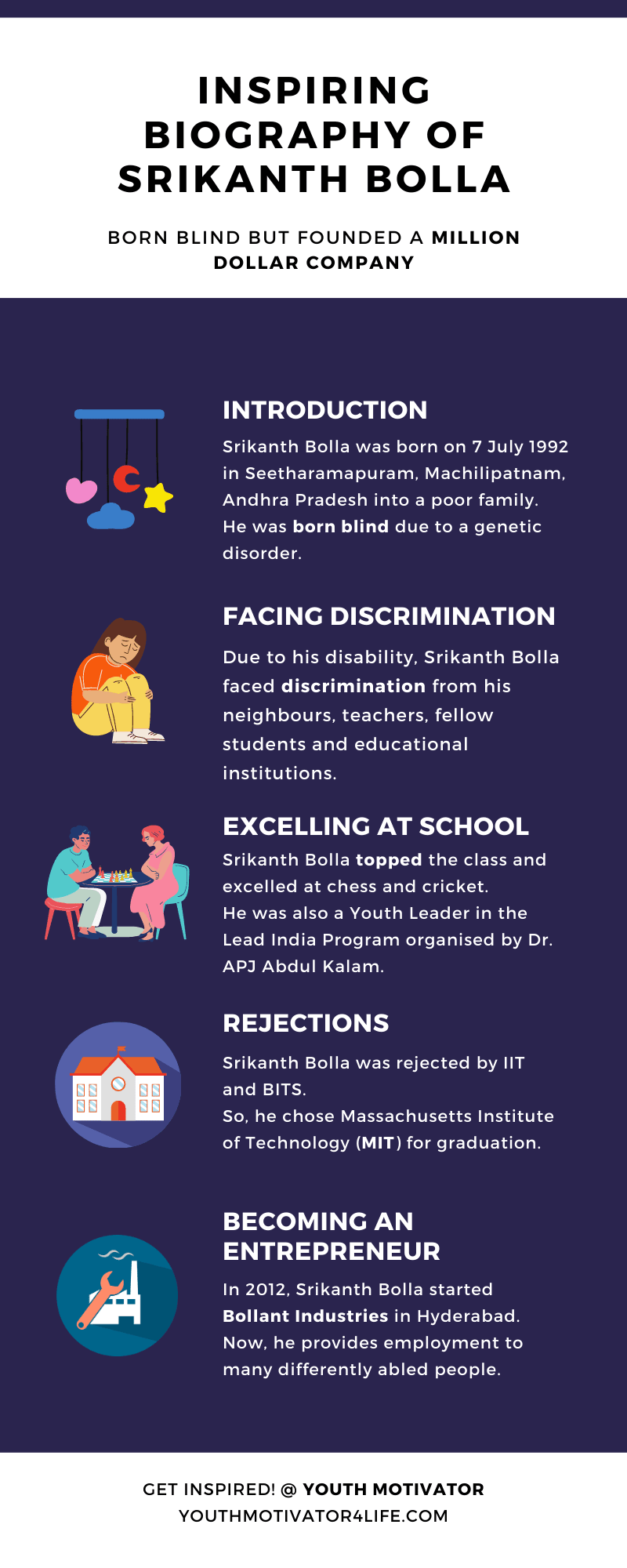 Feedback from readers is highly appreciated; it helps me to deliver better results to you.
Also read- Inspiring Biography of Ravindra Jain
Frequently Asked Questions (FAQs)
Who is Srikanth Bolla?
Srikanth Bolla is the chairman and CEO of Bollant Industries Pvt Ltd.
Even though he was born blind into a poor family and faced discrimination for his disability, he persisted and achieved many remarkable things.
Who inspired Srikanth Bolla?
Many people inspired Srikanth Bolla all through his life and they are as follows-
• His parents, Damodar Rao and Venkatamma inspired him to study well and they supported him even when the society discriminated against him.
• One of his teachers by the name Sumalatha inspired Srikanth Bolla to fight against a regulation which didn't allow blind people to study science.
• He was also motivated by Swami Vivekananda and A. P. J. Abdul Kalam.
What are the educational qualifications of Srikanth Bolla?
Srikanth Bolla studied Business Management from MIT Sloan School of Management in Cambridge, Massachusetts, United States from 2009 to 2014.
How does Srikanth Bolla inspire?
The life story of Srikanth Bolla is very inspiring.
His biography teaches us that we should take the complete responsibility of our life and should not get discouraged by the circumstances.
Who are the parents of Srikanth Bolla?
Srikanth Bolla was born to Damodar Rao and Venkatamma.
His father, Damodar Rao and mother, Venkatamma were farmers at Seetharamapuram, Machilipatnam, Andhra Pradesh.
Why was Srikanth Bolla born blind?
Srikanth Bolla was born blind because of a genetic disorder of his parents' consanguineous marriage.
What does Bollant Industries do?
Bollant Industries is famous for providing eco-friendly disposable products and packaging solutions.
Bollant Industries has five manufacturing units and offers employment for many disabled people.
Where did Srikanth Bolla work?
Prior founding Bollant Industries, he worked as an intern in various companies like General Electric India Innovation Centre, Hyderabad and Infosys Limited, Hyderabad.
Featured image credit- Wikimedia Commons
Table of Contents