Hrithik Roshan is the Bollywood's most complete and versatile actor.
Introduction-
Hrithik Roshan was born on 10 January 1974 in Bombay (now Mumbai), Maharashtra, India to Rakesh Roshan and Pinky Roshan in a Punjabi family.
He is fondly called Duggu.
Hrithik Roshan's father, Rakesh Roshan is a well-known producer, director, former actor and music director in Bollywood films.
Both the paternal and maternal grandfathers of Hrithik Roshan were associated with the Indian film industry.
His paternal grandfather, Roshanlal Nagrath was an esraj (a musical instrument) player and music director whereas his maternal grandfather, Jay Om Prakash was a director and film producer.
The lucky mascot-
In 1980, at the age of 6, Hrithik Roshan appeared in Jay Om Prakash's film, Aasha.
For this film, a cameraman filmed him while he was dancing but Hrithik Roshan was unaware that he was being video-recorded.
Jay Om Prakash paid him 100 rupees for appearing in the film.
At the age of 12, Hrithik Roshan was given a speaking role in his grandfather's film, Bhagwaan Dada.
Jay Om Prakash used to bring Hrithik Roshan on-screen in his films because he believed that he brought good luck to his films.
The beginning of the difficult times-
The young Hrithik Roshan was teased by the fellow children because he had an extra thumb fused to the one on his right hand and also because he used to stammer while speaking.
He started stammering at the age of six.
Stammering (stuttering) is a speech disorder which affects the normal fluency and flow of speech.
Because of these reasons, Hrithik Roshan was unable to properly interact with the children and was also subjected to bullying by other kids.
As a result, he disliked going to school.
So, whenever the oral tests were conducted in his school, Hrithik Roshan used to bunk the school in order to escape from the speaking situations by breaking his hand, getting sprain, acting like he had fever, stomach ache, etc.
He knew that he had to manage stammering because he badly wanted to become an actor when he grew up.
Later, Hrithik Roshan underwent speech therapy at the Nanavati hospital (Dr. Balabhai Nanavati Hospital), Mumbai.
Here, Dr Ramesh Oza helped him to manage stammering and cope with it.
Hrithik Roshan did his schooling at the Bombay Scottish School.
Later, he graduated in commerce from the Sydenham College of Commerce and Economics, Mumbai.
Here, Hrithik Roshan used to actively participate in dance and music festivals.
His best friends Uday Chopra, Prashant Issar, Kunal Raj Kapoor and Aditya Chopra influenced him while he was growing up.
After finishing his graduation, Hrithik Roshan decided to enter into the film industry.
Even though his family members are very talented and associated with the film industry, he used to constantly worry since his childhood because of his stammering problem.
Thanks to the speech therapy, Hrithik Roshan succeeded in regaining his confidence.
At the age of 20, he was happy because his speech started to improve but unfortunately, he was diagnosed with scoliosis.
Scoliosis is a curvature of the spine.
Because of scoliosis Hrithik Roshan started to experience back problems and spasms and used to get bedridden for weeks or months whenever he tried to do workouts or dance.
So, the doctors advised him to not perform stunts and dance.
The turning point of his life-
Just after a year after the diagnosis, Hrithik Roshan started to dislike his inert way of life and so, against his doctor's advice he adventures by jogging on Mumbai's Juhu Beach and to his surprise, he felt no pain.
Within a few weeks, as his confidence grew, he started running and fortunately, he experienced no problems.
Suffering from slip disc –
Hrithik Roshan had his first slip disc when he was 21 years old and he approached the best doctors in the world.
As his back was in a bad shape, the doctors advised him to abandon acting and they blamed this on his genetics.
The doctors warned Hrithik Roshan not to jump or dance, otherwise in a matter of three to four years, he might have to undergo surgery and then, there will be a fifty percent chance that he might get confined to a wheelchair.
He was very devastated because of this happening and he told the doctor that he wanted to be an actor but the doctor straightforwardly refused him to be an actor.
Hrithik Roshan did not do anything for a year following the doctor's advice.
Then, a year later, on the same day on which the doctor told him that he cannot be an actor and when he gave up the thought of becoming an actor, he woke up and wholeheartedly decided to become an actor because he did not want to regret for not becoming an actor in the later years of his life.
Hrithik Roshan made up his mind to become an actor because he preferred dying acting rather than live doing any other thing since he wanted to live his life the way he wanted to live.
Then, he took the initiative and the rest is history as we know it.
Entering into the films-
In the initial days, Hrithik Roshan got associated with his father's film unit.
He assisted his father for the films Khudgarz (1987), King Uncle (1993), Karan Arjun (1995) and Koyla (1997).
Additionally, Hrithik Roshan also did odd jobs like sweeping the floor and preparing tea for the work party.
Here, while working as an assistant director, he got an opportunity to closely observe the actors and their acting.
Hrithik Roshan also took acting classes from Kishore Namit Kapoor.
In the year 2000, he started his film career with a movie, Kaho Naa… Pyaar Hai.
Even though this film was directed by his father, Rakesh Roshan, Hrithik Roshan did not easily get a chance to act in this movie.
Rakesh Roshan initially approached Shah Rukh Khan to request him to act in a lead role in this movie but he was not convinced.
Finally, he decided to give his son a chance.
For this movie, Hrithik Roshan trained with Salman Khan to build a great body and also took training in dancing, singing, fencing and horse-riding.
Making his first impression, the best impression-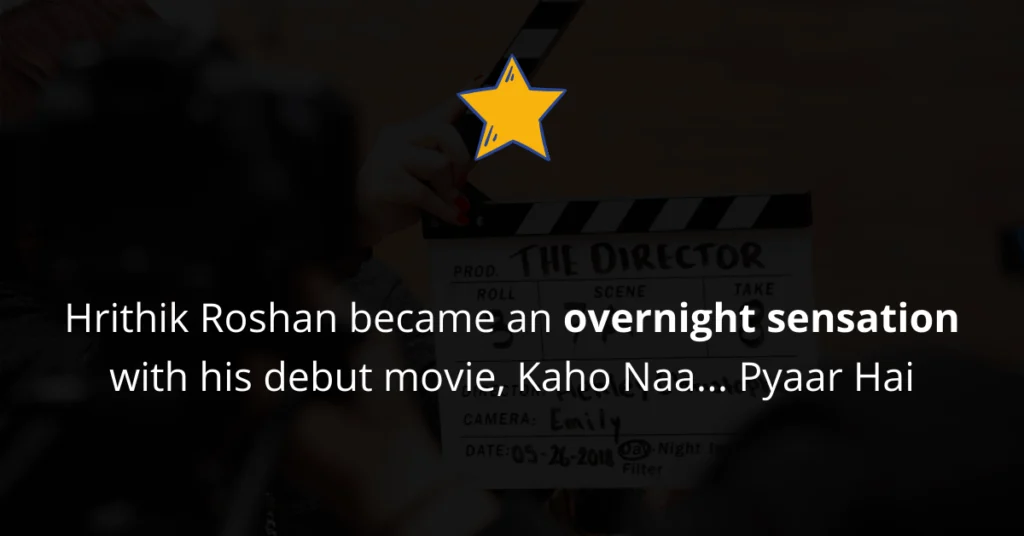 Finally in the year 2000, his hard work paid off and Hrithik Roshan became an overnight sensation with his debut movie, Kaho Naa… Pyaar Hai.
Thanks to his great dance and acting skills, he won the hearts of many people and this made him the Millennial Superstar.
This film earned Hrithik Roshan numerous awards like Filmfare Award for Best Debut, Filmfare Award for Best Actor, IIFA Awards, Zee Cine Awards, Star Screen Awards, etc.
This film also entered the Limca Book of Records for scoring the most number of Awards won by a Bollywood film and this film was also enlisted in the Guinness World Records 2002 for winning the greatest number of awards for a feature film.
The music for this film was directed by his uncle, Rajesh Roshan.
This film became a super hit at the box office and was the highest-grossing Bollywood film of the year 2000. This film collected 800 million rupees at the box office.
Thanks to this film, he became the heartthrob of billions of people.
After the success of his first film, Hrithik Roshan married Sussanne Khan on 20 December 2000.
Later, this couple was blessed with two sons, Hrehaan Roshan (born in 2006) and Hridhaan (born in 2008).
Hrithik Roshan and Sussanne Khan got divorced in November 2014.
As his other films after the film Kaho Naa… Pyaar Hai failed to make significant impacts at the box office; many people thought that he was a one film wonder.
The biggest turning point of his life-
Thankfully, in the year 2003, Hrithik Roshan proved his doubters wrong with the success of his film, Koi… Mil Gaya.
The movie Koi… Mil Gaya became the biggest turning point of his life.
By this movie, Hrithik Roshan experienced a very new kind of feeling while playing the role of Rohit Mehra, a mentally disabled child.
He observed that he was getting deeply involved in his role and was delivering the dialogues spontaneously.
Later, Hrithik Roshan decided that he will only act in such kinds of films, the films which excite and invigorate him to such a great extent.
By this film, he proved himself as a complete actor and this film became the most popular Bollywood film of the year and earned around 800 million rupees.
Hrithik Roshan also acted in numerous films like Luck by Chance, Mission Kashmir, Fiza, Yaadein, Lakshya, Main Prem Ki Diwani Hoon, Guzaarish, Zindagi Na Milegi Dobara, Mohenjo Daro, Krrish, Aap Mujhe Achche Lagne Lage, Kaabil, Kites, Jodhaa Akbar, Agneepath, Mujhse Dosti Karoge!, Kabhi Khushi Kabhie Gham, Bang Bang, Dhoom 2, Super 30, War, etc.
In his every film, he performs in larger than life roles.
Hrithik Roshan became India's first superhero, thanks to his movie Krrish.
Thanks to his excellent acting and dancing skills, he became one of the finest Bollywood actors.
Becoming the most expensive film star on Indian television-
Thanks to his excellent dancing skills, in the year 2011, Hrithik Roshan was invited as a judge to a dance competition reality show, Just Dance.
By this, he made his television debut and became the most expensive film star on Indian television and was paid 20 million rupees per episode.
His own brand-
In November 2013, Hrithik Roshan launched his clothing brand, HRx.
HRx is India's first home grown fitness brand and it offers many products like inner-wear, footwear, apparel, eye wear, accessories, athlete meals, etc.
The inspiring words-
Our lives are full of ups and downs.
When you are in the lowest phase of your life, you should not worry because the circumstances will definitely go up again if you keep on trying.
You should never stop moving forward in your life and must not be static at one point in your life for a long period because this will prevent you from achieving anything significant in your life.
The most important thing will be taking an initiative to take the first step towards your goal but many people fail in doing this.
When you take the first step, then everything will sort itself out.
Battling with stammering-
In his childhood, Hrithik Roshan found it very difficult to even speak out a single sentence due to stammering.
When he started to speak, everything seemed to be normal but he used to get struck in between and the speech used to stop abruptly and he could never understand the reason behind this.
Hrithik Roshan compared this to hell because his whole body used to experience shock, his heart used to palpitate and the looks of the other people would even make him more uncomfortable.
Even now, he sometimes runs into stammering but he is happy to find a way to manage it.
Stammering is one of those unfortunate handicaps which are being laughed at especially by children because it appears funny to them and they fail to understand the state of the sufferer.
The childhood of a stammerer is pure hell because from the time he wakes up in the morning till the time he gets to sleep he has to go through the entire day in which he needs to use his speech and because of it some days he feels dreadful to wake up from the sleep.
In his childhood, Hrithik Roshan wished to tell that he wanted to become an actor when he grew up but could not utter those words and this demotivated him because he felt that he cannot become an actor as he even cannot state that he wanted to become an actor.
He was a very shy guy in college and used to be very reserved.
When he first met Sussanne Khan, he experienced the worst episode of stutter in his life.
They both went on a date to a restaurant and Hrithik Roshan tried to order something and then he experienced the worst stuttering block.
Hrithik Roshan was struggling to utter a word while the waiter was staring at him.
But surprisingly in the first meeting itself, Sussanne Khan knew what he wanted to order and ordered it for him.
Later, Hrithik Roshan fell in love with her because she was the first girl who did not make him feel uncomfortable in his own skin.
Gaining the much needed confidence-
Luckily, because of the following incident Hrithik Roshan gained the confidence to become an actor.
On a fine morning, he noticed some boys performing somersaults on the beach.
Hrithik Roshan was impressed by the boys, so he appreciated them and requested them to teach him to perform somersaults.
Later, the boys started to teach him to do somersaults but initially, he failed to learn it and kept falling again and again even after trying repeatedly.
Luckily, Hrithik Roshan was able to perfectly do somersaults after practising it for a couple of days.
Later, he noticed that those boys were speaking fluently and then he realised that he too can learn to speak fluently by practising much like he learnt to perform somersaults.
Hrithik Roshan also understood that hiding or denying stammering will not help and will only make things worse.
So, he decided to accept it and started working hard to improve his speech by practising to learn speaking from scratch.
Hrithik Roshan started speaking aloud all the alphabets and later used to repeat them in all possible ways and forms to develop a firm grip on articulation and pronunciation.
He also practised pronouncing permutations and combinations of different letters for long hours.
Even today, Hrithik Roshan devotes an hour daily for practising his speech.
In the year 2008, he donated 2 million rupees to the Nanavati hospital and also inaugurated the Audio and Speech therapy wing there.
Practising for 36 hours-
Once, Hrithik Roshan had to practise for 36 hours in order to tell his cook what he wanted to eat.
In another event, he was nominated to receive the Best Debut Actor award for his movie, Kaho Naa… Pyaar Hai in Dubai and he wanted to say that he loved Dubai while receiving the award.
But Hrithik Roshan was not fully confident whether he could fluently utter the word Dubai.
So, the night before the award function, he wanted to practice saying the word Dubai by screaming the word loudly for many times.
But Hrithik Roshan was unable to do that because he felt that his voice would be heard outside.
So, later he went to his bathroom to practise but there also he noticed that his voice could be heard by the people outside.
Later, Hrithik Roshan locked himself in the big cupboard and then started practising saying Dubai.
Finally, he was able to deliver a flawless speech at the award function.
Hrithik Roshan attained super stardom because he conquered his problems with self-confidence, will power and with the support he received from his family members.
Feedback from readers is highly appreciated; it helps me to deliver better results to you.
Frequently Asked Questions (FAQs)
Why is Hrithik Roshan famous?
Hrithik Roshan is very famous for his acting, dancing skills, looks, for involving in humanitarian causes and charities.
How famous is Hrithik Roshan?
Hrithik Roshan is a very famous actor.
He is so famous that his wax statue was installed at London's Madame Tussauds museum.
Hrithik Roshan is not only famous in India but also worldwide and this is apparent by his films which achieved global success like Kabhi Khushi Kabhie Gham…, Krrish, Jodhaa Akbar, etc.
He also got featured in many magazines like Eastern Eye, Filmfare magazine and many times he was also included in Forbes India's Celebrity 100.
Is Hrithik Roshan a non-vegetarian?
Yes, Hrithik Roshan is a non-vegetarian because he loves eating salmon fish.
Also on some days, he consumes egg whites in the morning.
What problems did Hrithik Roshan have as a child?
As a child, he suffered from stammering and due to this he was teased by the fellow children.
They also used to tease Hrithik Roshan's extra thumb.
As a child, Hrithik Roshan also faced bullying.
All these things made him dislike going to school.
Is Hrithik Roshan a star kid?
Yes, Hrithik Roshan is a star kid.
His father, Rakesh Roshan is a former Bollywood actor and acted in many films like Ghar Ghar Ki Kahani, Man Mandir, Haqdaar, Om Shanti Om, etc.
Is Hrithik Roshan left-handed?
No, Hrithik Roshan isn't left-handed but ambidextrous.
This means he can use both his hands equally well.
What does Hrithik Roshan eat?
Hrithik Roshan consumes egg whites and avocado in the morning.
And later, he consumes meals for protein and these meals consist of salad, vegetables, etc.
Hrithik Roshan keeps altering his meals for different occasions.
He also loves eating banana, apple, sweet potato, watermelon and mango.
Hrithik Roshan likes black coffee.
Who are the owners of HRX company?
HRX is co-owned by Hrithik Roshan and Afsar Zaidi.
Does Hrithik Roshan have a daughter?
No, Hrithik Roshan doesn't have a daughter.
He has only two sons namely, Hridhaan Roshan and Hrehaan Roshan.
Featured image credit- Bollywood Hungama/Wikimedia Commons
Table of Contents