Sundar Pichai is the current Chief Executive Officer of Google LLC and its parent company, Alphabet Inc.
Introduction-
Pichai Sundararajan (Sundar Pichai) was born on June 10, 1972 in Madurai, Tamil Nadu, India into a middle class family.
His father, Regunatha Pichai worked as a senior electrical engineer at General Electric Company (GEC) and he also owned a manufacturing plant which manufactured electrical components.
His mother, Lakshmi worked as a stenographer and her job was to transcribe speech in shorthand.
Sundar Pichai has a younger brother, Srinivasan Pichai.
Theirs was a very traditional and down to earth family which prioritised their children's education by sacrificing comforts like television and car.
Regunatha Pichai had to save money for three long years to purchase a Lambretta scooter.
Initially, they did not even have a refrigerator.
Sundar Pichai grew up in a two-room apartment on the 46th street, 7th avenue in Ashok Nagar, Chennai.
Realising the importance of education-
From a very young age, Sundar Pichai realised the importance of education.
He was a very studious and bright student and this later allowed him to enter into prestigious institutions like Indian Institute of Technology and Stanford University.
Sundar Pichai used to commute to school in a cycle rickshaw and even while commuting he used to read books.
He was so focussed on reading that he would not even lift his head to see his fellow passengers.
Also, Sundar Pichai's simple lifestyle devoid of distractions allowed him to focus on his studies.
Getting influenced-
Regunatha Pichai used to discuss with him about daily incidents and challenges at work.
These discussions sparked an interest in Sundar Pichai's mind regarding technology and greatly influenced his future course of life.
His first encounter with technology-
Sundar Pichai got his first rotary dial landline telephone when he was 12 and this was his first encounter with technology.
With that phone, he liked to call his friends and sometimes, tinker with it by disassembling it.
This telephone established Sundar Pichai's fascination with technology.
Later, his family got a television.
Even though it had only a single channel, he was very excited by it.
Possessing an extraordinary talent-
Thanks to the telephone, Sundar Pichai had been able to realise his hidden talent of remembering numbers.
He was able to remember each and every phone number he dialled on it.
Sundar Pichai possesses this incredible gift even today and surprises his colleagues at Google with his insane numerical recall.
The inventions which impressed him-
Sundar Pichai used to read about the happenings at the Silicon Valley and he longed to be a part of it.
Once, he read about the invention of transistors at Bell Laboratories and this inspired him to a great extent.
A transistor is a semiconductor device and was invented in 1947 by William Shockley, John Bardeen and Walter Brattain.
Sundar Pichai was very impressed by how a revolutionary idea and brilliant invention can unleash so many entrepreneurs to build startups which later revolutionised many industries in more than one way.
Later, he was also impressed by the invention of smartphones and GPS which transformed the way we travel.
Realising the power of ideas-
After reading about the invention of the transistor, Sundar Pichai realised that only great ideas matter and it does not matter from which place the ideas emanated.
So, it gave him the confidence that one day, he too can achieve something significant in life and his background and place of origin doesn't matter.
Later, this thought motivated Sundar Pichai to move to Silicon Valley, a hotspot for great ideas and entrepreneurs from all across the world.
Dreaming to become a cricketer-
While growing up, Sundar Pichai used to listen to cricket commentary on the radio.
He loved playing cricket and was also the captain of his high school cricket team.
At one point of time, like many Indians Sundar Pichai dreamt of becoming a cricketer.
But as we know, life had different plans for him.
He is also an enthusiastic chess player.
Sundar Pichai did his schooling from Jawahar Vidyalaya in Ashok Nagar, Chennai and completed high school (Class XII) from Vanavani Matriculation Higher Secondary School, Chennai.
Joining IIT-
After the completion of his twelfth grade, Sundar Pichai's love for technology made him choose engineering.
As he was a brilliant student, he was able to crack the entrance exam of IIT, one of the toughest exams in the world.
Later, in Chennai Sundar Pichai boarded onto the crowded Coromandel Express and travelled for nearly 24 hours to visit Indian Institute of Technology Kharagpur at Kolkata.
This was the first time he travelled such a long distance from home.
IITs are regarded as one of the best institutions for studying engineering in India and attending IIT changed the course of his life.
Sundar Pichai chose to study metallurgical engineering at IIT Kharagpur.
Metallurgical engineering is the study of metals and its applications.
Some memorable experiences at IIT-
As a freshman at IIT, Sundar Pichai had quite some bizarre experiences.
The first one was CG Change which stood for centre of gravity change.
Once, Sundar Pichai locked his room and went out for some work.
When he came back, he was surprised to see everything inside his room including the furniture was rearranged even though the doors were not opened.
Later, Sundar Pichai learnt that others did this with the help of sticks.
He was also made to carry luggages of his incoming seniors on the lengthy platforms of the Kharagpur Junction railway station.
At IIT, Sundar Pichai befriended his wing mates and formed some of the best memories of his college life with them.
The language woes-
As Sundar Pichai hailed from Chennai, a southern part of India, he didn't know Hindi well.
Even though he learnt Hindi in school, he did not have sufficient command over the language.
So, all Sundar Pichai had to learn Hindi was to observe his friends speaking it at Kharagpur.
Likewise, by observing them, he got to know that one should address people by abey saale.
But little did Sundar Pichai know that abey saale meant- you idiot.
One day, he had to call someone in the mess, so he addressed him by abey saale.
The employees at the mess were very upset with his behaviour, so they temporarily shut down the mess.
This incident made Sundar Pichai very popular for that day.
Meeting Anjali-
At IIT, Sundar Pichai met his future wife, Anjali with whom he fell in love with.
She was his classmate and used to stay at the Sarojini Naidu Hall (SN Hall).
During that time, SN Hall was the only girl's hostel at IIT Kharagpur.
Meeting her at the hostel was somewhat difficult, as Sundar Pichai couldn't contact her directly.
First of all, he had to go to the front of the hostel and request someone at the hostel to call her.
Then, that person would loudly announce that "Anjali, Sundar is here for you".
Sundar Pichai proposed to her in the final year of the graduation, to which she agreed.
Seeing computers for the first time-
For the first time in life, Sundar Pichai saw computers at the computer centre of IIT Kharagpur.
For accessing the computers, he had to book time with the computer centre and also take floppy discs.
How computing transformed Sundar Pichai's life?
Gaining access to computing transformed his life and as a result, he developed passion for computing and programming.
At IIT, Sundar Pichai did programming and also learned Fortran programming language.
Later, this motivated him to work on computing and build computing products which have the potential to reach millions of users.
Sundar Pichai's love towards computing took him to Google and there, he got a chance to work on his passion.
At IIT, he won the Bidhan Chandra Roy Memorial (B C Roy) silver medal for being a topper and excelling in academics.
Much like Sundar Pichai, his brother Srinivasan Pichai also studied at IIT.
Moving to United States-
Upon graduating in 1993, Sundar Pichai won a scholarship to Stanford University to study masters in materials science and semiconductor physics.
Even though he got a chance to study at Stanford University, unfortunately, he couldn't afford the flight charges.
So, to help him, his father withdrew a sum of $1,000, which was worth a year's salary from the family savings.
This was the first time Sundar Pichai actually got on a plane.
Financial struggles-
Upon arriving in the US, Sundar Pichai wanted to purchase a new bag but was astonished after knowing that it costs $60.
As he was unable to afford it, he ended up buying a used one online.
During those times, the call charges were high so Sundar Pichai was unable to talk to Anjali for six long months.
Joining Stanford University-
Sundar Pichai felt very welcomed at Stanford University and the people there admired his ideas and hard work.
In 1995, he completed his Master of Science degree in material sciences and engineering from Stanford University.
Later, Sundar Pichai planned to pursue PhD and begin an academic career but he dropped this plan and joined Applied Materials to work as an engineer and product manager.
Applied Materials, Inc. provides materials engineering solutions for semiconductors.
Pursuing MBA-
Later, Sundar Pichai resigned from his job to pursue MBA from Wharton School of the University of Pennsylvania.
Here, he was honoured as a Siebel Scholar and a Palmer Scholar.
The Siebel Scholars program recognizes the highly talented students at the graduate schools while the Palmer Scholar is granted to the graduating top 5% of class.
Following the completion of MBA, Sundar Pichai joined McKinsey & Co. to work as a management consultant.
Getting married-
After settling in his job, Sundar Pichai convinced Anjali's parents and married Anjali.
After marriage, he along with his wife moved to the United States.
Sundar Pichai credits his wife for her role in his success.
This couple is blessed with two children, a daughter Kavya Pichai and a son Kiran Pichai.
You will be surprised to know that Kiran Pichai from the age of 11 started mining Ethereum on their family's PC.
Comprehending the power of internet-
During 2004, the internet was greatly evolving and Sundar Pichai quickly realised that this would be a revolutionary technology.
He was fascinated by the internet in general and Google in particular.
Sundar Pichai realised that the internet is one of the greatest economic engines of all time and it possesses the great power to remove barriers (barriers of knowledge and wealth), connect all of humankind, transform the lives of people and act as an equaliser.
Sundar Pichai has always been very passionate and optimistic about how technology has a potential to make immense difference in the lives of millions of people.
The search which works the same-
The thing which enticed Sundar Pichai towards Google is that Google Search works the same as long as one has access to a computer or a smartphone with internet connection.
It does not discriminate and provides the same results either to a poor rural kid in a distant part of the world or to a professor at elite institutions like Stanford University or Harvard University.
And the thought that Google builds products for everyone attracted him even more.
So, Sundar Pichai resigned from McKinsey & Company and appeared for an interview at Google.
Attending interview on the April Fool's Day-
On 1 April 2004 (April Fool's Day), Sundar Pichai attended an interview at Google.
On the same day, Google started a limited beta release of Gmail and it was invite only.
He and some Googlers thought of Gmail as an April fool's joke.
At the interview, Sundar Pichai was repeatedly asked about Gmail but he couldn't properly answer them as he never used it before.
So, in his first three interviews, he was unable to accurately explain about Gmail.
Later, in the fourth interview, the interviewer questioned Sundar Pichai whether or not he had seen Gmail and to which he replied that he had not seen it.
So, that interviewer showcased Gmail to him and only by seeing it, Sundar Pichai was able to finally understand it.
Like this, in his final four interviews, he was only able to tell his thoughts about Gmail and some ways to improve it.
And only during the fifth interview, Sundar Pichai was able to confidently answer the questions pertaining to Gmail.
A very different place to work-
In the midst of the interview process, Sundar Pichai was taken to have an ice cream and by this, he realised that Google is a very distinct place to work.
He joined Google when it had around a thousand employees and around this same time Larry Page stopped interviewing people.
So, Sundar Pichai jokes that he got selected into Google because Larry Page did not interview him.
It is very interesting to know that he switched fields from metallurgy to management and finally to computer science.
Joining Google-
In 2004, Sundar Pichai joined Google as a product manager.
Initially, he worked with a small team on Google Toolbar.
It was a toolbar for then popular web browsers like Internet Explorer and Mozilla Firefox and it allowed the users to access the Google search engine.
Sundar Pichai also worked on other products like Google Gears and Google Pack.
Google Gears was a software for creating web apps and Google Pack facilitated the download of many Google software tools in a single archive.
Google's own browser–
Later, Sundar Pichai realised that Google should develop its own internet browser.
During those times, browsers like Internet Explorer, Mozilla Firefox and Opera dominated the browser landscape.
So, he thought that Google should also have its very own browser.
Sundar Pichai discussed this plan with his senior and then CEO Eric Schmidt.
Unfortunately, he was not convinced because he felt that developing a web browser would be an expensive affair.
But Sundar Pichai didn't give up because he thought that in future other browsers might not allow the installation of the Google Toolbar.
Like Microsoft might force its own web search engine Bing on its users.
As Google makes most of its revenue through advertisements, its revenues will get significantly affected when its search business is at the mercy of other browsers.
The power of perseverance-
Luckily, Sundar Pichai did not give up and later, he succeeded in convincing the co-founders of Google, Sergey Brin and Larry Page and also Eric Schmidt.
His futuristic thinking served Google very well as just after a period of six months, on 18 October 2006, Microsoft silently replaced the default search on its Internet Explorer from Google to Bing.
This incident panicked Google as its ability to make money from the then most popular browser, Internet Explorer was cut off.
The do or die situation-
So, Google had to immediately take steps to mitigate the losses.
This time also, Sundar Pichai rescued Google as he and his team quickly found a way around.
He found a solution to significantly reverse customer attrition and he accomplished this by displaying a pop-up window to the users using Bing and this allowed the users to revert back to using Google as their search engine.
Additionally, Sundar Pichai also made deals with the PC manufacturers like HP to bundle Google Toolbar and related software into their machines.
All these developments highlighted the significance of Google having its very own browser and also his visionary leadership.
On 2 September 2008, Sundar Pichai publicly released the beta version of Google Chrome for Windows XP in more than 100 countries.
Becoming the Vice President-
Around this same time, Sundar Pichai was promoted to the post of Vice President of product development and this made him appear in the Google presentations.
By 2012, Google Chrome became the most popular web browser.
Now, it is the most used web browser in the world and has a market share of more than 67% followed by Firefox at 8% and Internet Explorer at 7%.
This can be regarded as his biggest success at Google and this paved the way for Sundar Pichai to later become the CEO of Google and Alphabet.
The most successful product of Google-
Google Chrome is one of Google's most successful products and the main reasons for its success can be attributed to its speed, security, stability, synchronization features (one can sync Google Chrome on different devices with a Google account), etc.
Google Chrome is reaping huge profits for Google as it allows the people to directly access Google search engine and this provides Google with an opportunity to serve the ads to them and make money from them.
This grand success popularised Sundar Pichai in the tech world.
Later, he played a pivotal role in the innovation of several software products like Chrome OS, Google Drive, Gmail and Google Maps.
Some products like Chrome OS, Chromebooks and Chromecast are based on Chrome.
Allured by Twitter-
In 2011, Twitter sought Sundar Pichai to replace Jason Goldman for the position of leading its product development team.
Then, Google offered him a large bonus (approximately $50 million) and thus, he remained with Google.
From 2011 to 2013, Sundar Pichai also served as a director of Jive Software.
He was also present on the Board of Advisors at Ruba, Inc.
By 2012, thanks to his diligence, Sundar Pichai rose to the rank of Senior Vice President of Chrome and Google apps.
He also played an important role in cementing the ties between Samsung and Google.
In 2013, Sundar Pichai accompanied Larry Page and Nikesh Arora (then Chief business officer of Google) to a Samsung factory in South Korea to strengthen the ties between the two companies.
Arriving at Android-
On March 13, 2013, Sundar Pichai became the new lead for Android after Andy Rubin was shifted to new projects at Google.
He also started the Android One program.
Brad Stone declared Sundar Pichai as the Most Powerful Man in Mobile.
In 2014, he was promoted to in charge of products and this in turn made him Larry Page's deputy.
Considered by Microsoft-
In 2014, Sundar Pichai was offered to become the CEO of Microsoft and replace Steve Ballmer.
Microsoft believed that he would be a great choice as he had capabilities in the field of creating a new open operating system model for cloud, mobile, and social.
But as we know Sundar Pichai remained as a loyal Googler and Satya Nadella was chosen as the CEO of Microsoft.
In 2016, he was featured on Forbes as Google's new superpower.
Becoming the CEO of Google-
On August 10, 2015, Sundar Pichai was chosen to become the successor of Larry Page and become the next CEO of Google.
This was a very proud moment for the Indian community to see an Indian born achieving such a great success.
As the CEO, Sundar Pichai took the responsibility of Google Search, Google Ads, Google Maps, Google Play, YouTube, and Android.
On December 3, 2019, he became the CEO of Alphabet, the parent company of Google.
Now, Sundar Pichai is one of the most successful CEOs of Google and under his leadership, Google and Alphabet are touching new heights.
As he frequently appears in Google's annual developer conferences, he became known as the master of ceremonies and the public face of Google.
Huge net worth-
Sundar Pichai's net worth is a whopping $600 million and he receives $281 million in compensation.
As the CEO of Google, he is striving to build technologies for everyone because they act as an equalising force.
Also, Sundar Pichai is completely aligned to Google's mission to organise the world's information and make it universally accessible and useful.
He is admired for his calmness, soft spoken and diplomatic nature and even after becoming the CEO, he is leading a very simple life.
Innovation at its core-
Google is one of the most successful companies on the earth, the main reason for this can be attributed to its tendency to continuously innovate.
This resulted in several innovations like self-driving cars, assistant based on artificial intelligence, Google Home, etc.
Remembering his roots-
Sundar Pichai is a very down to earth person and he never forgets his roots.
He frequently interacts with the students of IIT Kharagpur on Skype.
Sundar Pichai also met his old IIT Kharagpur classmates at Bengaluru.
On Jan 5, 2017, he interacted with nearly 3500 students in an amphitheatre at IIT Kharagpur.
During this meeting, Sundar Pichai felt very nostalgic and also went on to see the place where he stayed as a student.
In 2015, he met Narendra Modi, the Prime Minister of India to extend support to the Digital India campaign.
His hobbies-
Some of Sundar Pichai's hobbies include spending time with kids, watching cricket and soccer.
He also loves spending time with his family and friends.
Sundar Pichai's favourite cricketers are Sunil Gavaskar, Sachin Tendulkar and Virat Kohli.
It is interesting to note that Sachin Tendulkar started playing in the Tests at the same time when he joined IIT.
His favourite actress is Deepika Padukone and he admires Narayana Murthy as an entrepreneur.
The main pillars of Sundar Pichai's success are dedication, perseverance and both hard and smart work.
As a child, Sundar Pichai did not have access to computers and even for a rotary dial telephone he had to wait for a long time but all these setbacks couldn't deter his determination.
His biography proves that one's background is not important and to become successful one should dream high.
Infographic-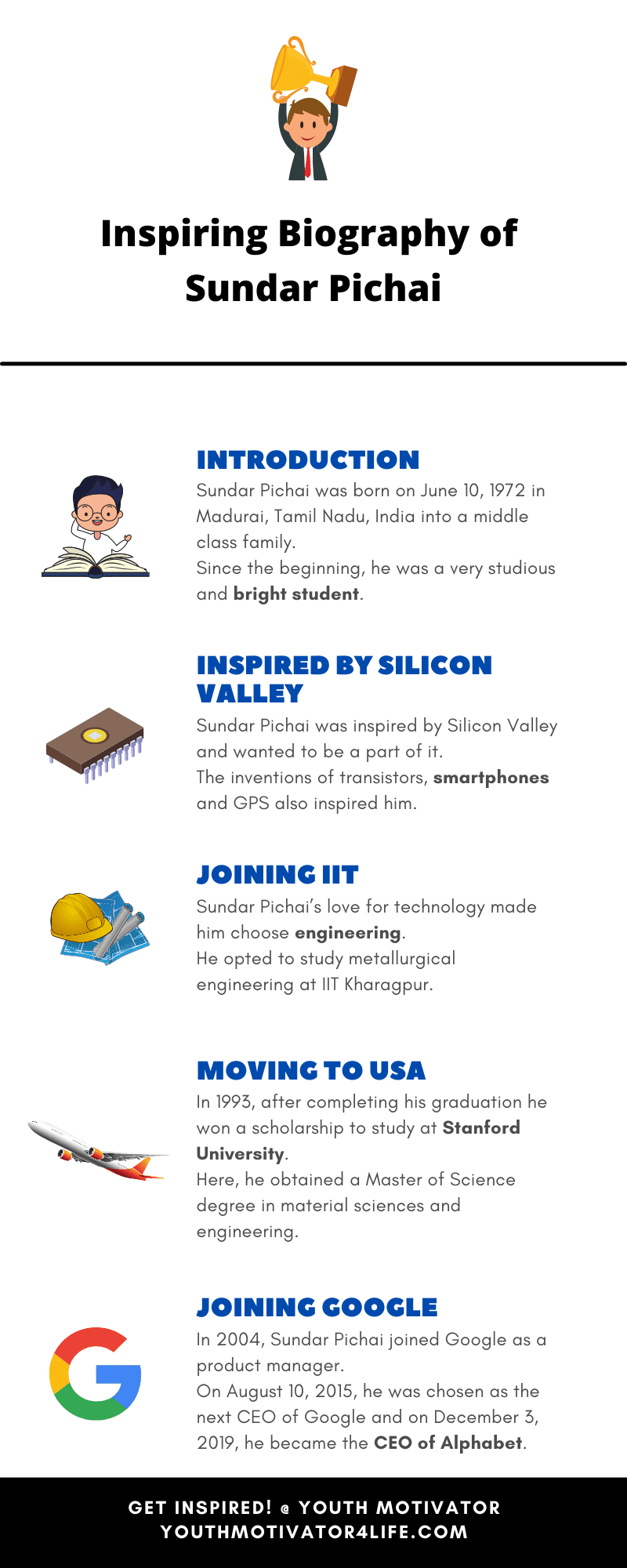 Feedback from readers is highly appreciated; as it helps me to deliver better results to you.
Frequently Asked Questions (FAQs)
What is the success story of Sundar Pichai?
The success story of Sundar Pichai is very inspiring.
Even though he was born into a middle class family and had not early access to computers, he went on to become the CEO of Google LLC and its parent company, Alphabet Inc.
Why is Sundar Pichai famous?
Sundar Pichai is famous for the development of the Google Chrome browser.
He is also famous for innovating several software products like Chrome OS, Google Drive, Gmail and Google Maps.
Now, he is well-known as the CEO of Google LLC and its parent company, Alphabet Inc.
How Sundar Pichai became the CEO of Google?
In 2004, he joined Google as a product manager and worked on several products like Google Toolbar, Google Gears, etc.
Later, Sundar Pichai played an important role in the success of Google Chrome.
Then, in 2008, he was promoted to the post of Vice President of product development.
And in 2013, he became the lead for Android.
Finally, on August 10, 2015, Sundar Pichai became the CEO of Google.
Is Sundar Pichai a billionaire?
Sundar Pichai is not a billionaire but a millionaire.
His net worth is approximately $600 million.
Where Sundar Pichai lives now?
Now, Sundar Pichai lives in a luxurious villa in Los Altos Hills in California, United States.
Why is Sundar Pichai paid so much?
Sundar Pichai gets paid around $2 million in salary because he is the CEO of both Google and Alphabet.
As Alphabet is one of the world's biggest and richest companies, it's normal for its CEO to get paid handsomely.
What is the educational qualification of Sundar Pichai?
Sundar Pichai graduated in metallurgical engineering from Indian Institute of Technology Kharagpur.Later, he did M.S. from Stanford University in materials science and engineering and MBA from the Wharton School of the University of Pennsylvania.
How Sundar Pichai got scholarships?
At IIT, Sundar Pichai got attracted towards programming and computing.
This passion earned him a scholarship to Stanford University to study masters in materials science and semiconductor physics.
Later, Sundar Pichai was honoured as a Siebel Scholar and a Palmer Scholar while studying MBA at Wharton School of the University of Pennsylvania.
Is Sundar Pichai a nice guy?
Yes, Sundar Pichai is a very nice guy.
He is very soft spoken, kind and thoughtful.
Is Sundar Pichai richer than Shahrukh Khan?
No, both are equally rich with a net worth of around $600 million.
Featured image credit- Wikimedia Commons
Table of Contents
Sharing is caring!
Researching and writing an article takes many days of effort; so, it would be nice if you share the article!
As an Amazon Associate I earn from qualifying purchases.
Thanks to all of you curious readers, this website has crossed a million views!