Virat Kohli is a famous cricketer and a former captain of the Indian national cricket team.
Introduction-
Virat Kohli was born on 5 November 1988 in Delhi, India into a middle class Punjabi family.
His father, Prem Kohli was a criminal lawyer while his mother Saroj Kohli is a housewife.
This couple was blessed with three children namely, Vikas Kohli, Bhavna and Virat Kohli (the youngest).
Since his childhood, Virat Kohli showed a great passion towards cricket and at the young age of 3, he picked up a cricket bat and used to request his father to bowl at him.
He spent his childhood in Uttam Nagar, West Delhi.
By observing his passion towards cricket, their neighbours suggested Prem Kohli to enrol Virat Kohli in a professional cricket club.
So, in 1998, at the age of 9, Virat Kohli joined the West Delhi Cricket Academy at Paschim Vihar, New Delhi.
Here, he was trained by Rajkumar Sharma, a former Ranji Trophy player and Virat Kohli also played at the Sumeet Dogra Academy.
Rajkumar Sharma recalls that he was very passionate towards cricket and used to stay on the field for a long time to play cricket and was happy to bat at any spot and was reluctant to go home.
Initially, Virat Kohli did his schooling at Vishal Bharti Public School and later, when he was in his ninth grade, he shifted to Saviour Convent as this school encouraged sports.
At the school, he was a bright student and performed well in his academics.
Starting his professional cricket career-
In October 2002, Virat Kohli started his professional cricket career by playing for Delhi Under-15 team in the 2002–03 Polly Umrigar Trophy.
He was the top scorer for his team in this tournament and thanks to this great performance; he was made the captain of the team for the 2003–04 Polly Umrigar Trophy.
Virat Kohli scored a total of 390 runs (consists of two centuries and two half-centuries) in 5 innings in the 2003–04 Polly Umrigar Trophy.
His excellent performance in Polly Umrigar Trophy helped him to get selected to the Delhi Under-17 team in 2004.
Here, Virat Kohli got an opportunity to represent Delhi and play for the 2003–04 Vijay Merchant Trophy.
This time also, he played exceptionally well and scored 470 runs in four matches of the series.
Virat Kohli made the top score of 251* runs in one match of this series.
A year later, in 2004–05 Vijay Merchant Trophy, he scored a whopping 757 runs (including two centuries) in 7 matches.
This made Virat Kohli the highest run-scorer and helped Delhi Under-17s to win the trophy.
Turning point of his life-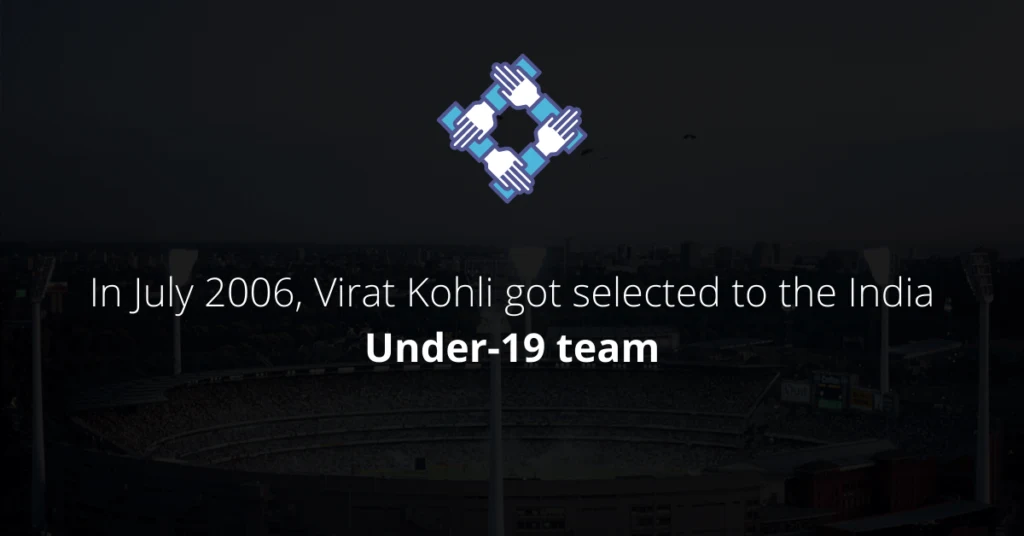 The biggest turning point in Virat Kohli's life came in July 2006 when he got selected to the India Under-19 team and he was given an opportunity to play in ODI series against England Under-19s.
This was his first ever overseas tour and at that time, he was in his twelfth grade, so he could not continue his education.
Later, Virat Kohli also played in the ODI series against Pakistan Under-19s.
In November 2006, at the age of 18, he made his Ranji debut (first-class debut) against Tamil Nadu.
In December 2006, while playing a Ranji match against Karnataka, Virat Kohli's team was in a position of losing the match.
During that day, he scored 40 runs and as it became night, the match got scheduled for the next day.
Even on the next day, the probability of Delhi losing the match was big.
So, Virat Kohli was determined to play well and help his team in its most crucial moments and he also knew that the whole Delhi team was dependent on him.
He was also very well aware that this match will greatly help his cricket career.
The tragic incident-
In 2006, Virat Kohli's family was in a difficult situation because the business of Vikas Kohli was not doing well and the family was living in a rented house.
Around this time, his father started online share trading but unfortunately, all his accumulated wealth vanished due to crashing of his online trading account and due to one bad transaction.
These developments exerted a great stress on him and made him depressed.
Unfortunately, Prem Kohli suffered a brain stroke because of a brain clot.
As Virat Kohli was practising cricket for his first season, he was completely unaware of all these events.
Only after finishing the practise and reaching home, he got to know about his father's condition.
Virat Kohli was saddened to see his father lying on the hospital bed in a helpless state.
Later, a surgery was performed on Prem Kohli and he was discharged home.
Afterwards, he was moved to a rehab and later, he suffered paralysis and this affected half of his body.
Later, Prem Kohli developed many complications of vision, speech and became dependent on others for his basic needs.
He was previously a self-dependent man and depending on others even for his basic needs induced immense pressure on him and on 18 December 2006 at around 3 AM, Prem Kohli suffered a cardiac arrest which resulted in his death.
As Virat Kohli was supposed to resume batting the next day, he called his coach Chetan Pratap Singh Chauhan in the early morning and informed him about his father's demise.
And much to the surprise of his coach, he decided to play the match because for him abandoning a match was completely unimaginable regardless of the circumstances.
So, despite losing his father, Virat Kohli was determined to fulfil his duty of playing the match and this signifies his work ethics.
He helped his team to win the match by scoring 90 runs and later returned home to perform the funeral rites of his father.
Deriving motivation from the most tragic day of his life-
As Virat Kohli was emotionally attached to his father, his death impacted and transformed him in a great way.
His father used to always encourage him to play cricket at the highest level and his memories motivated him to become a great player.
His father wanted Virat Kohli to represent India in cricket and make his country proud of him.
Virat Kohli promised his brother Vikas Kohli that he will play for the nation at the highest level and told him that he will not get distracted by anything in life.
Previously, many things like travelling abroad, going out regularly, partying with his friends, etc. distracted him and so, he became determined to not get distracted.
After this, Virat Kohli made cricket his first priority in his life and played the sport to his greatest extent.
This quality of deriving strength from his life's greatest loss made him a very successful cricketer and this is the reason why he credits his success to his father.
Many people face dilemma and lose hope after encountering the difficult situations in life but only a few people like Virat Kohli have the capability to think clearly and act accordingly even in the face of the adversaries.
His life story teaches us that to realise your dreams, you must not stop moving towards your goals even after facing obstacles.
Rising up again-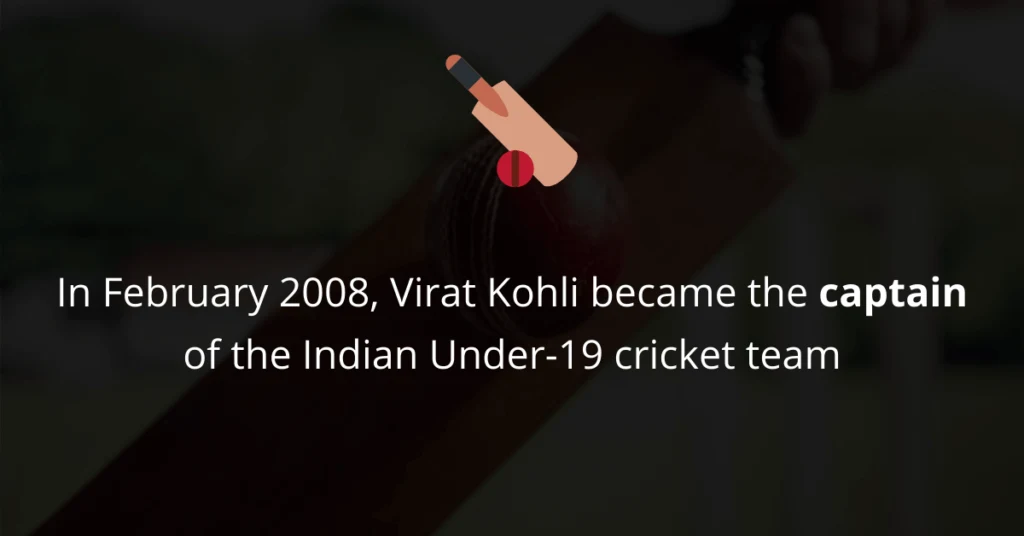 In February 2008, Virat Kohli was declared as the captain of the Indian Under-19 cricket team.
And this gave him an opportunity to captain the Indian team in Malaysia for the 2008 Under-19 World Cup.
Under the captaincy of Virat Kohli, the Indian team won the 2008 Under-19 World Cup.
This success proved his captaincy skills.
In June 2008, Virat Kohli was awarded the Border-Gavaskar scholarship and this gave him an opportunity to receive training for six weeks at Cricket Australia's Centre of Excellence in Brisbane, Australia.
Debuting into ODI-
Virat Kohli's story of getting selected into the Indian One Day International (ODI) squad is very interesting.
Prior to getting selected into ODI, he played only eight List A matches but luckily, he got selected into the team as both the openers Sachin Tendulkar and Virender Sehwag got injured.
In August 2008, at the age of 19, Virat Kohli got selected to the ODI team and later, got an opportunity to make his first international ODI debut against Sri Lanka.
He scored his first ODI half century in the fourth match of this series and this played a pivotal role in helping India in winning the match.
Even though Virat Kohli did a lot of hard work for many years, it did not go well for him in the initial years.
Even after performing well in his first ODI series, he was dropped from the team many times.
In his cricket career, Virat Kohli hit rock bottom several times but his nature of rising every time made him a very successful cricketer.
Thankfully, later in 2009, he returned to the team.
Eventually, Virat Kohli greatly improved his batting skills and contributed to the success of the Indian cricket team.
Entering into the comfort zone-
In 2008, after winning the 2008 ICC Under-19 Cricket World Cup, for the first time, Virat Kohli played in the IPL.
At that time, he felt that he was the centre of everyone's attraction and this distracted him and made him overconfident.
Also, Virat Kohli became a little lax as he realised his dream of playing international cricket with international cricketers.
As a result, he entered into the comfort zone and this badly affected his performance.
Fortunately, Virat Kohli realised his mistake and regretted missing a golden opportunity in the IPL.
Later, he worked hard to improve his game and performance.
His IPL career-
Virat Kohli serves as the captain of the Royal Challengers Bangalore in IPL (Indian Premier League) and played an important role in helping his team to win several matches in IPL.
Captaincy & retirement-
In 2012, Virat Kohli was made the vice-captain of the ODI team and in 2014, he was appointed as the Test captain for India after Mahendra Singh Dhoni retired from Tests.
Now, under his captaincy, the Indian cricket team is performing exceptionally well.
In his initial days, Virat Kohli used to get angry with his fans and fellow cricketers but later when he became the captain of the Indian cricket team, he changed his mind-set and transformed himself into a calm and composed person.
On 15 January 2022, he announced his retirement as the Test Captain of India.
Personal life-
On 11 December 2017, Virat Kohli married Anushka Sharma, an Indian actress and film producer in Florence, Italy.
This couple is known by the nickname Virushka.
This couple is blessed with a daughter, Vamika Kohli.
Vamika was born on 11 January 2021 in Mumbai.
His idol-
Virat Kohli was heavily influenced by Sachin Tendulkar and considers him as his idol.
Since his childhood, he used to keenly observe Sachin Tendulkar on television single-handedly helping his team to win the matches.
This motivated Virat Kohli to grow up to become a cricketer much like him and help the Indian cricket team in winning the matches.
He was attracted to Sachin Tendulkar because he displayed great qualities like self-confidence, work ethics, dedication, focus and consistency for many decades.
In 2012, Mukesh Ambani, an Indian business magnate hosted a party on the occasion of Sachin Tendulkar scoring century of International centuries (100 International centuries) and this party was attended by many prominent actors and sportspersons.
In this party, Sachin Tendulkar was asked by Salman Khan about which player he thinks is capable enough to break his impressive record, to which he said that both Virat Kohli and Rohit Sharma are capable enough of breaking his record.
Thankfully, the words of Sachin Tendulkar are actualising as Virat Kohli already broke many of his records and it is apparent that one day, he will definitely break his record of scoring 100 International centuries.
Virat Kohli broke his records by scoring the fastest 10000 and 11000 runs.
Now, many consider him to be a successor to Sachin Tendulkar.
The success secrets of Virat Kohli –
The success secrets of Virat Kohli help us in every area of life.
His undying passion for the sport of cricket helped him to achieve great heights and he is an inspirational figure for many youngsters all over the world.
The qualities of commitment, allegiance and right mind-set helped Virat Kohli immensely.
He is very thankful to the sport of cricket for helping him to fulfil his dreams and giving him everything in his life.
Health is greater than wealth-
Virat Kohli not only takes a great care towards his health and fitness but also promotes a healthy lifestyle.
Before 2013, he did not give the due importance in maintaining the fitness, as a result he appeared somewhat chubby and this also impacted his performance on the ground.
But thankfully, Virat Kohli realised the importance of maintaining good health and fitness in sport and later, he developed the perfect athletic body.
He religiously performs weights and cardio exercises at the gym.
Also, in the initial days, Virat Kohli loved eating unhealthy dishes like biryani and butter chicken but later, he turned into a complete vegan and even gave up consuming eggs and dairy products.
Now, his favourite dish is sushi, a Japanese dish made of rice and vinegar and also he consumes the expensive Évian water.
This water is imported from France and is collected from a lake located near Évian-les-Bains, south-eastern France.
Virat Kohli's fitness made him faster, lighter and stronger and also positively impacted his batting and fielding.
Also, fitness improved his thinking and decision making capabilities.
Now, Virat Kohli is the fittest Indian cricketer and he inspires us to stay healthy and fit.
He also meditates and this helps him to stay in the moment and become mentally strong.
Meditation has helped many successful players like Shane Watson and Kobe Bryant in improving their focus both at work and at life.
Virat Kohli's advice for everyone to stay fit is to eat, sleep, train and repeat.
Vikas Kohli, the elder brother of Virat Kohli is also a fitness freak.
Making the country fit-
In 2016, Virat Kohli along with Chisel India and CSE (Cornerstone Sport and Entertainment) launched a chain of gyms by the name Chisel.
During the same year, he also partnered with Stepathlon Lifestyle to launch a children fitness venture by the name Stepathlon Kids.
As most of today's kids lead a sedentary lifestyle, Stepathlon Kids was started to promote an active lifestyle among the kids.
Awesome aggression-
Virat Kohli's aggressive nature on the field is one of his biggest strengths.
Also, he bats aggressively and this helped him to score many runs.
Sir Viv Richards, who is considered as the greatest batsmen of all time, loves Virat Kohli's aggression and he even said that Virat Kohli reminds him of his own game.
This is one of the best compliments he had ever received.
Virat Kohli likes facing challenges which is the reason why he likes playing cricket against the formidable teams like that of Australia.
His life teaches us that to accomplish our goals in a short time, we should work aggressively.
Wonderful willpower-
Willpower has helped Virat Kohli and his team to accomplish the goals irrespective of the surrounding circumstances.
Will power has played a major role in his success and he doesn't allow anything to affect his willpower.
Virat Kohli's willpower in the sport was also praised by Shikhar Dhawan, an Indian international cricketer.
Many youngsters in India dream to become a professional cricketer and play for the nation, but only a few of them like Virat Kohli and Mahendra Singh Dhoni possess the determination and discipline to realise their cricket dream.
Sensible sense of detachment-
Virat Kohli is very smart to not get carried away either by the successes or losses and this helped him to continually perform better.
He enjoys the winning moments by celebrating them but he doesn't allow the overconfidence to build up.
Also, Virat Kohli doesn't allow the failures to affect him for a long time.
He learns from the failures and participates in the upcoming matches with a renewed vigour.
This quality of detaching himself from the other things and focusing solely on the most important thing- playing well has helped him to create new records at an amazing pace.
Virat Kohli's success teaches us that we should not get emotionally attached to the failures or successes and should mainly focus on working better.
Attachment towards the work-
From his childhood, Virat Kohli was very interested in cricket and learnt many things about the sport and this helped him very much in international cricket.
He is very much attached to practising and playing cricket and gymming and this helped him immensely.
Virat Kohli also makes sure to give his 120 per cent in work and this makes him answerable to no one.
For five days a week, he regularly trains in the gym.
During the cricket season Virat Kohli gyms for an hour and a half and during the off-season, he gyms for four hours.
To achieve success, it is very important to be passionate and get attached with the work.
When you lack the passion towards your work and hate doing it, then there is no meaning in doing that work.
Thanks to Virat Kohli's nature of working hard, he became very successful at a young age.
Winning together with the team spirit-
Virat Kohli actively monitors the performance of his team during the match because he is well aware that to win the match, only his performance is not enough and each and every player should contribute their best.
As the actions speak louder than the words, he motivates his team members by playing extremely well and setting an example for everyone to follow.
Virat Kohli prioritises for the team's greater good rather than caring only for his personal records.
Also, as he is the captain of the Indian cricket team, he knows his responsibility and he does the right things to set the right examples by following a certain path in which the whole team believes in.
Virat Kohli continually brainstorms for the situations which will help his team to win.
These qualities made him the most successful and visionary Test captain in the history of Indian cricket.
Continuous improvement-
The success of Virat Kohli is built on the Kaizen (continuous improvement) principle.
In his initial days, he was just another ordinary batsman in the cricket team but with the passage of time, he became the current generation's greatest cricketer.
This had been made possible only by continually improving himself with each passing match.
Self-confidence-
Since his childhood, Virat Kohli longed to become an extraordinary player and this thought got registered in his subconscious mind.
This thought process motivates him to give his best on the field.
Virat Kohli's self-confidence reflects in the way he plays cricket and this is the most important ingredient to attain success.
Determined to become the greatest-
Virat Kohli plays extraordinarily well because he wishes to be remembered as an extraordinary player much like Sachin Tendulkar and inspire the youngsters.
So, he aims to score as many centuries as possible and this aim has served him well.
On ground, Virat Kohli centres all his attention only on playing well but not on creating records.
Because of this, he gets to know about the records he created only after the completion of the matches.
Virat Kohli broke numerous records in cricket and also won many awards.
He is one of the eight cricketers to score 20 ODI centuries.
Apart from Virat Kohli, only Sachin Tendulkar, Sourav Ganguly, Herschelle Gibbs, Chris Gayle, Saeed Anwar, Ricky Ponting and Sanath Jayasuriya were able to achieve this feat.
He scored more than 1000 runs in a year six times (2011, 2012, 2013, 2014, 2017 and 2018).
Some interesting facts about Virat Kohli –
Since his childhood, Virat Kohli used to believe in superstitions and used to wear the same pair of gloves because he believed that this helped him to score better but later, he got rid of this belief. But he did not stop wearing black wristbands and kada (a cast iron bracelet).
In 2011 World Cup, while playing against Bangladesh, Virat Kohli became the first Indian cricketer to score a century on the World Cup debut.
Apart from the ICC Cricket World Cup 2019, India won every World Cup campaign in which he played.
Virat Kohli's net worth is around Rs 688 Crore and he is one of the highest paid athletes in the world.
In the years 2018 and 2019, he has been named as the topmost powerful celebrity by Duff & Phelps.
Duff & Phelps is a global advisor and a consultancy firm based in the United States of America.
Thanks to Virat Kohli's huge fan following on social media (has more than 104 million followers on Instagram), he charges approximately Rs 1.35 crore for every sponsored post on Instagram.
He is more famous than many Bollywood celebrities and this showcases his influence.
Virat Kohli is also a very responsible person and does not promote or endorse harmful products like junk foods and fairness products.
In 2012, he was awarded ODI Player of the Year and ICC ODI Team of the Year.
Virat Kohli is considered as a style icon and is widely admired for his dressing and fashion sense.
In 2012, he was listed in top-10 of GQ's Best Dressed International Men and this list also included former U.S. president, Barack Obama.
In 2013, at a young age of 25, Virat Kohli was awarded the prestigious Arjuna Award by then President of India, Shri Pranab Mukherjee.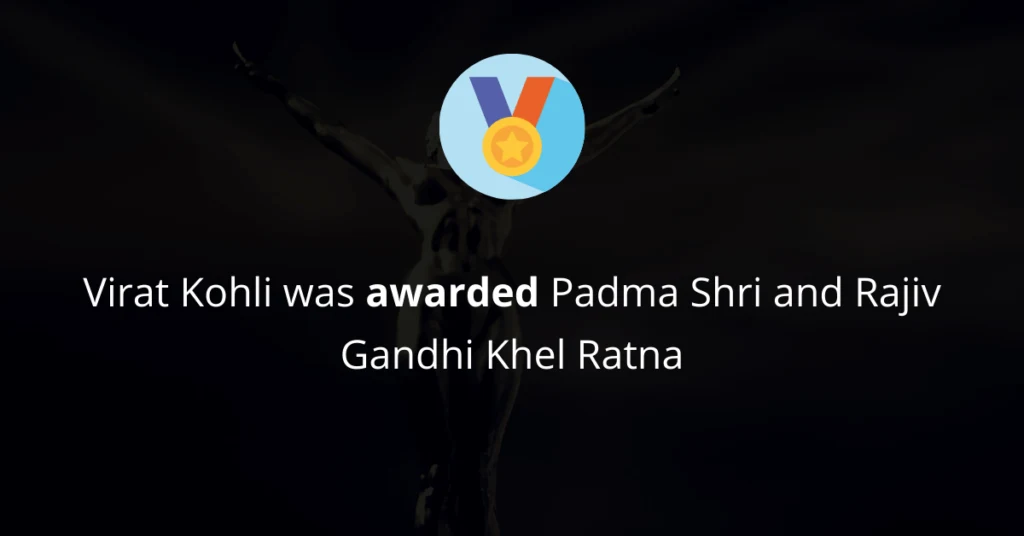 In 2017, he was awarded Padma Shri and a year later, he received Rajiv Gandhi Khel Ratna.
Virat Kohli was nicknamed Chikoo for his hairstyle by Ajit Chowdhary, an assistant cricket coach.
In 2013, he created a record for scoring the fastest century in ODIs by any Indian cricketer.
This record was created in just 52 balls in a match against Australia.
In cricket Virat Kohli considers Shikar Dhawan as his best friend and as both of them hail from Delhi, this helped in their friendship.
As he understands the importance of other sports, in 2015, he became a co-owner of International Premier Tennis League franchise UAE Royals and Bengaluru Yodhas franchise in Pro Wrestling League.
From his under-19 days, he had been wearing a jersey number 18 as this number is very rememberable to him as his father died on December 18, 2006 when he was 18 years old.
On wearing the jersey number 18, Virat Kohli feels his father's presence around him.
Feedback from readers is highly appreciated; it helps me to deliver better results to you.
Infographic-
Frequently Asked Questions (FAQs)
What is the story of Virat Kohli?
The story of Virat Kohli is very inspiring.
He rose from a gully cricket player to become one of the best batsmen in the world.
Virat Kohli is also the captain of the Indian national cricket team.
Who is Virat Kohli's inspiration?
Two people motivated Virat Kohli to give his best in cricket and they are-
• His father, Prem Kohli.
• And the God of Cricket, Sachin Tendulkar.
When alive, Prem Kohli always motivated Virat Kohli to become a great cricket player.
He wanted his son to represent India in cricket and make his country proud of him.
Later, when Prem Kohli passed away, Virat Kohli became even more determined to realise his father's dreams.
As a child, Virat Kohli used to observe Sachin Tendulkar single-handedly helping his team to win the matches.
This inspired him to become a cricketer much like him and help the Indian cricket team in winning the matches.
When Virat Kohli started playing cricket?
You will be surprised to know that Virat Kohli started playing cricket from a very young age.
When he was just three years old, he used to pick up a cricket bat and request his father to bowl at him.
Later, at the age of 9, Virat Kohli joined the West Delhi Cricket Academy.
Here, he was trained in cricket by Rajkumar Sharma.
In October 2002, Virat Kohli began his professional cricket career by playing for Delhi Under-15 team.
For which brands Virat Kohli is the brand ambassador?
Virat Kohli is the brand ambassador of many brands like-
• Myntra
• Uber India
• Audi India
• MRF Tyres
• American Tourister
• Blue Star AC
• Philips India
• Vicks India
• Wrogn
• Mobile Premier League (MPL)
• Hero MotoCorp
• Boost
• Himalaya
• Volini
• Colgate
• Too Yumm
• One8
• Manyavar
• MuveAcoustics
What is the educational qualification of Virat Kohli?
Virat Kohli studied till grade 12 (also known as Class 12 or Intermediate).
As he became very busy with playing cricket, he couldn't study any further.
Why did Virat Kohli become vegetarian?
Initially, Virat Kohli loved eating non-vegetarian dishes like biryani and butter chicken.
But he realised that to become a successful cricketer, having good health and fitness is paramount.
So, Virat Kohli became vegetarian and now he doesn't consume even eggs and dairy products.
Who is Virat Kohli's best friend?
In cricket, Shikar Dhawan is the best friend of Virat Kohli.
Both of them are from Delhi and this helped in their friendship.
Does Virat Kohli have a private jet?
No, Virat Kohli doesn't own a private jet.
In 2019, he rented a private jet in New Zealand and travelled in it with his wife, Anushka Sharma.
Who is Vikas Kohli?
Vikas Kohli is the elder brother of Virat Kohli.
Much like Virat Kohli, he is also a fitness freak and businessman.
Is Anushka Sharma older than Virat Kohli?
Yes, Anushka Sharma is older than Virat Kohli.
Anushka Sharma was born on 1 May 1988 whereas Virat Kohli was born on 5 November 1988 which means she is 6 months, 4 days elder than him.
Was Virat Kohli poor?
Yes, in 2006, Virat Kohli and his family struggled financially.
The main reasons for this poor financial situation were-
• Vikas Kohli's business was not doing well.
• Prem Kohli, the father of Virat Kohli lost a fortune due to a crash of his trading account and a bad transaction in online share trading.
Featured image credit- Wikimedia Commons
Table of Contents
Sharing is caring!
Researching and writing an article takes many days of effort; so, it would be nice if you share the article!
As an Amazon Associate I earn from qualifying purchases.
Thanks to all of you curious readers, this website has crossed a million views!