Aaditya Sawant is a very popular YouTuber and video game streamer.
He is professionally known as Dynamo Gaming.
Aaditya Sawant has more than 10 million subscribers across his couple of YouTube channels.
Introduction-
Aaditya Deepak Sawant was born on 18 April 1996 into a middle-class Marathi family in Mumbai, Maharashtra, India.
He grew up in Mumbai and his nickname is Aadii.
Aaditya Sawant's father, Deepak Sawant worked in the Army and later, he started working as a teacher in a girl's school.
His mother's name is Vaishali Sawant.
His sister, Aaradhya Deepak Sawant is a fashion model.
Aaditya Sawant's uncle, Sameer Kandalkar currently manages his streams' backend work.
Early love for gaming-
In his 6th class, Aaditya Sawant stumbled upon video games in a gaming parlour near his school.
He was very attracted towards the video games and so, he too started playing them daily.
During that time, his mother used to daily give him ₹5 for eating samosa for his breakfast but Aaditya Sawant used to skip his breakfast and with the saved money, he used to play games daily for half-an-hour.
X-Men: The Official Game was very popular during that time and so, he played this game.
This laid the foundation for Aaditya Sawant's gaming passion.
Likewise, he played video games in that gaming parlour for three years.
Story behind the word Dynamo-
As Aaditya Sawant was playing the X-Men game, he had to build a character.
Initially, he thought of naming his character as Dynamic but as the maximum number of letters allowed were only six, he renamed Dynamic to Dynami.
Then, Aaditya Sawant came across the Dynamo: Magician Impossible series on History TV18 and was impressed by the name Dynamo.
So, he edited his character name in the X-Men game to Dynamo.
Later, Aaditya Sawant also named his YouTube channel as Dynamo Gaming.
A decent student-
Aaditya Sawant was a good student until he started gaming.
He somewhat neglected his studies for gaming and thanks to this, his scores in school dropped.
Aaditya Sawant scored 79% in his 10th class and 67% in his 12th standard.
Later, he graduated in Business Management.
Playing on a laptop-
In his high school years, Aaditya Sawant started gaming on his Dell Inspiron laptop.
It was a very outdated laptop and had an Intel Core 2 Duo processor.
The first game that Aaditya Sawant played on this laptop was I.G.I. and then, he also played Road Rash.
Later, he also played Counter-Strike Online and this was his first online game.
Starting Dynamo Gaming-
Meanwhile on 21 July 2010, Aaditya Sawant started his YouTube channel by the name, Dynamo Gaming to showcase his gaming skills to the world.
And he started uploading the videos of Counter-Strike, Battlefield and Dota video games.
Aaditya Sawant continued working on his YouTube channel even though his BSNL Broadband's internet speed was very low.
Thanks to the slow internet, he was able to upload only one video per week.
A setback-
Unfortunately, his laptop got repaired and Aaditya Sawant couldn't play games and upload videos onto his YouTube channel.
After a year and a half, in 2015, he persuaded his father to pay him for building a PC.
Building a PC-
With ₹57,000, Aaditya Sawant built a gaming PC and it had an AMD 6300 six core processor, 8 GB RAM, 1 TB hard disk and HD 7770 graphics card.
At that time, he didn't have a good gaming keyboard.
Thanks to this PC, Aaditya Sawant was able to upload videos onto his Dynamo Gaming YouTube channel but as his internet connection was slow, he couldn't stream videos.
Later, he got a good internet connection and started streaming.
Initially, no one used to watch Aaditya Sawant's live streams, but he didn't give up.
FPS games-
Aaditya Sawant was and is very passionate about First-person shooter (FPS) video games.
Initially, he played Grand Theft Auto V, Counter-Strike 1.6, Counter-Strike: Global Offensive, Battlefield, Battlefield 3, Battlefield 4, etc. and then, played PUBG.
Aaditya Sawant also played in CS:GO LAN tournaments.
All the above-mentioned games are FPS games.
Since the time he played the Battlefield game, Aaditya Sawant realised that his strength lies in playing the FPS games and so, since then, he is playing only FPS games.
Playing PUBG-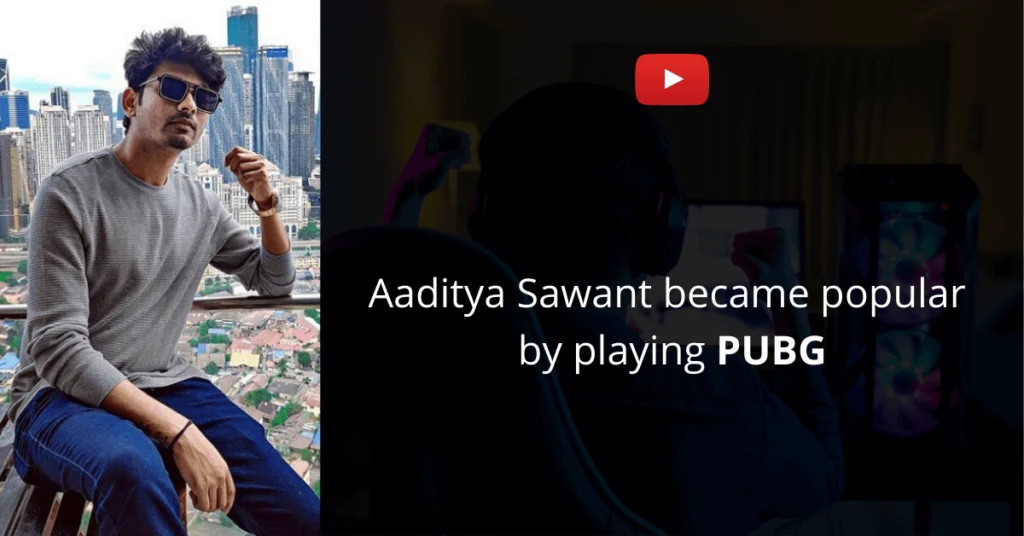 Even though Aaditya Sawant had worked on his channel for five long years, he acquired only around 100 subscribers.
Then, PUBG PC got launched and he was impressed by it and so, started streaming it from 2017.
And thanks to this, his subscribers increased from around 100 to 2000.
Aaditya Sawant learnt playing PUBG from Shroud.
Along with PUBG, he played many games like Apex Legends, etc.
PUBG MOBILE-
During that time, Aaditya Sawant thought of quitting working on YouTube as the growth of his YouTube channel wasn't as expected and just focus on his studies.
At the same time, PUBG MOBILE was launched and he checked its ratings on the App Store and Google Play and observed that this app was highly rated and loved by many people.
So, Aaditya Sawant started streaming PUBG MOBILE.
Prior to streaming PUBG MOBILE, he used to get only 15-20 people watching his live streams but with PUBG MOBILE, this number increased to 80 on the first day itself.
This made Aaditya Sawant very happy and he continued working on his YouTube channel.
Later, he also made it to the Conqueror Tier and secured the 4th position in Asia.
Becoming successful-
Thankfully, the subscribers to Dynamo Gaming YouTube channel started increasing with the launch of Jio and, Aaditya Sawant started focusing more on his channel.
Initially, when he was playing PUBG PC, his Dynamo Gaming channel didn't get many subscribers but later, when he started playing PUBG MOBILE, he started acquiring a lot of subscribers.
Aaditya Sawant started a series by the name, Fake Dynamo which popularised his channel even more.
He was also awarded a Silver Play Button and Gold Play Button by YouTube.
Aaditya Sawant's most famous dialogue is "Patt se headshot".
Earning from YouTube-
Aaditya Sawant's first income from YouTube was $110.
Thanks to this earning, his father got convinced about the earning potential of YouTube and allowed him to continue working on YouTube.
Prior to this, in 2003, Aaditya Sawant and his friend used to earn money by data typing (data entry) and he used to earn around ₹2000-3000.
Upgrading his PC-
Aaditya Sawant upgraded his PC with his first YouTube earning.
In 2019, Havok Nation designed him a custom PC in association with ZOTAC and Trinity Gaming.
The specifications of Aaditya Sawant's PC are as follows-
Processor- Intel Core i9-10900.
GPU- ZOTAC GAMING GeForce RTX 2080 Ti ArcticStorm.
RAM- T-FORCE RGB 64GB DDR4 3600Mhz.
Motherboard- AsRock Z490 Taichi.
Power supply- Thermaltake.
Fans- Thermaltake Riing Quad.
Computer chassis- Core P5 Open Frame chassis by Thermaltake.
Second YouTube channel-
On 26 October 2020, Aaditya Sawant started his second YouTube channel by the name, DYNO VLOGS.
This is his vlogging channel.
Some interesting facts about Aaditya Sawant-
Aaditya Sawant calls his fans Dynamic Army.
In 2021, he purchased an Audi car with his YouTube money.
On 28 October 2021, Aaditya Sawant met Sachin Tendulkar in Taj Lands End, Mumbai.
His favourite streamers are Shroud, Kronten Gaming and MortaL.
So, how are you inspired by the success story of Aaditya Sawant?
Share with me in the comment section below.
Aaditya Sawant image credit- Dynamo gamingIN/Wikimedia Commons