Walt Disney is a co-founder of The Walt Disney Company.
He is also the creator of some of the most famous cartoon characters like Mickey Mouse, Donald Duck, etc.
Introduction:
Walt Disney was born on 5 December 1901 to Flora Call Disney and Elias Disney in Illinois, USA.
He was born into a very poor family and many times he even struggled for meals.
His parents were constantly changing places to find suitable livelihood.
His father was finding it very difficult to settle in a single job.
At last, he started his own business but unfortunately, he failed miserably in it.
Then, according to the suggestion of one of his friends, his father decided to do farming.
Connecting with nature-
During this phase little Walt Disney grew bonds with nature and animals, which later helped him to draw various cartoon characters like Mickey Mouse, Donald Duck, etc.
Due to natural calamities like drought,etc. his father failed in farming, which forced him to migrate to Kansas City, where he faced unemployment problems.
Finally, Walt Disney was given a newspaper delivery job.
His job was to deliver newspapers in the very early morning on his bicycle to far flung places.
But his father assigned this arduous task to Walt Disney and his brother Roy.
Little Disney executed this task satisfactorily by running as he was unable to ride a bicycle and he did not fear of the cold, heavy load of newspapers and loneliness.
Walt Disney was sometimes scolded by customers and management for even a little delay in delivering newspapers.
Financial struggles-
Due to financial problems, Disney's mother started selling milk and yogurt in nearby villages by driving a very heavy cart.
Walt Disney helped his mother in this work, after which he used to attend school, but because of performing all these exhausting tasks, he used to sleep in his class room which resulted in poor grades.
After returning from school he used to work for a grocery store till evening. Even after working so hard, he was constantly rebuked by his father.
Even after doing so much work he never compromised on drawing cartoons and used to draw cartoons whenever possible in his free time.
Appreciation-
Walt Disney used to draw cartoons in his nearby saloon, for which the hair-cutter offered him free haircuts and money, and he used to frame Disney's drawings on his wall, which drew a lot of appreciation from his customers.
This recognition spiked the will power of little Walt Disney.
As his family experienced hardships, he decided to help his family by doing something big.
So, he started to draw cartoons and exhibit them to the villagers.
But he was subjected to great humiliation for his work.
Walt Disney tasted his first success at the age of seven, when he drew the cartoon of his neighbor's horse, which was appreciated and bought for cash by his neighbor.
On one lucky day, a clothes tailor noticed his work and ordered for his cartoons to be printed on his clothes.
The clothes were an instant hit.
He also used to sell popcorn, cool drinks and water bottles in local trains for earning money, with which he joined Kansas City Art Institute for weekend art classes.
After which Walt Disney joined as a cartoonist in an art studio.
But unfortunately, he was fired from his job by stating that he lacked creativity and imagination which hurt him very severely because he never compromised with drawing cartoons.
Starting his own company-
Later on, Walt Disney started a company by the name Laugh-O-Gram Studio, but due to financial problems it went bankrupt.
Fortunately, his brother Roy helped him with 2000 dollars, with which he founded Disney Brothers Studio, later it was renamed to Walt Disney Company.
His company became very profitable because of which he provided employment to many people.
Walt Disney rose to fame after producing SnowLight for which he toiled hard for more than two years.
Later he went to Hollywood, where he produced many masterpieces like Alice in Wonderland which became sensational hits.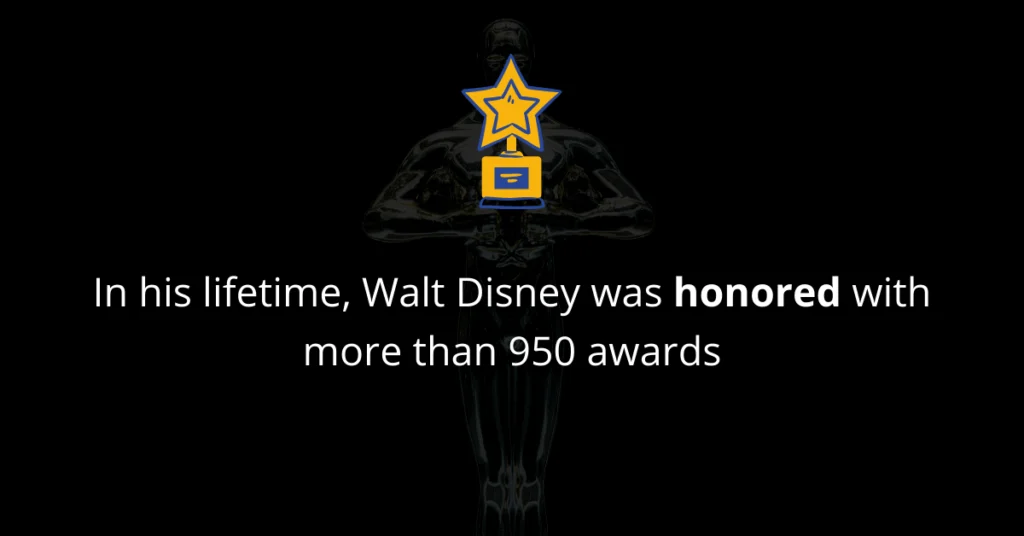 Walt Disney was honored with more than 950 awards for his contributions.
He was nominated for an Oscar 59 times and for 22 times he won an Oscar.
Feedback from readers is highly appreciated; it helps me to deliver better results to you.
Frequently Asked Questions (FAQs)
What inspired Walt Disney?
Walt Disney was very inspired by nature at Marceline, Missouri.
Here, the greenery, birds and the animals motivated him to draw cartoons.
Why is Walt Disney an inspiration?
Walt Disney is a very inspirational figure because he didn't give up his passion of drawing despite facing many obstacles all through his life.
Also, he is an inspiration because even though he was born into a very poor family, he worked hard to become rich, in fact very rich.
Why is Walt Disney famous?
Walt Disney is very famous for the following reasons-
• He is famous for developing popular cartoon characters like Mickey Mouse, Donald Duck, etc.
• Walt Disney is well known for his excellent animation skills. He produced the world's first full colour animated film, Snow White and the Seven Dwarfs.
• He is very famous for producing many hit films. Some of them are Snow White and the Seven Dwarfs, The Story of Robin Hood and His Merrie Men, Lady and the Tramp, etc.
• Walt Disney won many awards and this made him very popular. Some of the most notable ones are 22 Oscars, two Golden Globe Special Achievement Awards and an Emmy Award.
• He is also well known as a culturalist because Walt Disney contributed significantly through his works to the American culture.
Was Disney successful at first?
No, Walt Disney wasn't successful at first.
In his early career, in 1920, he got laid off while working as an apprentice artist at the Pesmen-Rubin Commercial Art Studio.
Then, Walt Disney started his own business by the name, Iwerks-Disney Commercial Artists and this also failed.
How many times did Walt Disney fail?
Walt Disney experienced many failures in his life and some of them are as follows-
• In his early career, his first business by the name Iwerks-Disney Commercial Artists was a failure.
• The young Walt Disney couldn't save his Laugh-O-Gram Studio from going bankrupt.
• He also experienced failures with films like The Golden Touch.
When did Disney take off?
Walt Disney took off around 1931‍ when his Mickey Mouse cartoons started to become popular in the U.S. and all over the world.
Can Walt Disney draw?
Yes, Walt Disney was able to draw from a young age.
He started drawing as a boy and also took art classes.
Walt Disney's excellent drawing skills helped him to get a job as a commercial illustrator at the age of 18.
It's his drawing skills which made him so famous and successful.
How Walt Disney died?
Walt Disney died on December 15, 1966 at the age of 65 due to cardiac arrest caused by lung cancer.
Who actually owns Disney?
The Walt Disney Company is owned by individuals like Robert Allen Iger, Christine McCarthy and Alan N. Braverman.
Many companies like The Vanguard Group, BlackRock and State Street Corporation also own the shares of The Walt Disney Company.
Featured image credit- Boy Scouts of America/Wikimedia Commons
Table of Contents