Steve Jobs was an American business magnate.
He is regarded as the father of the digital revolution.
Introduction-
Steven Paul Jobs was born on February 24, 1955 to Abdulfattah Jandali and Joanne Schieble in San Francisco, California, U.S.A.
His mother decided to give the baby up for adoption as she was unable to care for him.
So, Joanne Schieble was searching for someone who could adopt the baby.
Initially, she made a condition that the adopters must be well educated.
Joanne Schieble believed that the educated couple would greatly influence Steve Jobs to get educated and attain academic success.
Luckily, Joanne Schieble found a well-educated couple, in which the man was working as a lawyer.
This couple agreed to adopt the baby.
But a day before the adoption, they changed their minds and they wished to adopt a baby girl instead of this baby boy.
After this incident, the biological mother of Steve Jobs decided to hand over the baby to the next couple in the waiting list, Paul and Clara Jobs.
But Paul and Clara Jobs were not graduates and were from a very middle class family, but they vowed to take a great care of Steve Jobs and would ensure that Steve Jobs was well-educated.
Steve Jobs was raised in Mountain View, California.
Education-
Steve Jobs studied in the Monta Loma Elementary school in Mountain View, which was one of the best schools in the region.
Eventually, as Steve Jobs grew, he lost interest in education; except for a selected few subjects.
Instead, he showed a great interest in computers, machines and businesses.
Steve Jobs used to mess with the machines with his best friend, Steve Wozniak.
Later, Steve Jobs got admitted to the Reed College in Portland, Oregon, which was a very expensive college.
He later realised that he made a wrong choice, when he realised that all the hard-earned money of his parents were getting consumed only for his education.
Dropping-out of college-
After a period of six months, Steve Jobs failed to realise any value of that education and at that time, he was in dilemma about what to achieve in his life and was unable to comprehend about how this particular education in Reed College will help him in achieving his objectives in his life.
Then, Steve Jobs decided to drop-out from the college, when he realised that his parents were no longer able to afford his education.
He dropped out of college, when he was 20 years old, to start a company by the name, Apple computers.
Best decision-
At that time, this decision frightened the young Steve Jobs, but later when he looked back on his life, this particular decision proved to be one of his best decisions in his life.
As soon as he dropped out of the college, he was freed from the responsibility of attending the regular classes.
So, Steve Jobs only attended the classes which interested him.
Struggling for food-
Even when Steve Jobs dropped out of the college, his woes did not end.
As he had no proper accommodation, he often used to sleep on the floors of his friend's rooms.
As Steve Jobs had no money to purchase food, he used to sell the empty bottles to earn a little bit of money and used to purchase food with that money.
He used to eat a decent meal only once in a week in the Hare Krishna temple.
On every Sunday night, Steve Jobs used to walk 7 miles to the Hare Krishna temple in order to eat a delicious meal.
He really enjoyed eating there.
Seeking spirituality-
During those times, the thought about why his biological mother gave him away for adoption used to haunt him. Steve Jobs was very disturbed by this particular thought.
So, to find peace of mind, he visited India with the help of his friend, Daniel Kottke, in the year 1973.
Steve Jobs and his friend travelled the Himalayas and temples of the northern part of India, for a period of three months.
He went to visit Neem Karoli Baba at his Kainchi ashram in Nainital, Uttarakhand, but unfortunately Neem Karoli Baba died a few months before Steve Jobs arrived in India.
Even as he was unable to meet the Neem Karoli Baba, Steve Jobs used to spend many hours in his temple.
This visit to India gave him peace of mind, by which he was able to focus on achieving much greater things in life.
Inspiring start-up-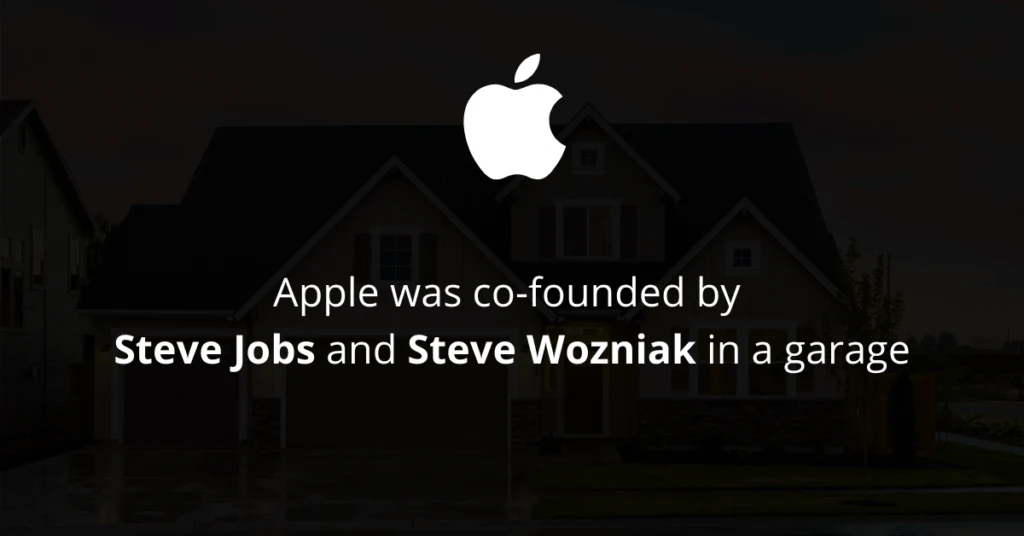 In 1976, Apple was co-founded by Steve Jobs and Steve Wozniak in the bedroom of Steve Jobs but was later moved to the family garage of Steve Jobs.
Steve Jobs along with his school friend, Steve Wozniak developed Macintosh operating system and they wanted to sell this operating system, by building computers.
But they were in a very poor financial state, so they took the help of Mike Markkula, who invested in Apple.
Steve Jobs sold his Volkswagen van and Steve Wozniak sold his prized HP scientific calculator to fund their start-up.
After a period of ten years of its inception, the Apple Company grew from having just 2 employees to having around 4000 employees and its revenue also increased to 2 billion dollars.
Revolutionaries-
Steve Jobs and Steve Wozniak revolutionised the computer industry by altering the technology, they also made the computers smaller, affordable and more accessible to the general public.
Steve Wozniak took the job of conceptualizing user friendly personal computers, whereas Steve Jobs took the responsibility of marketing.
Initially, Apple sold its computers, by name, Apple I for 666.66 dollars each.
The Apple I computers were a huge success; this motivated them to launch Apple II computers in June 1977.
The Apple II computers were comparably bigger, speedier and better machines.
Apple II was basically a business workstation.
These computers sold like hotcakes in the states and the country, making Steve Jobs a millionaire.
With the Apple II computers, the Apple Company tasted a huge success.
Everything happens for a reason-
Whatever Steve Jobs learned by showing interest, those things later helped him immensely in his life and proved to be priceless.
During those times, Reed College used to teach the best calligraphy in the world.
The campus used to be decorated with beautiful hand calligraphed posters and labels.
As Steve Jobs was very much interested in calligraphy, he learnt calligraphy from Reed College.
During that period, he used to wonder if this calligraphy skill would be of any practical use in the future.
His calligraphy skills came to a great use, after a period of 10 years, when Steve Jobs was developing the Macintosh computers.
The first computer-
Macintosh was the first computer in the world to contain a very beautiful typography.
Later, Microsoft Windows computers copied this feature into their computers.
Connecting the dots-
All these things became possible only because of Steve Jobs dropping out of college and following his interest in learning calligraphy.
Steve Jobs termed this as connecting the dots, as earlier he failed to understand the reason for dropping out of the college and learning calligraphy.
But after a period of ten years, these things helped him immensely to develop one of the world's best computers with the beautiful fonts.
Without these, the beautiful and wide range of fonts in computers would nearly be impossible.
End of good times-
The rosy days of Apple ended when Steve Jobs hired John Sculley, a former CEO of PepsiCo for expanding the business of Apple computers.
Steve Jobs wanted to run Apple with the help of John Sculley, their first year passed well but from the second year on-wards, the differences between them started to crop up.
Each of them had their own different plans regarding Apple's vision.
John Sculley disagreed with Steve Jobs on various issues and was also impatient to listen to his management advice.
Getting fired-
Finally, in a boardroom meeting, the management decided to fire Steve Jobs from Apple.
Steve Jobs was 30 years old when this incident occurred.
Apple also incurred losses in the absence of Steve Jobs.
For a few months, Steve Jobs was in a state of shock because he was distanced from his dreams.
This was the biggest lesson for Steve Jobs in his life.
Positivity-
Steve Jobs stated that this was the best thing ever to happen to him, as he said that the heaviness of being successful was replaced by the lightness of being a beginner again.
Steve Jobs later entered the most creative period of his life.
And after some years, he bought Pixar, a computer animation company and founded NeXT Inc., a high-end computers company.
Unfortunately, NeXT was a commercial failure.
Pixar has produced the world's first computer animated film by name, Toy Story.
And now, Pixar is one of the world's most successful animation studios and is now owned by The Walt Disney Company.
In this period, Steve Jobs also got married to Laurene Powell Jobs.
And later on December 20, 1996, Apple took an unexpected decision to acquire NeXT.
After a period of 10 years, Apple bought NeXT and merged it into the Apple computers, bringing Steve Jobs back to Apple.
And now, the core technology used in the Apple computers is that previously developed by NeXT.
Later, he went on to become the CEO of Apple.
Second innings-
This second innings of Steve Jobs at Apple produced many of its iconic devices like iPad, iMac, etc.
From here, Apple crossed many milestones to become the biggest technology company in the world.
Steve Jobs said that all these accomplishments had been made possible, only because he got fired from Apple.
He termed all these happenings as a bitter pill, which even though was bitter, helped the patient (him) immensely.
Quality over quantity-
Steve Jobs always gave much importance to quality over quantity.
So, he reduced the number of apple products from 250 to 10, when he became the CEO of Apple.
And he completely focused on those ten products.
The first iMac was launched in August 1998 and was an instant hit.
Find your passion-
Steve Jobs said that despite all the setbacks in his life, the only thing that kept him going forward was his love for his work.
And he advised everyone to find what they love in life.
Steve Jobs used to consider himself a very lucky person, as he found what he loved to do, early in his life, when he was in his twenties.
Turn your passion into profession-
Steve Jobs also said that since our work occupies most part of our lives, we should work only for the thing which sparks an interest in us, this ultimately leads to satisfaction and this love for work produces a great work.
Health deteriorates-
In October 2003, he got unwell and the medical examinations revealed the presence of an incurable pancreatic cancer.
The doctors said to Steve Jobs that he had only 3 to 6 months to live his life, so they advised him to make all the necessary preparations or settlements.
And the next morning an endoscopy was performed, by which some tumour cells were obtained.
During this procedure, Steve Jobs was in a state of unconsciousness.
But later he woke up to listen to the best news of his life by his wife; who told him that he has a surgically curable case of pancreatic cancer.
This finding was made in the morning, when the tumour cells were examined microscopically.
Thankfully, the surgery was successful and he recovered well.
This was the first time for Steve Jobs to face death from so near.
And later, Steve Jobs worked to take the Apple Company to great heights.
Unfortunately, Steve Jobs passed away on October 5, 2011, when he was 56 years old due to pancreatic cancer.
Steve Jobs inspired many and will continue to inspire many generations to come through his fabulous work and dedication.
Feedback from readers is highly appreciated; it helps me to deliver better results to you.
Frequently Asked Questions (FAQs)
How Steve Jobs became successful?
Undoubtedly, Steve Jobs was very successful and the following things made him very successful-
• Loving computers and business- Since his school days, Steve Jobs was very interested in computers and business and no doubt this shaped his future in a very positive way.
• Starting up- Even when Steve Jobs didn't have a good capital, he started Apple. All he had was confidence in his abilities and work.
• Not giving up- He didn't give up when he was fired from his own company, Apple. He went on to found Pixar and NeXT.
What inspired Steve Jobs?
Steve Jobs grew up in Cupertino, Silicon Valley. He was hugely influenced by the history of Silicon Valley and longed to be a part of it.
Did Steve Jobs write an autobiography?
No, Steve Jobs didn't write an autobiography.
But a book titled Steve Jobs is the authorized biography of him.
This means that even though Steve Jobs didn't write his autobiography, he cooperated with the author of this book and gave his valuable inputs.
The Steve Jobs book was written by Walter Isaacson and was released on October 24, 2011.
How did Steve Jobs start Apple?
Steve Jobs along with Steve Wozniak started Apple on 1 April 1976.
Apple was initially started in the bedroom of Steve Jobs but was later moved to his family's garage.
Both Steve Jobs and Steve Wozniak were very passionate about their startup and lack of funds forced Steve Jobs to sell his Volkswagen van and Steve Wozniak to sell his HP scientific calculator.
Was Steve Jobs a reader?
Yes, Steve Jobs was an avid reader and read the following books-
• Be Here Now by Ram Dass.
• Zen Mind, Beginner's Mind by Shunryū Suzuki.
• Autobiography of a Yogi by Paramahansa Yogananda.
• Cutting Through Spiritual Materialism by Chögyam Trungpa.
• Steve Jobs also read the books of Shakespeare like King Lear and Plato.
• He also read Moby Dick by Herman Melville and the poems of Dylan Thomas.
• Steve Jobs also read Prof. Arnold Ehret's mucusless-diet healing system book written by Arnold Ehret.
Did Steve Jobs drop out?
Yes, Steve Jobs dropped out from Reed College.
He took this decision because the education was very expensive and he was sure that this education wasn't so helpful for him.
But Steve Jobs didn't stop attending calligraphy courses taught by Robert Palladino.
Later, this calligraphy course helped him to develop a very beautiful typography for the Macintosh.
Did Steve Jobs die alone?
No, Steve Jobs didn't die alone.
He passed away on October 5, 2011 in the presence of his wife, children, and sisters at his side.
What Steve Jobs said on his deathbed?
On his deathbed, Steve Jobs uttered 'Oh wow. Oh wow. Oh wow.' and after a few hours he passed away.
Featured image credit- Wikimedia Commons
Table of Contents