Sonu Sood is a famous actor and humanitarian.
Introduction-
Sonu Sood was born on 30 July 1973 in Patiala, Punjab and grew up in Moga, Punjab.
His father, the late Shakti Sood used to run a clothes showroom in Punjab.
His mother, the late Saroj Sood, worked as an English and history professor at D.M. College, Moga.
Sonu Sood has two sisters.
Education-
Sonu Sood did his schooling from Sacred Heart School, Moga.
He completed his intermediate education from D.M. College, Moga.
Sonu Sood used to take his mother to the college on his scooter and Saroj Sood was one of his teachers at D.M. College.
In 1992, he went to Nagpur to study electronic engineering from Yeshwantrao Chavan College of Engineering (YCCE).
Becoming a model-
While studying engineering at Nagpur someone introduced Sonu Sood to a fashion show.
Then, he paid an entry fee of ₹500 to become a model and participated in a fashion show.
In the final year of engineering, Sonu Sood thought of becoming a Bollywood actor and at that time, he was modelling in Nagpur.
At that time, his parents were expecting him to join their clothing showroom to further expand the business but he disclosed his dream of becoming an actor.
Permission for a year-
After graduating, Sonu Sood requested his mother to allow him to try his hand at becoming an actor for a year.
His plan was that after a year, if he became a successful actor, he would continue acting otherwise he would return to his father's business.
Fortunately, both Sonu Sood's parents were very supportive with his plan of becoming an actor.
Being independent-
Sonu Sood didn't want to be financially dependent on his family for becoming an actor.
His plan was to save money by modelling for a year and then, reach Mumbai to become an actor.
So, Sonu Sood started modeling in Delhi and saved ₹5500 after modelling for a year.
Then, he came to Mumbai and thought that he could get through a month with the saved money but all that money got expended within six days.
Struggling for survival–
Luckily, during that time, Sonu Sood got a call to act in an ad for Action Shoes and was offered ₹2000 per day.
He was very excited to act and thought that he would get noticed by acting in that ad.
But when Sonu Sood reached the film city, he was saddened after observing that he couldn't be noticed in the ad as he had to perform along with 20 other people.
The shooting for this ad lasted for three days and he was assigned the job of beating drums in the background, so he wasn't at all visible in the ad.
In Sonu Sood's first 2-3 years in Mumbai, he did these types of works to survive.
And during that time, he lived as a paying guest along with four other people.
Inspirational letters-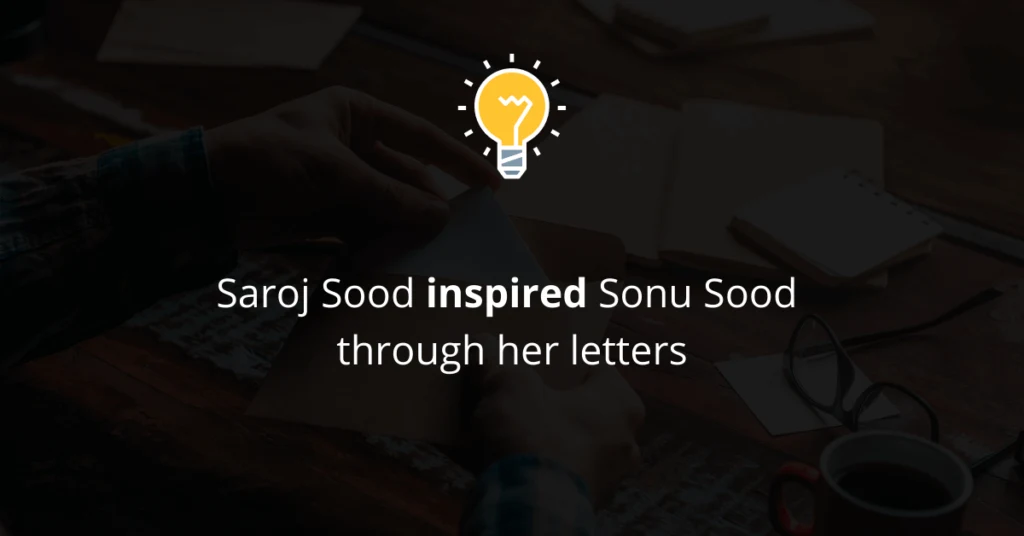 During that difficult phase, Sonu Sood's mother used to write him letters to inspire him.
She used to write motivational quotes and poems and these letters built his confidence that one day or the other he will become an actor.
Saroj Sood didn't stop writing letters to Sonu Sood even when they were daily speaking on a telephone because she felt that when she passes away, these letters will be with him to inspire him.
Like this, she wrote letters to him for 15 long years from 1992 until she expired in 2007.
Sonu Sood has treasured all these letters in a file and goes through them whenever he feels low.
Struggling to become an actor-
As Sonu Sood didn't have a godfather in Bollywood, he struggled a lot in his initial years.
Prior to coming to Mumbai, he thought that within a year or year and a half, he would become an actor but after coming to Mumbai and spending a year and a half here, he was nowhere near becoming an actor.
Even though Sonu Sood visited many offices and gave away his photos there, he was continually rejected.
Lucky chance-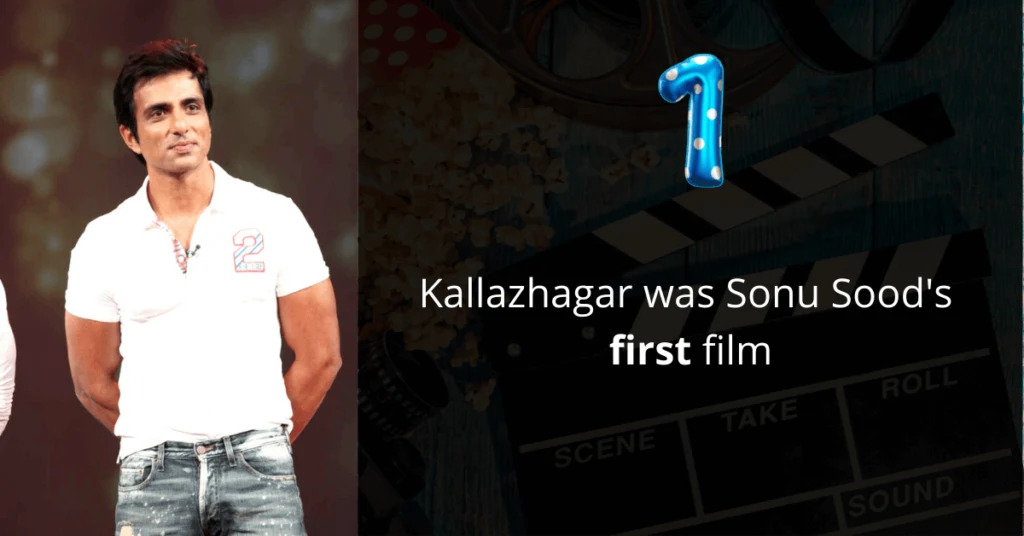 Once, Sonu Sood gave his pictures to a producer and that producer passed them to a coordinator who later showed them to Vijayakanth, a predominant actor.
Vijayakanth was very impressed by the photographs and called him to Chennai.
At that time, Sonu Sood received a call in his pager saying "Are you interested in doing a South film?"
He arrived at Mumbai to act in Bollywood films but as he didn't get a chance to act there, he agreed to act in a Tamil film.
So, in 1999, Sonu Sood caught a train and travelled to Chennai to act in his first ever film.
Caring mother-
After Sonu Sood signed his first film, Kallazhagar, his mother sent him a book titled How to learn Tamil?
As he was going to act in a Tamil film, his mother suggested that he learn Tamil.
Sonu Sood read this book while on his journey to Chennai.
Becoming an universal actor-
Initially, Sonu Sood wanted to act in positive roles as a hero but as he was offered negative roles of villains, he had no choice except to act as villains.
Thanks to his excellent acting skills, he received good recognition for acting in villain characters.
Sonu Sood received a Nandi Award for Best Villain for the Arundhati movie and Apsara Award for Best Actor in a Negative Role and the IIFA Award for Best Performance in a Negative Role for the Dabangg film.
As he became more popular, he was offered many positive, negative and comedy roles in movies and this made him an universal actor.
Also Sonu Sood acted in many Tamil, Telugu, Kannada, English and Hindi films.
In 2002, he acted in his first Hindi film, Shaheed-E-Azam.
Dreams get realized-
It was Sonu Sood's dream to act with Amitabh Bachchan, Salman Khan and Shah Rukh Khan.
He realised this dream and acted with all these actors.
Sonu Sood also acted in many films alongside Akshay Kumar.
Inspiration for fitness-
Sonu Sood was very inspired by the bodybuilders like Sylvester Stallone and Arnold Schwarzenegger and started gymming.
Actors like Salman Khan and Shah Rukh Khan appreciated his fitness.
A little about his family-
In 1996, Sonu Sood married Sonali, a Telugu and this couple is blessed with two sons, Ishant Sood and Ayaan Sood.
Some interesting facts-
Sonu Sood's favourite actor is Shah Rukh Khan and favourite actress is Deepika Padukone.
His favourite directors are Sanjay Leela Bhansali, Rajkumar Hirani and Aditya Chopra.
Sonu Sood likes to write dialogues for the films in which he acts. He wrote many dialogues for the film Dabangg.
He is a vegetarian and abstains from smoking, drinking and partying.
Sonu Sood loves music and prefers to spend many hours in the gym.
Philanthropy-
Inspired by his parents-
Both Sonu Sood's parents were philanthropists and they distributed a lot of food and provided free education in Punjab.
His mother inspired him by saying that the real success lies in helping the needy.
Helping migrants reach their home-
In 2020, during the COVID-19 pandemic Sonu Sood observed that many people were struggling to reach their homes and they needed food and this marked the beginning of his philanthropic journey.
Soon, he started distributing food and once while distributing food on a highway, he noticed that around 350 people were walking from Mumbai to Karnataka by foot and he was moved by this scene.
Sonu Sood stopped those people and arranged transport for them to travel to their homes.
He arranged buses, flights and private vehicles for the migrants.
Also, Sonu Sood arranged chartered flights for thousands of Indian students who were stuck abroad in Kyrgyzstan and Moscow.
Later, many people started approaching him for help and he extended help in many areas like providing food, medical facilities and treatment, transportation, education, employment, etc. through his Sood Charity Foundation.
Teaming with volunteers-
Eventually, hundreds of volunteers joined in Sonu Sood's mission to help the needy.
He also joined hands with oxygen suppliers and pharmaceutical manufacturers to provide oxygen and medicines to the people.
I Am No Messiah-
Sonu Sood wrote a book titled I Am No Messiah and this book is about how he helped people during the pandemic.
This book was published on 25 December 2020.
So, how are you inspired by the biography of Sonu Sood?
Tell me in the comment section below.
Please appreciate my work by sharing this article.
Featured Image credit: Bollywood Hungama/Wikimedia Commons
Sonu Sood Image credit: Bollywood Hungama/Wikimedia Commons