Sahil Rana is a very famous YouTuber and gamer.
He has more than 17 million subscribers across all his YouTube channels.
Introduction-
Sahil Rana was born on 20 April 2004 into a middle-class family.
He hails from Solan, Himachal Pradesh.
Sahil Rana has a younger brother, Akshay Rana who is also a YouTuber and he runs the A_S ARMY YouTube channel.
Education-
As of 2021, Sahil Rana is studying in the 12th class from B L school, Himachal Pradesh.
He isn't a studious student.
Financial struggles-
The financial condition of his family wasn't good.
Many times, Sahil Rana and his brother couldn't afford the bus fare to the school, so they used to either hide below the last seat of the bus and travel without ticket or walk to the school.
When he was in his 10th class, he learnt that a helper in a grocery store earns ₹8,000 and he too wanted to work as a helper to financially support his family.
But Sahil Rana's mother became emotional and declined him to work at the shop.
At that moment, he decided to start a YouTube channel and work on it, so that he can support his family.
Starting a YouTube channel-
For a long time, Sahil Rana used to watch many tech and foreign gaming YouTubers and learnt that it is possible to earn with a YouTube channel.
So, he too wanted to start a YouTube channel and earn from it so that he could financially help his family.
So, Sahil Rana started a YouTube channel by the name, AS Vlog.
It was a technology channel but as he didn't have a good knowledge of YouTube at that time, he named his tech channel as- AS Vlog.
Sahil Rana started this channel with his Samsung mobile and it had 4 GB RAM and he used to create, edit and upload videos with it.
First failure-
Sahil Rana uploaded many facecam videos on his tech YouTube channel but nobody used to watch his videos.
This didn't change even when he shared his videos with his friends on many social media platforms like Instagram, Facebook, WhatsApp, etc.
With much difficulty, Sahil Rana was able to acquire just 60 subscribers.
As his tech YouTube channel wasn't growing as expected, he deleted it.
Starting A_S Gaming-
At the time when Sahil Rana deleted his AS Vlog YouTube channel, the Free Fire game was trending.
So, he started a gaming YouTube channel by the name, A_S Gaming on 26 October 2016 but started uploading videos on it only from 2019.
Sahil Rana watched Free Fire content creators on YouTube and then, started playing and live streaming this game on his channel with his mobile.
Choosing Free Fire over PUBG-
At that time, Sahil Rana used to play both Free Fire and PUBG on his mobile.
He chose to live stream Free Fire over PUBG because streaming Free Fire with his mobile was easy whereas streaming PUBG required a decent smartphone and a good PC which he didn't have.
Also, compared to the Free Fire, PUBG matches were very lengthy and the waiting time to re-enter the match after getting out was high.
Also, at that time, there weren't many Free Fire streamers, so the competition was low.
Later, apart from uploading the videos of Free Fire, Sahil Rana also started uploading challenge videos.
Struggling as a YouTuber-
Initially, no one except Sahil Rana's younger brother used to watch his live streams.
His parents, relatives and some of his friends started pressuring him to abandon working on his YouTube channel and to focus on his studies.
But as Sahil Rana was determined to become a successful YouTuber and also, as he observed that a few YouTubers like him were becoming successful, he continued working hard on his channel.
As he didn't have a broadband connection, the only option left for him was to stream with his mobile internet connection.
But the internet connectivity wasn't great in his room, so Sahil Rana used to go to the rooftop and stream in between the water tanks on the rooftop.
Struggling to earn-
Sahil Rana's channel got monetised and he completed 20,000 subscribers but he didn't earn anything from YouTube.
He used to sometimes earn only around ₹500-1000 by promoting others.
When A_S Gaming was around 50,000 subscribers, the growth and views to his channel completely stalled and also, he was earning nothing.
During that time, Sahil Rana thought of giving up but his desire to become a successful YouTuber didn't allow him to do so.
Becoming successful-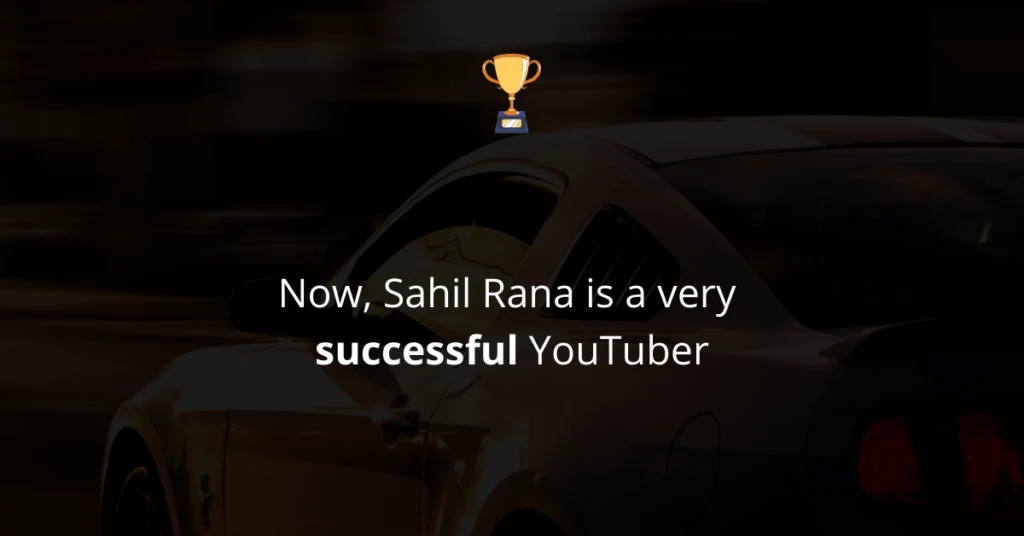 Sahil Rana started working even harder and instead of doing live streams, he started uploading regular videos.
He used to work all day and luckily, his couple of videos became viral and this was his life's turning point.
This happened only after working for two years on his YouTube channel.
Soon, Sahil Rana acquired 1 lakh subscribers and received his first ever payment from YouTube and it was ₹1,50,000.
Since then, his family members also started supporting him.
Millions of views-
Later, Sahil Rana started uploading Factory challenge videos along with its gameplay and he also added his commentary and people liked this very much.
Thanks to this, he started getting millions of views on his videos.
Later, most of Sahil Rana's videos started becoming viral and thanks to this, he started earning a handsome income from YouTube.
His first PC-
Sahil Rana completed one million subscribers on A_S Gaming by working on his mobile only.
When he reached one million subscribers, he purchased his first PC.
Thanks to the PC, the quality of Sahil Rana's videos increased and he was able to easily do live streams.
Many YouTube channels-
Now, apart from A_S Gaming, Sahil Rana also has three other YouTube channels which are as follows-
Sahil Rana has 14.9M subscribers on his A_S Gaming YouTube channel.
His brother's YouTube channel, A_S ARMY has 3.91M subscribers.
Note- The subscribers count is as of 7 November 2021.
Two of Sahil Rana's YouTube channels are managed by a couple of teams and he himself manages his remaining YouTube channels.
Story behind the name-
Sahil Rana named his YouTube channel as A_S Gaming in which the letter A stands for his brother's name, Akshay Rana and the letter S stands for his name, Sahil Rana.
Reason for his success-
Sahil Rana became successful because he daily uploads videos and he continuously improves the quality of his videos.
Some interesting facts-
Apart from gaming, Sahil Rana also loves playing football.
In July 2021, he purchased his dream car, Mustang GT.
In October 2021, Sahil Rana gifted her mother a Toyota Fortuner.
So, how are you inspired by the success story of Sahil Rana?
Share with me in the comment section below.
Also read- The Inspiring Biography of Lokesh Raj (Lokesh Gamer).