Rolex is one of the world's most famous watch brands.
Introduction-
Rolex was established by Hans Wilsdorf and Alfred Davis.
Hans Wilsdorf was born on 22 March 1881 in Kulmbach, Germany.
Unfortunately, his parents died when he was just 12 years old, this made him an orphan.
Hans Wilsdorf did his schooling in a boarding school.
He entered the world of watches when he was 19 years old, by starting his career in Cuno Korten, a watchmaking company.
His job was to wind pocket watches and to ensure that they maintained accurate time.
Here, Hans Wilsdorf learned in detail about the watches and their production.
In 1903, he joined a high-quality watch making company in London.
The birth of Rolex-
Later in 1905, Hans Wilsdorf started his own company with the financial help of his brother-in-law, Alfred Davis.
Both of them founded Wilsdorf & Davis Company in London.
Initially, they used to import the components of watches including the cases and assemble them together to make watches and later sell these watches to jewellers, who used to brand the watches with their own name and sell them in the market.
And after three years, as their business grew they started to produce their own pieces.
Registering as Rolex-
In 1908, Wilsdorf & Davis got registered as Rolex and during the same year they opened a new office in La Chaux-de-Fonds, Switzerland.
And during 1919, they closed their office in London because the England government imposed heavy taxes on them.
The huge taxes were levied due to World War I.
So, Rolex moved its international headquarters to Geneva, Switzerland and is still headquartered here.
Here, the company's name was changed to Montres Rolex S.A. in 1920 and finally this company was named as Rolex S.A.
Rolex benefited by setting up their company in Switzerland because here they got skilled labour and also Switzerland maintains a neutral position.
With the passage of time, Rolex became a dominant player in the watch industry.
The interesting story-
Hans Wilsdorf wanted to re-name the Wilsdorf and Davis company with a new five letter word, so he was searching for a new name, for which he tried combining the letters of the alphabet in every possible way.
This resulted in hundreds of names but he was not convinced with even a single name.
And one fine morning, Hans Wilsdorf was riding on the upper deck of a horse-drawn omnibus in London and then, he said that a genie whispered Rolex in his ear.
Rolex had no meaning to it and it wasn't somebody's name, it was just a new term which sounded good.
Hans Wilsdorf decided to brand the company and its watches as Rolex, because the name was easy to pronounce in any language and he also thought that it sounded similar to the sound of winding a watch.
And as Rolex was a small word, it can be easily imprinted symmetrically on the watches.
Getting the crown-
The crown was chosen as the logo of Rolex because Hans Wilsdorf loved the British Empire.
The crown was also very popular at that time and many people would gladly agree to have it on their wrists in their Rolex watches.
The Tudor is a subsidiary brand of Rolex.
It was named after the Tudor family, the royals who ruled in England from the years 1485 to 1603.
The first ones-
Rolex brought many novel features to its wrist watches; they were the first ones to introduce water resistance, chronometer and automatic movements and GMT complication.
In 1910, Rolex became the first watch-maker in the world to attain a chronometer certification for a wrist watch.
And later, in 1914, they also got a Class A precision certificate by the King's Observatory (Kew Observatory).
The A grading certifies that its watches match the standards of the marine grade chronometer.
The chronometer tests rigorously test the watches by subjecting them to different stresses like heat, cold and also check sweeping seconds hand, accuracy in different positions, etc.
These are certified by the COSC (Contrôle Officiel Suisse des Chronomètres), the Official Swiss Chronometer Testing Institute.
In 1950, Rolex introduced a pilot's watch which sported the world's first GMT (Greenwich Mean Time) complication. This watch has a special additional hour hand.
The first and foremost-
Rolex for the first time in the world introduced the qualities of reliability, durability, and precision in wrist watches.
Before the advent of Rolex, the wrist watches were very unreliable and one must manually adjust time on the wrist watch by observing the clocks of others or the town clocks.
The first water-resistant watch in the world-
In 1926, Hans Wilsdorf introduced the world's first water-resistant watch by name, Rolex Oyster.
Hans Wilsdorf always wanted to make a watch which resists the forces of the external environment.
The unique marketing methods-
Rolex wanted to prove that their watches were water-proof (water-resistant), so Rolex employed a very clever marketing strategy.
So, in 1927, Hans Wilsdorf personally gave a Rolex Oyster watch to Mercedes Gleitze, an English woman while swimming across the English Channel.
The watch worked perfectly even after she swam continuously for ten hours.
Later, Rolex published a full page advertisement on the front page of Daily Mail which mentioned this accomplishment.
Rolex markets their watches as a perfect partner on land or in the sea.
The first watch in the world to display date-
In 1956, Rolex introduced Rolex Day-Date, it was the first wrist-watch which automatically changed day and date on its dial.
Rolex has achieved many notable novel achievements in the watch industry.
The Rolex watches set the standards for the modern wrist watches.
Introducing the 904L stainless steel-
In 1985, Rolex became the first watchmaker to employ 904L stainless steel in their watches.
The 904L stainless steel is very hard with good lustre which resists corrosion.
Quality is the highest priority-
To ensure that every watch meets stringent quality standards, Rolex rigorously tests each and every watch for 15 days by the Swiss Official Chronometer Testing Institute (COSC) before selling them.
Some of the tests performed include high pressure water test, high altitude test, etc.
Withstanding the extreme environmental conditions-
The first men to climb the summit of Mount Everest Edmund Hillary and Tenzing Norgay wore Rolex watches while climbing the mountain in 1953.
Finally on 29 May 1953, they were on the Earth's highest mountain above the sea level.
Even at such high altitudes, the Rolex watches perfectly displayed the time without losing even a single second.
And in 1960, a Rolex DeepSea watch was introduced to the depths of the Pacific Ocean in the Mariana Trench at 11,000 metres with the help of a submarine with Bathyscaphe Trieste.
The Rolex watch functioned perfectly even after experiencing the extreme pressures of water.
On March 26, 2012, Rolex took part in the DEEPSEA CHALLENGE expedition led by National Geographic and James Cameron, a famous film-maker who produced super hit movies like Titanic, Avatar, etc.
This time also the watch was placed on the outer side of the submarine and the watch won without losing a second.
The above mentioned successes prove that the Rolex watches function flawlessly even at the highest altitudes of a mountain or at the greatest depths of an ocean.
These hardy features make Rolex stand-out from the other watch brands.
Owned by a charity-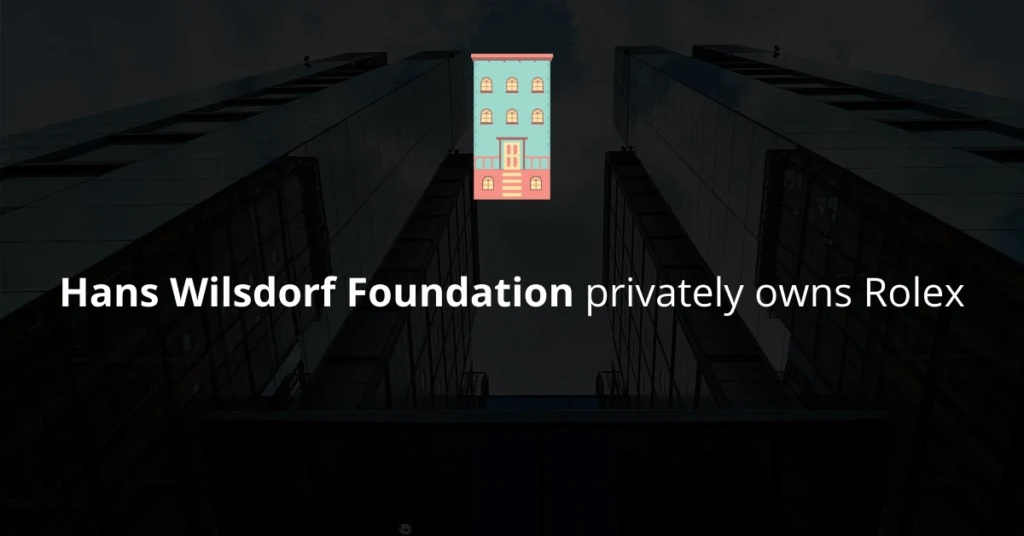 Rolex is privately owned by the Hans Wilsdorf Foundation, this foundation is registered as a charity and therefore they are not required to pay the corporate income taxes.
The Hans Wilsdorf Foundation was established in 1944 following the death of Hans Wilsdorf's wife, Florence Frances May Crotty.
All of the shares of Rolex had been transferred to this foundation.
As a result, Rolex has no owners or shareholders but only custodians.
Understanding the word oyster-
In 1926, Rolex released its first water resistant watch by implementing the famous watch case called Oyster case.
In addition to being water resistant, this case was also dust resistant.
They chose the name oyster because they wanted to imply that the oyster case protects the internals of the watch from water like an oyster shell protects the pearl from the outside water.
They used this hermetically sealed case because they had very well perfected in producing the watches which work with great accuracy and precision and if they are not protected by a rugged case, their accuracy and precision might get altered when they come in contact with external forces.
So, all the water proof Rolex watches contain the words Oyster Perpetual.
Perpetual-
The word perpetual means everlasting.
In 1931, Rolex invented and patented a system by which the watch automatically winds itself running perpetually.
Because of this feature, manual winding of the wrist-watches became obsolete.
So, the words Oyster Perpetual refers to the water-resistance and automatic winding system features.
The submariner line-up of Rolex watches work flawlessly in hundreds of feet underwater.
They produce their own gold-
By 2000, Rolex succeeded to manufacture all of its watches in-house in Switzerland.
Also, they have their own gold foundry on the premises.
The gold produced is later used in the manufacturing of the watches.
The reasons for the grand success-
Rolex became one of the world's most popular and successful watch brands because it produced the world's first wrist watch with accurate movements and added water-resistant to it and marketed it well and its brand name is also very easy to remember.
During those times, there was no real competition to Rolex and its watches not only performed great but also looked great.
The Rolex watches are so popular that they have been featured in numerous movies and worn by many popular celebrities like James Bond, Roger Federer, Tiger Woods, etc.
On the Forbes global list of the most valuable brands list, Rolex stands at the 78thposition with a brand value of 9.1 billion dollars.
It takes a complete year-
Yes, it takes one complete year to produce a single Rolex watch.
This is one of the main reasons for the expensiveness of the watch.
Also, all the Rolex watches are hand-made and Rolex produces 800,000 watches per year.
Robots are employed only to do a little work in the areas where robots can perform better than humans.
Usually, Rolex watches are quite expensive and it can be explained as its watches can withstand the forces of nature, they can work perfectly even at the bottom of an ocean or on the top of a mountain.
Even at these extreme conditions, the watches precisely display the time.
The official timekeeper of Wimbledon-
In 1978, Rolex became the official timekeeper for the Wimbledon tournament.
The Rolex brand signifies power with precision and performance and has won the hearts of billions of people across the world.
Feedback from readers is highly appreciated; it helps me to deliver better results to you.
Frequently Asked Questions (FAQs)
How Rolex started?
Rolex was started in 1905 by Hans Wilsdorf and his brother-in-law, Alfred Davis.
Initially, they used to import the cases and the other components of watches and assemble them to make watches.
Later, these unbranded watches were sold to the jewellers and those jewellers used to imprint their own brand names on these watches.
Eventually, Rolex started manufacturing its own watches.
How Rolex got its name?
Rolex was initially known as Wilsdorf and Davis.
But Hans Wilsdorf wanted to rename his company with a five letter word and he tried combining the letters of alphabets in every possible way.
Unfortunately, he couldn't come up with a good sounding name.
And one morning, while travelling in an omnibus in London, the word Rolex came to his mind.
Hans Wilsdorf was very happy with the word Rolex as this was not only easy to pronounce but also easy to be imprinted symmetrically on the watches.
Moreover, Hans Wilsdorf felt that Rolex sounded similar to the sound of winding a watch.
What made Rolex famous?
The first instance which made a Rolex watch famous occurred in 1927 when Mercedes Gleitze, a British swimmer swam across the English Channel wearing a Rolex Oyster watch.
The watch didn't give up even when she swam for more than ten hours.
Why are Rolex so expensive?
Yes, Rolex watches are generally very expensive and the reasons for this are as follows-
• Rolex is a luxury watch manufacturer. Usually, luxury products are high-priced and this is the case with Rolex.
• Use of expensive materials. Rolex uses expensive materials in the manufacturing of its watches like gold, diamonds, 904L grade stainless-steel, etc.
• Extensive research and development. Rolex conducts extensive research on watches and thanks to this, it was able to produce watch models suitable for deep-sea diving, caving, mountain climbing, etc. and it also made several innovations.
All these research and development costs make Rolex watches expensive.
• Brand reputation. Rolex is a very reputable brand as it is associated with Mount Everest expeditions and tournaments like Wimbledon, US Open.
This brand is also associated with many famous personalities like James Bond, Roger Federer and Tiger Woods. This reputation allows Rolex to charge a premium on its watches.
Why is it called Oyster Perpetual?
The Rolex Oyster Perpetual watches contain an Oyster case which makes the watch water and dust resistant.
The word Oyster is used to imply that this case protects the watch internals much like the natural oyster shell protects pearls inside it.
And the word perpetual means everlasting.
In 1931, Rolex succeeded to invent a system by which the watch can run forever.
Thus, the words Oyster Perpetual are present on the Rolex watches to imply their resistance and long life.
Is Rolex owned by a charity?
Yes, Rolex is owned by the Hans Wilsdorf Foundation, a charity.
This foundation was established in 1944 and owns all the shares of Rolex.
Where do Rolex profits go?
The vast majority of the Rolex's profits go to the Hans Wilsdorf Foundation which utilises this for charity and social causes in Geneva, Switzerland.
Was the founder of Rolex an orphan?
Yes, Hans Wilsdorf became an orphan at the age of 12 when his parents died.
Table of Contents
Sharing is caring!
Researching and writing an article takes many days of effort; so, it would be nice if you share the article!
As an Amazon Associate I earn from qualifying purchases.
Thanks to all of you curious readers, this website has crossed a million views!