Manoj Saru is India's most popular tech YouTuber.
His YouTube channel, Technology Gyan has more than 10 million subscribers.
Apart from being a YouTuber, Manoj Saru is also a professional blogger.
Introduction-
Manoj Saru was born in 1994 into a very poor family and hails from South Delhi.
He suffered from severe poverty until he became successful in his career.
Poverty makes life difficult-
Manoj Saru along with his five family members used to live in a very congested single room rented house.
And they couldn't afford necessities like television and refrigerator.
They were so poor that sometimes they used to skip meals.
A bright student-
Manoj Saru was a very bright student at school and used to receive his teachers' praise.
Even though his family couldn't afford his education, it was his mother's dream to get him educated.
And so, she worked hard and did several odd jobs to educate her children.
At school, Manoj Saru developed a passion for computers and used to always think about them.
He became so knowledgeable at operating computers that he used to even help his teachers operate computers.
Eventually, Manoj Saru became a computer geek at school and loved fiddling with gadgets.
After passing tenth standard with flying colours, he chose to study science as advised by one of his teachers.
After finishing his intermediate education, Manoj Saru's passion for computers made him think of studying Computer Science & Engineering (CSE).
Unable to pay for college-
Manoj Saru wanted to get into Indian Institute of Technology (IIT) but he couldn't make it.
So, he decided to get educated from another engineering college.
Then, Manoj Saru attended a trial class in this engineering college and here, he was asked to pay a fee of ₹1 lakh.
They also informed him that the total fees for engineering would be around ₹3 lakh.
Manoj Saru and his family were in no position to afford these fees as they couldn't think of gathering this sum even after combining all their incomes and assets.
So, this situation forced him to drop his plan of attending college for a year.
Manoj Saru was heartbroken upon realising that he couldn't attend the college and this made him to cry continuously for three days.
Determination-
All these instances made Manoj Saru to get fed up with poverty and he became determined to accomplish something significant in his life and become rich.
During his one year break, he decided to prepare for IIT and All India Engineering Entrance Examination (AIEEE) but these couldn't interest him.
Later, Manoj Saru borrowed a sum of ₹20,000 from his sister and purchased a netbook (a small laptop) for studying.
Thanks to this netbook, he learnt many things related to technology like fixing computers, installing Microsoft Windows, etc.
Open university-
Even after a year, Manoj Saru's family was not in a position to afford for his college.
So, he decided to graduate from the open university in Bachelors in Computer Application (BCA) and also applied for a diploma course in software engineering.
During this time, Manoj Saru used to watch a lot of YouTube videos and this helped him to improve his tech knowledge.
As he was in need of money, he thought of earning from the internet.
So, one day, Manoj Saru Googled for how to earn money online.
And he was presented with blogging, a popular way to earn money online.
Manoj Saru came across an article which mentioned that it was possible to earn anywhere in between ₹10-18 lakh per month by working from home.
Blogging-
Blogging seemed somewhat daunting to Manoj Saru as it involves many things like creating a blog website, learning about domain name and hosting, etc.
As he never heard about blogging before, he didn't have any idea of these things.
But this wasn't a problem for Manoj Saru because he was enthusiastic to learn and execute.
The need for money made him start a blog.
Like this, Manoj Saru started his blog while studying BCA.
Humble beginnings–
Manoj Saru started his blog even when he didn't have the perfect resources.
As his netbook was very cheap, most of the time it worked very slowly.
Adding to the pain, Manoj Saru didn't have a Wi-Fi connection and he had to access 2G internet from a mobile which achieved the internet speeds of only 50-100 Kbps.
Even though his laptop and internet were slow, his curiosity kept him going.
Almost everyday Manoj Saru used to research and learn on Google about various mobile, internet and computer technologies.
He religiously read many articles on these topics and this greatly enhanced his knowledge.
Later, Manoj Saru started his YouTube channel even when he didn't have a DSLR, good mic and lighting system.
Key takeaway-
This tells us the power of action.
We should not wait for the right resources to start working for our dreams.
Instead, we should try to start from whatever resources we have at our disposal and should strive to give our best.
Eventually, we will get all the required resources.
And will achieve our dreams.
Unsuccessful-
Even though Manoj Saru blogged for a complete year, he couldn't succeed in blogging.
He earned just $0.5 after working on his blog for a full year.
Once again Manoj Saru researched on Google for another way to make money online and this time, he came across YouTubing.
During that time, YouTube was slowly gaining popularity in India.
In 2016, Jio was launched and thanks to this, YouTube became very popular in India.
Becoming YouTuber-
Manoj Saru started an English YouTube channel by his name and used to make videos related to hacking applications, cracking software, tutorials, blogging and technology.
Some of his videos related to cracking Android applications became viral.
But as these types of videos are not permitted on YouTube, Manoj Saru received three strikes on his channel and subsequently, his channel got deleted.
He got very demotivated by this and also because he wasn't earning anything from his blog and his blog wasn't getting good traffic.
His YouTube channel got deleted because he had no idea of the YouTube Community Guidelines and policies.
This incident taught Manoj Saru an important lesson that one must be ethical and adhere to rules to succeed in any field.
Full dedication-
During this time, Manoj Saru was so obsessed with learning blogging and YouTubing that he used to continuously sit in front of his laptop for many hours.
Due to this, he developed a severe back pain and was unable to move from bed.
Subsequently, Manoj Saru was administered 3 injections near his back.
Thankfully, he recovered from this condition.
A new beginning-
Manoj Saru learnt many things like YouTube Community Guidelines and also how to write good content for blog, Search Engine Optimization (SEO) and how to rank blog posts.
After learning all the rules of YouTube, he started his second YouTube channel, Technology Gyan (Hindi mein) on November 17, 2015.
This YouTube channel is all about gadgets, internet and tutorials.
Later, Manoj Saru renamed this channel to Technology Gyan.
After two years, he received his first ever payment from Google AdSense from his blog and YouTube channel.
It was around $250 (₹15,000).
Manoj Saru was very happy with this because he started earning while doing these things on a part time basis.
At that time, he was studying BCA.
Manoj Saru was inspired to earn more by working harder and spending more hours on blogging and YouTubing.
Reinvesting-
Manoj Saru reinvested his first payment to purchase a domain name and web hosting for his blog, Catch How.
During those days, he used to spend 18 hours daily to learn different aspects of blogging and YouTubing.
Starting from kitchen-
As his house had only a single room, Manoj Saru started his journey from the kitchen area of his house.
He used to spend most of his daytime for blogging and during the night in between 11 p.m. to around 3 a.m. he used to make YouTube videos in the kitchen.
Manoj Saru was unable to produce videos in morning due to the noise, so he used to shoot them in between 1-2 a.m. when all of his family members were in deep sleep.
But even during those times, sometimes he used to face disturbances of barking street dogs and noise of coolers and fans.
Manoj Saru used to make videos in very hot conditions because he couldn't switch on the fan fearing that it might create noise.
Initially, he used to produce tutorial videos with the help of a mic, screen recorder and Microsoft PowerPoint presentation.
By the time he was finishing his education, Manoj Saru was earning around ₹10-15,000 per month.
Moving to a better place-
These earnings enabled Manoj Saru and his family to shift from their congested home to a better place.
So, they moved to a rented 3 BHK house.
Here, Manoj Saru had enough place to work and this inspired him to work with even more passion.
After around eight months, he invested around ₹20,000 to purchase a DSLR camera and this helped him to enhance the quality of his videos.
Around this same time, Manoj Saru's monthly earnings increased to around ₹40,000 and he completed his BCA education.
Along with a bachelor's degree he also finished a diploma course in computer software engineering from National Institute of Information Technology (NIIT).
Working full time-
As Manoj Saru was earning ₹40,000 per month, he decided to work full time on his online ventures.
And he was confident that he can work harder and earn in lakhs.
So, Manoj Saru became a full time YouTuber and blogger.
Both his YouTube channel and blog were performing well.
Manoj Saru also promised to his mother that after a time, he will earn at least one lakh rupees per month.
Then, his mother motivated him to work well and realise his dream.
Manoj Saru started working on his blog and YouTube channel with full dedication as he had all the time to dedicate to them.
In 2019, his YouTube channel got boosted and his videos started to become viral more often, so his earnings also increased.
Million subscribers-
Eventually, Technology Gyan gained a million subscribers (now it has more than 10 million subscribers).
Many brands also started approaching Manoj Saru for collaboration purposes.
Now, both his blog and YouTube channel get millions of views every month.
Buying a 4 BHK flat-
Do you remember that at the beginning of this article I mentioned that Manoj Saru started his career from a single room house?
Now, thanks to his hard work and dedication, he has been able to purchase a good 4 BHK flat with his earnings.
And you might also remember that Manoj Saru suffered from severe poverty.
Well, he became a crorepati at 25.
Infographic-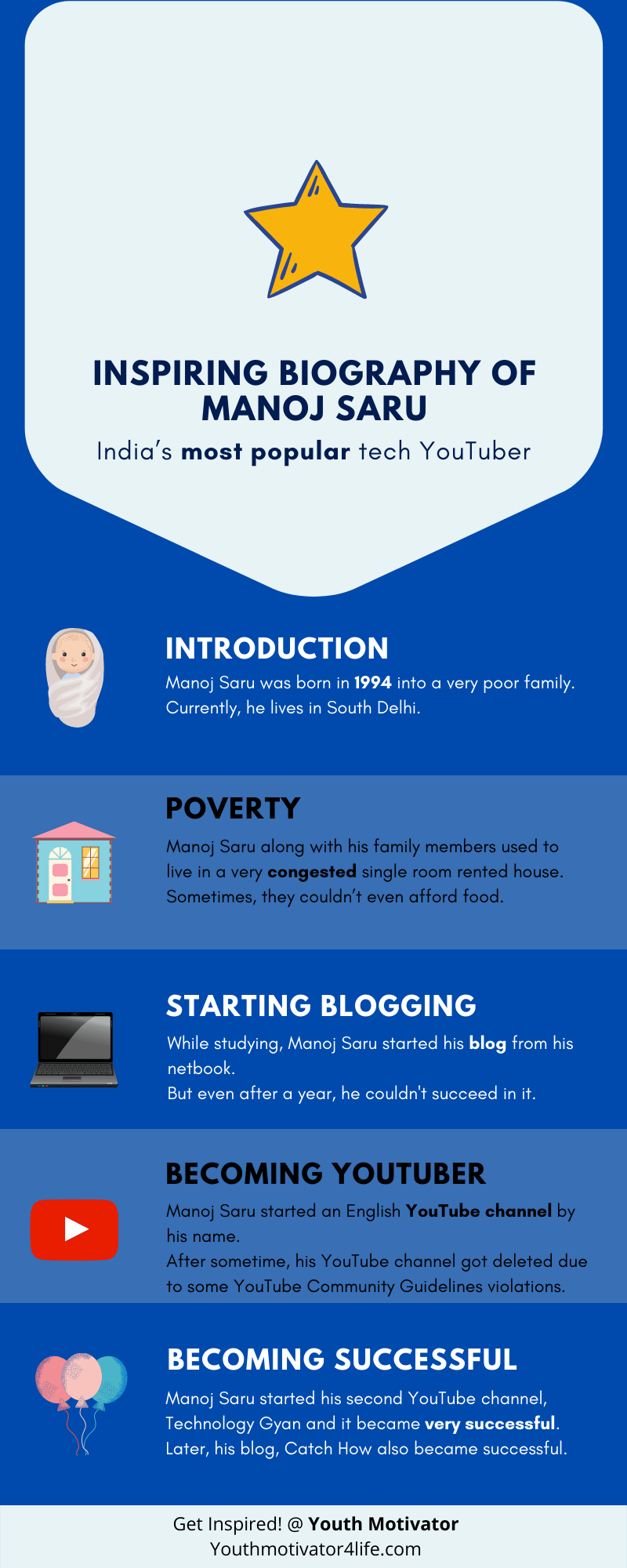 So, which part of Manoj Saru's story inspired you the most?
Please tell me in the comment section below.
Table of Contents
Please Support This Site
It takes a lot of effort to research and produce content. If you are happy with my work, please support me by donating.