Dhirubhai Ambani is the founder of Reliance Industries Limited, one of the world's largest multinational conglomerate companies.
Dhirubhai Ambani became one of the greatest businessmen despite lacking financial support, family background and education from the prestigious business schools.
Introduction-
Dhirajlal Hirachand Ambani (Dhirubhai Ambani) was born on 28 December 1932 to Hirachand Gordhanbhai Ambani and Jamnaben Ambani in Chorwad, Junagadh district, Gujarat in a poor family.
His father, Hirachand Gordhanbhai Ambani worked as a school teacher in a village whereas his mother, Kokilaben Ambani is a housewife.
Dhirubhai Ambani was well-aware of the financial problems of his family.
So, he always dreamt to become rich so that he could support his family and free them from the financial struggles.
A born businessman-
Dhirubhai Ambani was a born businessman and during his childhood he used to sell pakoda (a fried snack) to the pilgrims at Mount Girnar in Gujarat.
He was not able to continue his education after high school owing to his family's financial conditions.
During that time, Dhirubhai Ambani's elder brother was working in Aden.
So, he decided to migrate to Aden to work there.
He readied all the necessary documents and passport.
Finally, when Dhirubhai Ambani was about to board a passenger ship to travel to Yemen, he was informed that there was no room in the ship, as the ship became full.
But he badly wanted to reach Aden, so he decided to travel to Aden in a cargo ship.
Even though the journey was very uncomfortable, Dhirubhai Ambani was happy to reach his destination.
Reaching Aden-
In 1948, Dhirubhai Ambani reached Aden and secured a clerical job in the dispatching department of A. Besse & Co.
At that time, A. Besse & Co. was the largest transcontinental trading firm which traded several items like food grains, textiles, petroleum, etc. to different countries.
Here, he learned the secrets of the trade and established contacts with many foreign businessmen.
As he studied in the Guajarati medium, he found it difficult to converse with the English speaking colleagues.
This made Dhirubhai Ambani realise the importance of the English language.
So, to learn English, he used to religiously read many books and trade magazines written in English and used to improve his English vocabulary by referring to the English dictionary.
And eventually, Dhirubhai Ambani learned the skill of managing people.
During this time, he developed an interest in learning more about business, so he started working simultaneously for a Gujarati trading firm.
Here, Dhirubhai Ambani learned many important skills like accounting, bookkeeping, dealing with banks and insurance companies and preparing shipping papers and documents.
Impressed by his management skills, he got promoted and was handed over the responsibility for managing a Shell gas station, run by A. Besse & Co.
Dhirubhai Ambani worked in Aden for 7 years.
During the late 1950s, the movement for independence was erupting in Yemen which made the lives of the immigrants difficult.
As a result, Dhirubhai Ambani along with his wife Kokila Dhirubhai Ambani and his nine months old son, Mukesh Ambani returned to India in April, 1957 and he began to look for business opportunities in Bombay (now Mumbai).
Later, this couple was blessed with Anil Ambani, Nina B. Kothari and Dipti D. Salgaocar.
Birth of Reliance-
Dhirubhai Ambani co-founded Reliance Commercial Corporation along with his second cousin, Champaklal Damani and started to import yarn and export spices to Yemen.
In the initial days, Dhirubhai Ambani was unable to invest huge sums of money into the business, so he settled as a spice trader.
Since the inception, he gave the highest priority to quality and sold the spices in high volume with low profit margins.
In 1965, the partnership of Dhirubhai Ambani with Champaklal Damani ended as they both had different visions regarding the business.
Risk taker-
After doing spice business, Dhirubhai Ambani realised that the yarn business had a great potential and even though this business involved considerable risks, it promised handsome dividends.
But he had no expertise in the yarn business, so he read many books related to this field and also established contacts with many people involved in this business field to gain knowledge about the yarn business.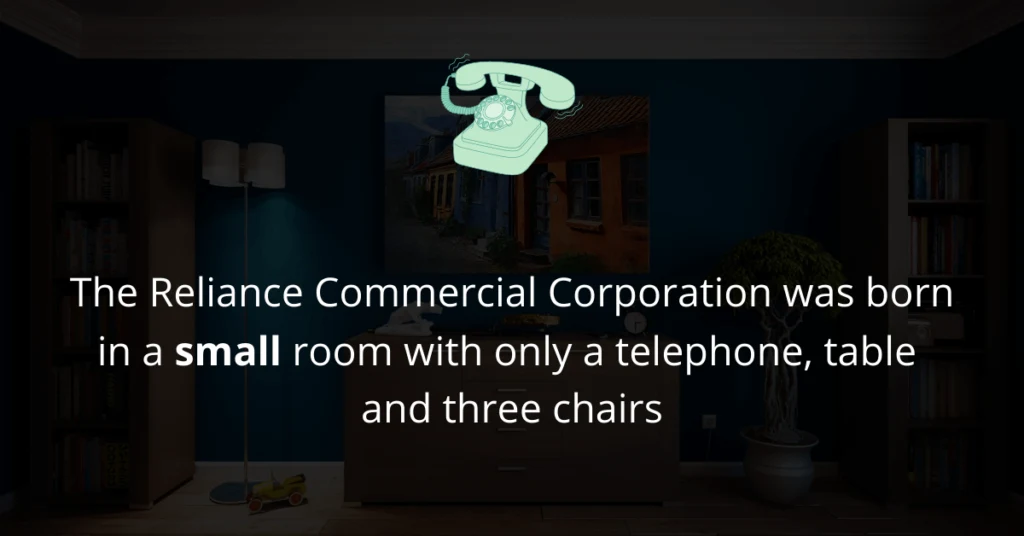 The Reliance Commercial Corporation was started in a small room with only a telephone, one table and three chairs.
Negotiation master-
The most important thing was to import yarn but Dhirubhai Ambani lacked the required funds for doing so.
So, he convinced some money lenders to lend him money on a promise that he will provide them great returns much greater than the interest rates in the market.
Dhirubhai Ambani was able to raise sufficient funds as the money lenders were convinced by his optimism.
Eventually, his yarn business grew by which he was able to reap huge benefits and the investors were satisfied as they received good returns.
Thanks to this success, Dhirubhai Ambani became a well-known businessman.
Dhirubhai Ambani ran his business successfully, because he learnt the tricks of the trade while working at Aden.
He later decided to manufacture the synthetic fabric.
During that time the natural fabrics like cotton and silk were popular but not the synthetic fabrics like nylon and polyester but Dhirubhai Ambani was sure that the future belonged to the synthetic fabrics.
Polyester prince-
This far-sightedness gained Dhirubhai Ambani the name, the polyester prince.
In 1966, he established a textile manufacturing factory at Naroda, Ahmedabad, Gujarat with the main aim of mass producing the best quality textile in the shortest possible time.
On every weekend, Dhirubhai Ambani used to fly from Bombay to Ahmedabad to supervise the progress of the institution of the factory and to solve the problems of the factory workers.
The cost of the project went up steadily as the value of rupee depreciated.
But this setback could not break the determination of Dhirubhai Ambani who continued on with his project.
And by January, 1967 the production of fabric started at the Naroda factory.
Marketing genius-
Some established big mill owners caused troubles to him as they didn't like a newcomer into their field, so they prompted the wholesalers to not to buy the fabric from Reliance.
But Dhirubhai Ambani did not accept the defeat and instead took the stock and personally sold them to the retailers on the streets.
And he also used a marketing strategy, only Vimal as an answer to eliminate the monopoly of the big mill owners.
The retailers were very impressed by the product as it was of exceptional quality at very reasonable prices.
So, Dhirubhai Ambani's textile brand, Vimal started expanding rapidly.
Within a short period of time, Vimal became one of the finest and best-selling fabric brands.
Premium fabric brand-
Eventually, Vimal became the premium fabric brand of India and the textile mill was also modernised and now, the products made there are exported to 58 countries.
For this, Reliance received exporter of the year award many times.
Thanks to his marketing strategy, the business became very profitable.
Even as his business was running profitably, some big textile mill owners were bent on to cause troubles to his mill by taking advantage of some government policies.
So, Dhirubhai Ambani realised that if he grew his business very big, then the competitors would not be in a position to trouble him and so he expanded the Reliance on a big scale.
But to expand his business, he needed a huge sum of money.
So, Dhirubhai Ambani approached the banks to seek loans but unfortunately the banks turned him down on the grounds that he had only one single mill.
Share market expert-
Then, Dhirubhai Ambani decided to raise funds by the IPO route and he wanted to share the profits of Reliance with Indians.
So, Reliance was listed on the stock market.
The IPO of the Reliance Industries was very well received and was oversubscribed many times by which Reliance was able to raise huge funds.
By 1972, the Reliance Textiles became a huge brand.
And in 1975, Reliance received a nod of excellence from the World Bank and this speeded up the process of upgradation and expansion of all the operations carried in the plant.
The Reliance textile mills started modernising between 1984 and 1996 with the introduction of the computerised and sophisticated machines.
These hi-tech machines replaced the out-dated machines and this made it the grandest composite textile mill in the country.
During this period, Mukesh Ambani and Anil Ambani joined Reliance.
Eventually, Reliance expanded into several other businesses like energy, retail, telecommunications, petrochemicals, etc.
Now, Reliance Industries Limited is one of the biggest conglomerates in the world.
All this had been made possible with the dedication and relentless efforts of a legendary visionary, Dhirubhai Ambani.
Reliance Industries Limited is the largest privately owned business empire in India and the second most profitable company in India.
Also, they are the biggest publicly traded company in India.
Dhirubhai Ambani had been conferred with countless honours, some of which include Dean's medal by the Wharton School, The Economic Times award for corporate excellence for lifetime achievement and Man of the Century award by Chemtech Foundation and Chemical Engineering World.
Sadly, Dhirubhai Ambani passed away on 6 July 2002 and at that time the net worth of Reliance was a whopping $25.6 billion.
In January 2016, he was posthumously awarded Padma Vibhushan.
After his death, Reliance Industries was partitioned between the two brothers, Mukesh Ambani and Anil Ambani.
Now, Mukesh Ambani, the elder son of Dhirubhai Ambani runs Reliance Industries Limited and the younger son, Anil Ambani runs Reliance Group.
Some life lessons-
You can win the world, if you dare to dream big-
When Dhirubhai Ambani was in the school, he dreamt of becoming financially independent, so after the school hours he used to sell pakoda.
And later, he dreamt of doing a job on a foreign land, so he went to Aden and secured a job there.
He dreamt of doing business in India, so he established Reliance Commercial Corporation along with his second cousin, Champaklal Damani.
Dhirubhai Ambani was able to accomplish big success because he dared to dream big.
As the journey of a thousand miles starts with a single small step, likewise every big thing starts with a small dream.
And the dreams will definitely get realised if you relentlessly work towards your dreams.
Identify opportunities and never lose hope-
Dhirubhai Ambani faced many setbacks during his business life but he never lost hope and kept doing the right things.
He faced countless challenges in his life, like in 1965, the partnership between Dhirubhai Ambani and his business partner, Champaklal Damani broke, but he did not abandon his business dreams, instead he believed in himself and kept moving forward.
In 1966, the value of Indian rupee increased as a result the construction cost of his textile factory mounted and even at that time, he did not lose hope and continued with his work.
And during the launch of his product in the market, he faced severe opposition from the other players in the industry. Then also, he bravely fought against all odds.
In February 1986, he got affected by a stroke, which paralysed his right hand.
So, Dhirubhai Ambani achieved great success even after facing many setbacks and problems relating to family, government, wealth, health, etc.
He boldly faced all the problems and took them as challenges and worked upon them.
Risk is the biggest teacher-
Dhirubhai Ambani was one of the biggest risk taking entrepreneurs of his time.
He became a more confident and knowledgeable person as he allowed himself to face bigger risks in life which allowed him to grow big.
Dhirubhai Ambani faced many risks like leaving his country for employment, risking his job to start a business, changing the direction of his business from spices to yarn, entering into new businesses like petrochemicals, etc.
He achieved grand success because of his risk taking ability.
Think big, think fast and think ahead because ideas are no one's monopoly-
To attain success in your field, you must think big, fast and advanced because then only you can survive the competition.
You must have guts to dream big because if you don't dream, someone else will hire you to help them build their dreams.
While working at the petrol pump, Dhirubhai Ambani dreamt of building a petroleum company and later, he established the world's largest oil refinery at Jamnagar in Gujarat, India.
In his initial days, Dhirubhai Ambani went to a foreign country for employment opportunities but now Reliance functions in 108 countries.
He used to think differently as for the first time in India in 1977, he publicly issued an IPO for Reliance.
As a result, Reliance gained a record 58,000 investors.
Now, Reliance Industries is the first company in the Fortune India 500 rankings.
Biggest contributor for GDP-
Reliance Industries Limited is one of the biggest contributors to the GDP of India.
Dhirubhai Ambani always wanted India to become an economic superpower and Reliance Industries Limited is greatly contributing to this dream.
Reliance Industries Limited employs more than 195,000 people.
Guru-
A movie by the name, Guru was released on 12 January 2007 with Abhishek Bachchan as the main actor.
This movie was inspired by the life of Dhirubhai Ambani.
The life story of Dhirubhai Ambani teaches us that to become successful, the most important ingredients are hard work, willpower and self-confidence and these are more important than capital, education and support.
Feedback from readers is highly appreciated; it helps me to deliver better results to you.
Featured image credits: IndianCow/Wikipedia
Infographic-
Frequently Asked Questions (FAQs)
What is the success story of Dhirubhai Ambani?
The success story of Dhirubhai Ambani is very inspiring.
Even after facing many hurdles, lacking financial support, family background and education from the prestigious business schools he went on to establish Reliance Industries Limited, a super successful multinational conglomerate.
What is the qualification of Dhirubhai Ambani?
Dhirubhai Ambani studied until high school.
He was not able to continue his studies due to his family's poor financial conditions.
So, Dhirubhai Ambani decided to stop his further studies and work full time.
How did Dhirubhai Ambani start his career?
In 1948, Dhirubhai Ambani started his career by securing a clerical job in the dispatching department of A. Besse & Co. in Aden, Yemen.
At what age Dhirubhai Ambani started business?
Dhirubhai Ambani was 26 years old when he started his business.
How did Dhirubhai Ambani become rich?
In the beginning Dhirubhai Ambani was a spice trader and gave the highest priority to quality and sold the spices in high volume with low profit margins.
Later, he entered the yarn business which even though was risky gave him huge returns.
Thus, this made Dhirubhai Ambani very rich.
When did Dhirubhai Ambani become rich?
In 1966, Dhirubhai Ambani became rich thanks to his success in the yarn business.
Who is the father of Dhirubhai Ambani?
Hirachand Gordhanbhai Ambani was the father of Dhirubhai Ambani.
Hirachand Gordhanbhai Ambani was a village school teacher.
How much was Dhirubhai Ambani worth?
At the time of his death in 2002, Reliance was worth a whopping $25.6 billion
How many siblings did Dhirubhai Ambani have?
Dhirubhai Ambani had three siblings namely, Ramaniklal Ambani, Saurabh Patel, Trilochana Ben.
Who owns the Vimal brand?
The Vimal textile brand was started by Dhirubhai Ambani is now owned by Reliance Industries Limited.
Was Dhirubhai Ambani paralyzed?
Yes, Dhirubhai Ambani was paralyzed.
His right hand was paralyzed in February 1986 due to a stroke.
Did Dhirubhai Ambani have a stroke?
Yes, Dhirubhai Ambani suffered from a stroke twice.
First in February 1986 and next on 24 June 2002.
At what age Dhirubhai Ambani died?
Dhirubhai Ambani died when he was 69 years 6 months 8 days.
Are Mukesh Ambani and Anil Ambani twins?
No, they aren't twins.
Mukesh Ambani was born on 19 April 1957 whereas Anil Ambani was born on 4 June 1959.
So, Mukesh Ambani is two years older than Anil Ambani.
Who is Champaklal Damani?
He was the co-founder of Reliance Commercial Corporation and the second cousin of Dhirubhai Ambani.
But their business partnership ended in 1965.
Featured image credit- IndianCow /Wikipedia
Table of Contents
Sharing is caring!
Researching and writing an article takes many days of effort; so, it would be nice if you share the article!
As an Amazon Associate I earn from qualifying purchases.
Thanks to all of you curious readers, this website has crossed a million views!