Alex Hirschi is a popular automotive YouTuber.
She has more than 11 million subscribers on her YouTube channel by the name Supercar Blondie.
Introduction-
Alexandra Mary Hirschi (Alex Hirschi) was born on 21 September 1985 into a conservative family in Queensland, Australia.
Her father, Richard is a farmer and a local businessman.
Her mother's name is Julie.
Alex has three siblings, sisters, Nina and Lil Kate and a brother, Jay and she is the middle one.
Love for cars-
Alex has always loved cars since her childhood.
At 11, she drove her first car, a Toyota Hilux on private land for learning driving.
Even though Alex crashed into a gate on her first day of driving, she learnt driving on that day itself.
And at 17, she got her driver's licence.
Moving to Brisbane-
Alex grew up in the countryside in Queensland.
At 13, she along with her mother moved to Brisbane, Australia to attend high school.
Alex's father stayed back at home in Queensland to look after his farm and business.
Later, for her further education and career, she travelled to Switzerland, Hong Kong, Singapore, London, United Arab Emirates and finally settled in Dubai.
Education-
After finishing her schooling, in 2004, Alex joined Queensland University of Technology (QUT) in Brisbane to study Journalism and Business.
While studying here, she did various internships at radio and television stations as a broadcast journalist.
Alex worked as a radio and TV news presenter for Southern Cross Austereo in Brisbane from 2006 to 2007.
She graduated in 2008 with distinction.
In her final year of college, Alex studied from City University of Hong Kong.
Career-
In November 2009, Alex joined Hong Bao Media in Singapore to work as a presenter and producer for eight months.
Later, in September 2010, she moved to the United Arab Emirates to work as a Corporate Service Coordinator for Deutsche Bank.
Alex worked here until February 2012.
Then, in September 2012, she joined Arabian Radio Network in Dubai and worked as a Presenter until March 2017.
Alex moved to Dubai with her husband, Nik Hirschi.
She mainly worked on prime time talk radio shows and drive time shows.
Here, Alex worked as a Radio presenter for Dubai Eye and she also worked as a newsreader for Virgin Radio Dubai, Dubai Eye and Dubai 92.
She got the opportunity to interview people like Jake Gyllenhaal and John Travolta.
From Radio Blondie to Supercar Blondie-
While working for the Radio Network, Alex was known as the Radio Blondie.
As she was the only petrolhead (car fanatic) in her office, in January 2015, she got an opportunity to work with Bentley on radio for their Bentley Continental GT.
Alex's job involved attending events, driving cars and reporting about them on radio.
Once, as an act of gratitude, Bentley Motors offered her a Bentley Flying Spur car for a weekend and as she already loved driving and cars, she readily accepted it.
Alex really enjoyed driving Bentley and thought of making a career around luxury cars.
She started working on social media as Supercar Blondie alongside her full-time job.
Quitting her job-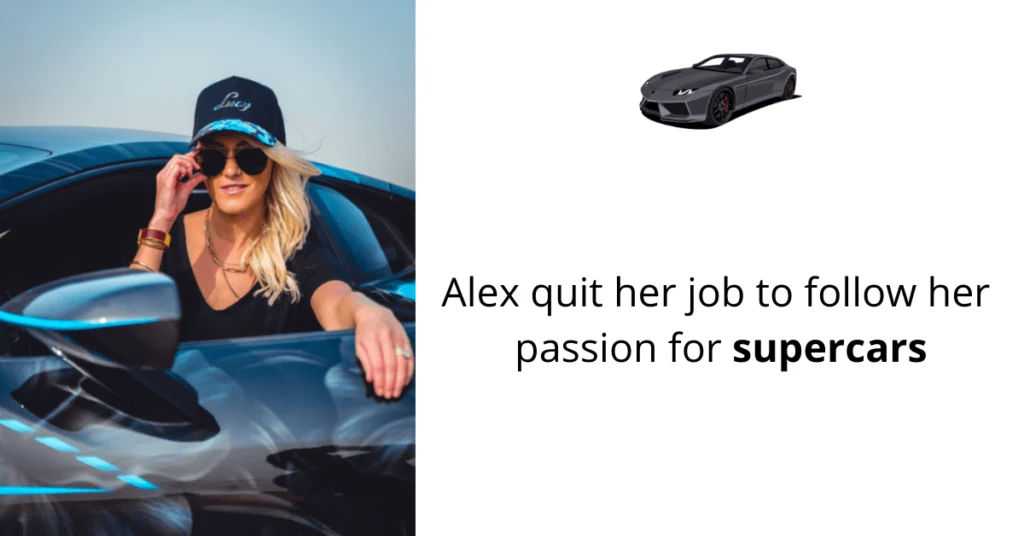 Finally, Alex quit her job as a radio presenter in March 2017 and to fully focus on her social media career.
At that time, she had around 60,000 followers on Instagram.
A year later after working full-time, Alex managed to acquire around four million followers across her YouTube channel, Facebook and Instagram.
Starting small-
Initially, Alex did a lot of hard work in approaching the automobile brands.
She used to regularly attend the industry events to build rapport with people involved in cars.
Fortunately, Alex's efforts were fruitful and she was able to get luxury cars of popular brands like Ferrari, McLaren, etc. to drive.
As she already worked as a journalist, the car brands were confident and comfortable in working with her.
Alex's job had been to promote these cars on social media but when starting out, she had only a few hundred followers on social media.
Becoming successful-
There are three main reasons for her success and they are, producing content on a regular and consistent basis, infusing fun into her videos and creating videos by keeping beginners in mind.
As there are more beginners in the car world than experts, Alex's videos get millions of views, and this makes her very popular.
As of March 2023, she has 11.1M subscribers on her YouTube channel, 50M followers on her Facebook page, 11.7M followers on Instagram and 88.7K Followers on Twitter.
Thanks to these millions of followers across various social media platforms, Alex is one of the biggest automobile influencers of the world.
She earns from advertisements and 'Super Thanks' on her YouTube channel and receives sponsorships.
Personal life-
Alex is married to Nik Hirschi.
She and Nik co-founded Supercar Blondie.
He had a successful 17 year long career in finance but he quit his job on 15 April 2018 to work alongside his wife for Supercar Blondie.
Some interesting facts about Alex Hirschi-
In July 2019, Alex got featured on the German edition of Playboy magazine.
Car Crews With Supercar Blondie is her first TV show, and its first season was released in 2019.
In 2019, Alex was named as the top 30 most influential women in the Arab world by Arabian Business.
She also received several awards like Influencer of the Year, Vlogger of the year, Lifestyle Influencer of the year and Shorty Award for Breakout YouTuber of the year.
Alex was nominated to the 2021 Streamy Awards.
She appeared in TV shows like Grip (2018), Top Gear (2019) and Car Crews (2019- present).
Her favourite cars are Koenigsegg Agera RS and Lotus Evija (an electric car).
Alex interviewed Vin Diesel and collaborated with Lewis Hamilton in one of her YouTube videos.
So, how are you inspired by the success story of Alex Hirschi?
Share with me in the comment section below.
Also read- Inspiring Story of TheStradman
Alexandra Hirschi image credit- Atyr22/Wikimedia Commons
Table of Contents