Godrej Group is one of the biggest Indian conglomerates.
This company was co-founded by Ardeshir Godrej and Pirojsha Burjorji Godrej.
A life full of struggles-
Ardeshir Godrej encountered many failures and setbacks but his persistence and self-confidence made him a very successful entrepreneur.
He couldn't succeed as a lawyer, businessman and an employee.
Ardeshir Burjorji Sorabji Godrej (Ardeshir Godrej) was born in 1868 into a wealthy Parsi-Zoroastrian family.
He studied law.
And in 1894, he was hired by a well-known company in Zanzibar, Tanzania.
Once, Ardeshir Godrej found that his client was the wrong-doer and this finding made him fight the case against his own client in the court.
He did this because he did not want the innocent on the other side to get punished.
After this bad experience, Ardeshir Godrej returned to India and decided not to work as a lawyer because he realised that his honesty and straight-forwardness would not make him a successful lawyer.
Then, he joined a pharmacy store to assist a chemist.
But he was not very satisfied with his work and wanted to do something different in order to positively influence the lives of people.
Ardeshir Godrej quickly realized that he could accomplish this by starting his own business.
Unfortunately, he did not have sufficient funds to start his business and so he took a loan of 3000 rupees from Merwanjee Cama, one of his family's friends.
Starting his own business-
Ardeshir Godrej started a surgical equipment manufacturing business.
The surgical equipment manufactured by his company was of exceptional quality.
As these equipment were made in India, Ardeshir Godrej printed the words "Made in India" on them.
Soon, he decided to export them to England.
Facing rejection-
The British company which inspected his surgical products was very satisfied with the quality of items.
But that British company didn't like the words "Made in India" on those surgical equipment.
So, they ordered Ardeshir Godrej to stop printing "Made in India" on his items but as he was very patriotic, he didn't follow their order.
That British company argued that his products would not sell abroad as many will doubt the quality of his products, as his products were imprinted with the words "Made in India".
So, the exporters rejected his equipment for a silly reason, by which Ardeshir Godrej was forced to shut down his surgical equipment manufacturing business.
Thus, he sacrificed his business for his love towards his country.
Turning point of his life-
After facing many failures in his life, one newspaper article changed Ardeshir Godrej's destiny forever.
Once, he read a newspaper article on the increase of felonies in his city.
The unreliable locks during those times made the job of burglars very easy.
The homes and businesses were at risk from thieves, because they were secured by very inferior quality hand-made locks, which provided zero security to them.
After reading this article, Ardeshir Godrej decided to manufacture the best quality locks in the country.
So, he learnt everything about locks.
But Ardeshir Godrej was worried about funds for his lock business as he was unable to even repay the loan he took for the surgical business.
So, he reluctantly approached Merwanjee Cama for a new loan.
Ardeshir Godrej apologised to Merwanjee Cama for his inability to repay his loan on time and requested him to grant a new loan for his lock business.
He explained his business model to Merwanjee Cama by which he was quite impressed.
Fortunately, he comprehended the potential, honesty and hard-working nature of Ardeshir Godrej and readily granted a second loan, without inquiring about the previous loan.
The best products-
On 7 May 1897, Ardeshir Godrej at the age of 29, started making reliable locks, he branded his high-security locks by the name Anchor.
This was started in a small shed in Central Mumbai.
Ardeshir Godrej used to sell these locks along with a warranty document, which warrants that the Anchor locks are unbreakable.
He toiled very hard and made very good quality locks and he was even granted a patent for them.
Expanding exponentially-
Eventually, Ardeshir Godrej expanded his business.
After a few years, he launched a new range of locks which included guardian locks.
Godrej soon entered into almirah (wardrobe) business.
The wardrobe manufactured by Godrej not only protected valuables from thieves but were also fire-proof.
The nationalist movement-
Ardeshir Godrej was very much influenced by Bal Gangadhar Tilak, who in 1906 highlighted the importance of using the goods produced in India, as India was planning to boycott foreign made goods in favour of the nationalist movement.
Also, during that time, animal products were used in the manufacturing of toilet soaps, as a result these soaps hurt the sentiments of Hindus.
So, Godrej started to manufacture soaps based on vegetable oils.
In 1920, Godrej launched its range of soaps made from natural products.
These soaps were branded as Godrej No.1 and Godrej No.2.
The patriotic Ardeshir Godrej donated a huge sum of 3 lakhs rupees for the national fund.
According to Mahatma Gandhi, this was the biggest fund at that time.
Glory of Godrej-
Now, the Godrej Group is more than a century old.
And employs more than 28,000 employees.
Many people across the globe use at least one Godrej product in their daily lives.
Godrej Group is touching the lives of billions of people across different continents of the world.
Godrej is one of India's most popular and well-known brands.
24 September 2014 is a memorable day in the Indian history.
On this day, Mangalyaan, a satellite made by India, successfully entered Mars orbit after travelling for 298 days.
Godrej jointly made the Vikas engine, a high thrust engine used in this Mars Orbiter Mission.
Also, Godrej jointly developed the launch vehicle used for India's first lunar probe, Chandrayaan-1.
Here, Godrej is a market leader in many different products like hair dyes (Godrej Expert), GoodKnight, Hit (insect repellents), Godrej Interio (furniture), Godrej Storwel (steel almirahs and cabinets), palm oil developer, animal feed companies (Godrej Agrovet), Real estate company (Godrej Properties), etc.
And Godrej also successfully operates several other businesses like Soaps (Godrej No.1, Cinthol, etc.), batteries, bank vaults, home appliances (Godrej Eon manufactures washing machines, air conditioners, microwave ovens, etc.), CCTVs, storage solutions, vending machines, chemicals, construction, dairy products (Jersey), lift trucks, airframes for missiles, photo studios (R.K Studios).
Also this group owns large parts of land in India and manages the real-estate in major cities of India. Godrej group holds more than 3500 acres of land.
Expanding worldwide-
USA-
Godrej acquired Strength of Nature, one of the leading hair care companies in the USA in 2016.
Also, Godrej supplies components to major aerospace players like Boeing through Godrej Aerospace.
South America-
Here, in 2015 Godrej acquired Cosmetica Nacional SA.
In Chile, Godrej runs the popular hair care brand by name illicit, and also operates a manufacturing plant in Santiago, the capital of Chile.
The other big cosmetic brands run by Godrej in South America include Pamela Grant and Millefiori.
Argentina-
In this country, Godrej operates Issue, the popular hair colour brand.
The other notable brands of Godrej in Argentina include Roby, Villeneuve Solaire, Issue Professional and 919.
South Africa-
In 2006, Godrej acquired Rapidol, a hair care brand.
The Godrej products are very popular all over Africa.
Some of the popular Godrej brands in Africa include Inecto, Renew, Frika and Darling Group Holdings.
Nigeria-
In this country, Godrej owns Tura, a personal care company which manufactures germicidal medicated soaps.
Godrej acquired Tura in 2010.
Godrej also manufactured one of the world's tallest oil regeneration Continuous Catalytic Regeneration (CCR) Reactor for Dangote Oil Refinery in Nigeria.
Asia-
Godrej is successfully operating in many Asian countries like Indonesia, India, Oman, etc.
Oman-
In Oman, Godrej jointly owns a furniture company by the name Godrej and Khimji.
And also runs Sohar Industrial Estate, a very large manufacturing facility.
In Asia, Godrej is also a well-renowned insecticide brand.
Indonesia-
Godrej acquired PT Megasari Makmur in 2010.
Godrej runs many popular brands like Hit, Cap Gajah, Stella, Carrera, Mitu, Proclin, NYU and Polytex.
Bangladesh-
Here, Godrej is a part of ACI Godrej Agrovet Joint venture; this company runs one of the biggest cattle field companies in Bangladesh.
Godrej also operates a poultry farm, and many different brands like Good Knight.
Sri Lanka-
In Sri Lanka, Godrej owns many well-known brands like Abha, Shock and Aer pocket.
Charities-
Around 23 per cent of the shares in Godrej group are held by a charity trust.
Godrej also contributes to the welfare of the society by contributing in various charity organisations like hospital (Godrej Memorial Hospital), school (Udayachal High School), etc.
Godrej group also contributes to the environmental protection by conserving Mangrove forests around Mumbai.
Feedback from readers is highly appreciated; it helps me to deliver better results to you.
Infographic-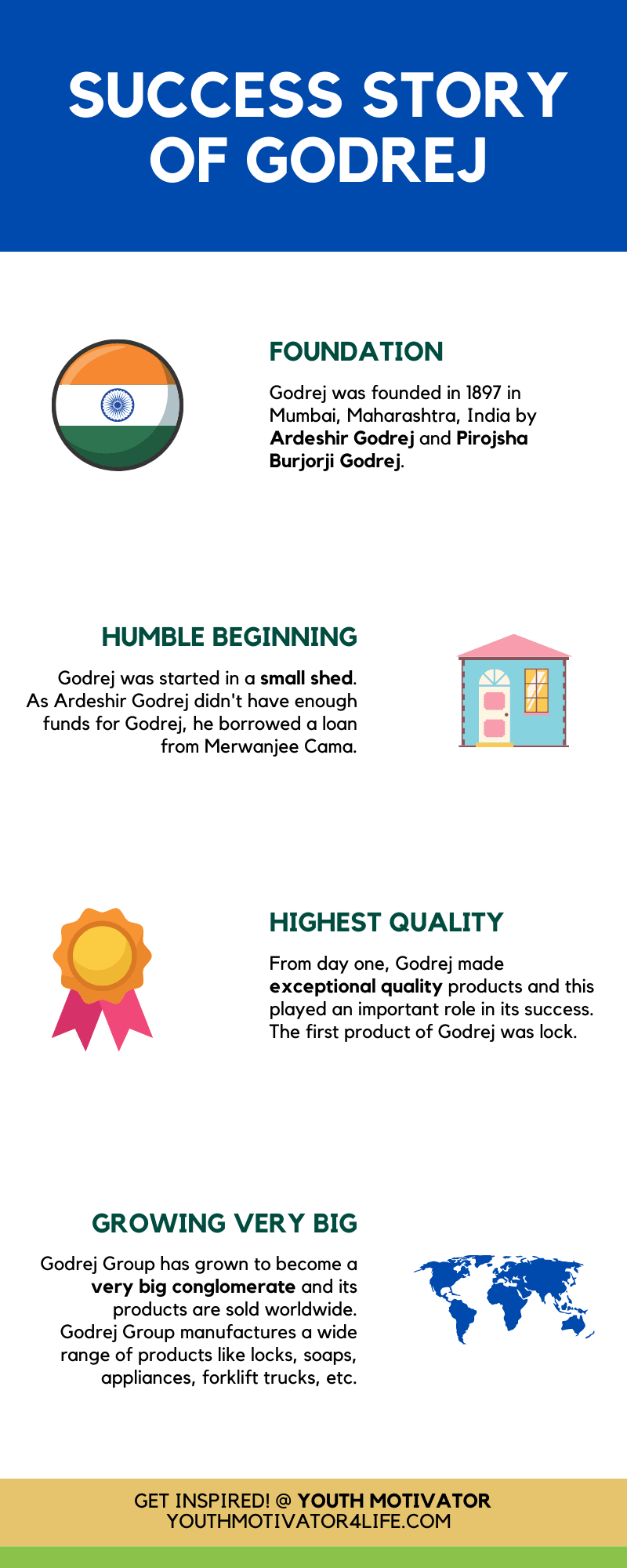 Frequently Asked Questions (FAQs)
How Godrej started?
The birth of the Godrej company is very inspiring.
Ardeshir Godrej was a man full of ethics and determination.
But unfortunately, he couldn't succeed as a lawyer and an employee and he even failed in his surgical equipment manufacturing business.
Luckily, one day Ardeshir Godrej came across a newspaper article which mentioned the increasing thefts in Bombay.
This article sparked an idea in him to manufacture reliable clocks with an aim to reduce the thefts.
And this gave birth to the Godrej company.
How big is Godrej?
The Godrej Group is a very big conglomerate and its products are sold worldwide.
In 2020, its turnover was around 55 billion Indian rupees.
What does Godrej Industries do?
Godrej Industries Ltd is a subsidiary of the Godrej Group and is headquartered in Mumbai, India.
Godrej Industries Limited was initially known as Godrej Soaps.
Godrej Industries is involved in many businesses and has the following divisions-
• Godrej Consumer Products Limited (GCPL) is famous for manufacturing soaps, liquid detergents, hair colourants and toiletries.
• Godrej AgroveT Limited (GAVL) is involved in animal feed and agribusiness.
• Godrej Properties Limited is a real estate company and is one of the top real estate developers in India.
• Godrej Chemicals manufactures and markets a wide range of chemicals for industrial use.
What is Godrej & Boyce?
Godrej & Boyce Mfg. Co. Ltd. (G&B) is a company of the Godrej Group and was founded in 1897.
It was initially making locks but now expanded into engineering solutions, appliances, furniture and security solutions.
What does Godrej Group manufacture?
The Godrej Group manufactures a wide range of products, some of them are as follows-
• Forklift Trucks
• Locks
• Soaps
• Toiletries
• Appliances
• Hair colourants
• Liquid detergents
• Broiler feed
• Layer feed
• Packaged processed poultry and vegetarian products.
Is Cinthol an Indian company?
Yes, Cinthol is an Indian company and belongs to the Godrej Consumer Products Limited.
Cinthol is famous for its wide range of products like soaps, face washes, deo sprays, talc, gels, oils, etc.
Are Godrej Parsi?
Yes, the Godrej Group was co-founded by Ardeshir Godrej and Pirojsha Burjorji Godrej and both of them were Parsis and belonged to a wealthy Parsi-Zoroastrian family of Mumbai, India.
Even today, the majority of the Godrej Group is owned and operated by the Parsi family.
Is Godrej a Tata product?
No, Godrej isn't a Tata product.
Both the Godrej Group and Tata group are different companies.