Gangavva is a famous actress and YouTuber.
She faced countless struggles in all phases of life and later, thanks to the internet she became successful and popular.
Introduction-
Milkuri Gangavva was born in 1958 into a poor family in Polasa, Telangana.
At the age of 3, she lost her father and soon, she also lost her mother.
Then, Gangavva was raised by her grandmother.
She is illiterate and she has two younger brothers.
Getting married-
At the age of 5, Gangavva was married to Gangaiah.
After getting married, she moved to Lambadipalli, Telangana.
By the time Gangavva turned 26, she had four kids.
Gangavva's mother-in-law raised a loan of ₹60,000 for Gangaiah to go to Dubai.
After moving to Dubai, he completely ignored his family and never helped them financially.
Gangaiah worked in Dubai for almost 13 years, but never remitted money to Gangavva.
Working as a labourer-
At a young age, Gangavva also lost her mother-in-law.
As her relatives disregarded her, she was forced to work in order to earn her livelihood and pay off the debts.
Initially, Gangavva worked as a beedi roller and she used to roll around 2000 beedis per day and she was paid only ₹5 for it.
Losing her child-
Once, Gangavva's daughter suffered fits and she was unable to take her to the hospital because she didn't have the required money and also no one came forward to lend her money as she didn't pay off her previous loan.
Unfortunately, she lost her daughter and at that time, her daughter was 8 years old and was studying in the second grade.
Financial struggles-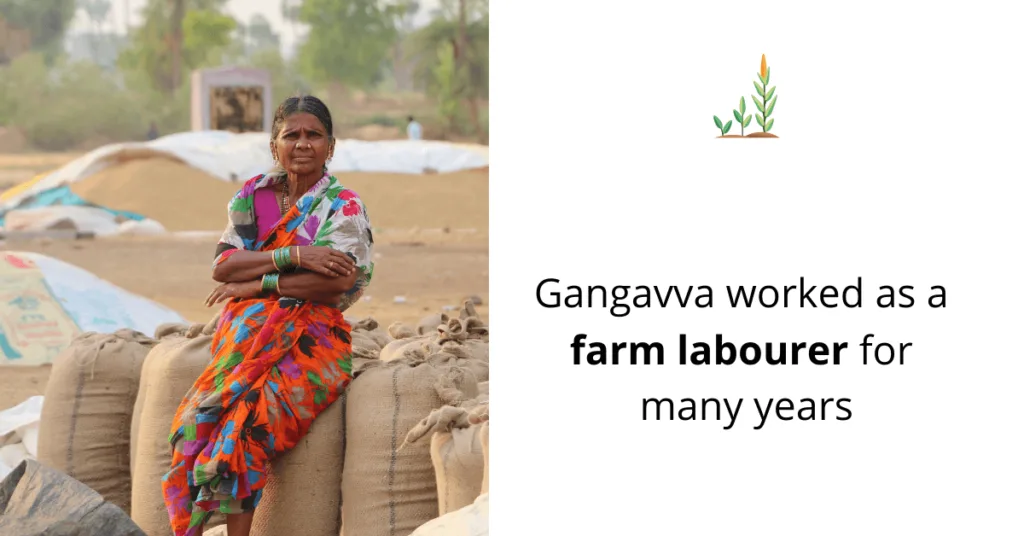 Later, Gangavva started working as a farm labourer and her work involved mowing grass, sorghum and watering the crop, etc.
She undertook the marriage of her two daughters and for this, she had to take loans.
Gangavva had to sell her land to repay some of her loans and she continued working as a farm labourer.
But her earnings were not at all sufficient for her and her family to sustain let alone repay the loans.
Getting abused-
Gangavva's husband returned to India from Dubai.
He was a drunkard and used to always abuse her.
After a few days, he died due to alcohol abuse.
Entering YouTube-
Gangavva's son-in-law, Sriram Srikanth is a YouTuber and he featured her in some of his videos on his YouTube channel, My Village Show.
Luckily, some of the videos featuring her became viral and in 2017, she stopped working as a labourer and started regularly acting in the videos.
So, at 60, Gangavva started her new career as a YouTuber.
Her first viral video is titled- Village Internet Problems | my village show | gangavva. This video was published on 4 July 2017.
Becoming famous-
Over time, Gangavva became very famous thanks to her candid acting and also, she doesn't makeup for shooting.
In March 2018, she also attended YouTube FanFest.
Thanks to her popularity, Gangavva got a few chances to act in movies like Mallesham (her debut movie), iSmart Shankar, SR Kalyanamandapam, Raja Raja Chora and Love Story.
She also participated in Bigg Boss 4, a Telugu reality TV show.
Gangavva also got a chance to interview many popular actors and actresses like Akkineni Nagarjuna, Samantha Ruth Prabhu, Vijay Deverakonda, Tamannaah, etc.
On 8 March 2020, she received Woman Achiever Award 2020 on International Women's Day by the Government of Telangana.
So, how are you inspired by the success story of Gangavva?
Share with me in the comment section below.
Gangavva featured image credit- Myvillageshow/Wikimedia Commons
Gangavva image credit- Myvillageshow/Wikimedia Commons
Sharing is caring!
Researching and writing an article takes many days of effort; so, it would be nice if you share the article!
As an Amazon Associate I earn from qualifying purchases.
Thanks to all of you curious readers, this website has crossed a million views!