Dave Lee is one of the most popular tech YouTubers.
He has more than three million subscribers on his YouTube channel, Dave2D.
Introduction-
Dave Lee was born and raised in Toronto, Canada.
He was born to Asian parents; his father is a Malaysian Chinese and his mother is a Burmese Chinese.
Education and career-
Dave studied a course related to biology (Life Sciences) from the University of Toronto.
Then, he started working at a construction company that designs medical buildings.
Dave's job involves equipping the medical buildings with technology.
Beginning with a 2D game-
Around 2012, Dave wanted to do something creative and so, he wanted to develop a 2D game.
His idea was to develop a game and submit it to the App Store and make money by selling it.
His game's concept was something like to inject the game creatures with a touch-based syringe so that they would burst.
Until that time, Dave was using a Windows computer but as he needed to code his game in Apple's Xcode, he purchased a used 2011 MacBook Air.
Also, at that time, he didn't know coding, so he started learning it.
Working for 2 years-
Finally, after working for two years, Dave developed a game by the name, Inject and published this game on the App Store in February 2014.
As he was working a full-time job, he used to develop this game after returning from work until late at night.
Dave priced his game at $2 and was able to sell a total of around 2000 copies.
The Inject game didn't sell well but he liked the process of creating something and sharing it with the world.
You can watch the Inject game's trailer here.
While developing the game, Dave also worked with several game development teams.
Starting Dave2D YouTube channel-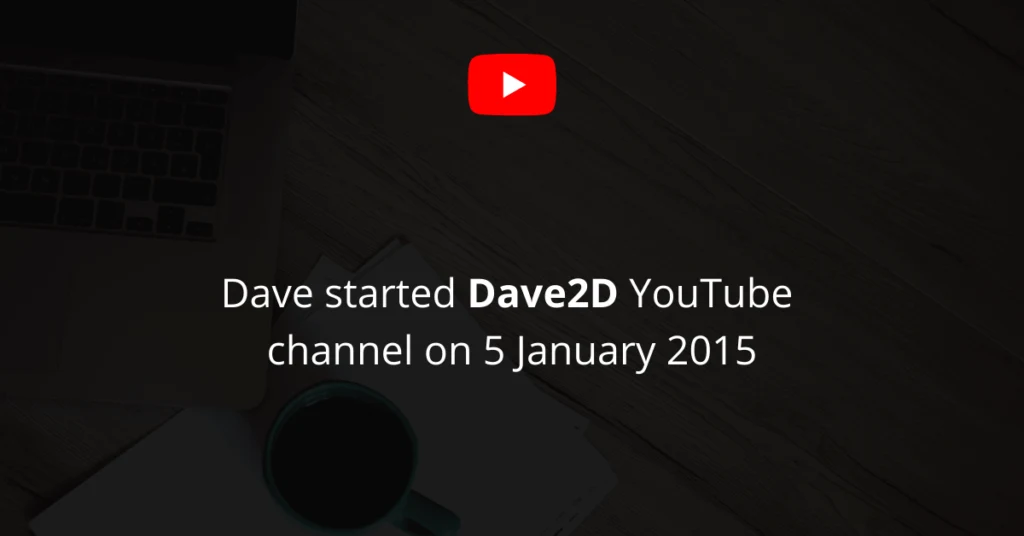 After Dave created and published the game, he was bitten by the creative bug and was itching to express his creativity by starting a YouTube channel.
But he was hesitant to put himself on videos as he feared what his relatives and friends might think of him.
So, Dave shared this with his 14-year-old friend, Dylan who advised him to just start a YouTube channel and asked "Why do you care what other people think? If you want to make something, just do it."
So, on 5 January 2015, he started his Dave2D YouTube channel.
On 14 January 2015, Dave published his first video.
Story behind the name-
Dave2D was Dave's username on forums when he used to learn game development.
Later, he used this name for naming his YouTube channel.
Starting small-
Dave started off his YouTube channel by purchasing a used 15-inch Apple MacBook Pro and borrowing a LUMIX GH4 camera from his friend.
For many years, he shot his videos with a single lens and the same static camera and since the beginning, he focused on improving his content.
Later, Dave upgraded from the GH4 to a RED digital camera.
For many years, he didn't have a dedicated studio for shooting videos and he used to shoot his videos mostly in his office at work and sometimes in his home and condo.
And only from May 2021, Dave started shooting videos in his personal studio.
Millions of subscribers-
In 2017, Dave2D crossed a million subscribers.
As of 2021, Dave has acquired more than 3 million subscribers on his YouTube channel.
He became a successful YouTuber despite being very busy with his full-time job.
Creative outlet & his inspirations-
As his regular desk job doesn't allow him to be creative, Dave uses his YouTube channel as his creative outlet.
He is inspired by the tech YouTubers like Marques Brownlee and Linus Sebastian of Linus Tech Tips.
Dave's other favourite YouTubers are Jonathan Morrison, Lewis Hilsenteger of Lew Later and Austin Evans.
His family-
Dave got married in 2011 and is blessed with two kids.
As of 2021, he is 40.
Some interesting facts about Dave Lee-
Dave is a car enthusiast and purchased a Tesla in 2017.
He loves playing video games.
Dave has a small team for helping him in managing his YouTube channel.
So, how are you inspired by the success story of Dave Lee?
Share with me in the comment section below.
Table of Contents
Sharing is caring!
Researching and writing an article takes many days of effort; so, it would be nice if you share the article!
As an Amazon Associate I earn from qualifying purchases.
Thanks to all of you curious readers, this website has crossed a million views!