Lionel Messi is a famous football player.
Introduction-
Lionel Andrés Messi Cuccittini (Lionel Messi) was born on 24 June 1987 in Rosario, Argentina into a football-loving family.
He is the third child of the four children of Jorge Messi and Celia María Cuccittini.
Lionel Messi's siblings include two elder brothers namely, Rodrigo Messi and Matias Messi and a younger sister, Maria Sol Messi.
His father, Jorge Messi initially worked as a worker at a steel factory and was later promoted to the post of a manager.
His mother, Celia María Cuccittini used to work as a part-time cleaner.
Since his childhood, Lionel Messi developed a great passion towards playing football and his family also supported him very much.
At a young age of four years, he joined a local football club by name, Grandoli where he was coached by his father.
On the ground, Lionel Messi used to quickly grab the football from the fellow players and keep the ball glued to his foot for many minutes.
He used to play football very well and everyone around him believed that Messi would definitely grow up to become a great football player.
Lionel Messi too believed in himself and was determined to grow into a great, world recognisable football player.
Salvador Aparicio was the first football coach of Lionel Messi in Argentina.
He said that when Lionel Messi was a child, he used to score six to seven goals in every match, even when there were players much older than him.
At the age of 6, he joined Club Atlético Newell's Old Boys (Newell's Old Boys) located in his city, Rosario.
Lionel Messi was noticeably small for his age and when compared to the other players of his age.
He was the shortest player in his team but that could not stop him from becoming the top scorer of his team.
Thanks to his talent, Lionel Messi became quite popular and many football clubs started to notice him.
The dreams shatter-
Everything was going fine, until the age of 10 years, when Diego Schwarzstein, an endocrinologist diagnosed Lionel Messi with a growth hormone deficiency and this shattered all his football dreams.
Growth hormone deficiency (GHD) is a rare disorder in which the affected person cannot grow taller due to inadequate secretion of the growth hormone (GH).
As a part of the treatment, his parents used to inject young Lionel Messi with growth hormones in his legs every night.
Later, he learned to inject the injections by himself.
Lionel Messi's father was able to afford his treatment only for two years and after two years, he was not in a position to afford for his treatment because the treatment was expensive as it cost at least $1,000 per month.
But he never stopped playing football even during his treatment period.
This shows his love towards football.
Newell's Old Boys football club, the club for which Lionel Messi was playing football also denied paying for his treatment.
Club Atlético River Plate (River Plate) showed interest in him but was unwilling to sponsor his medical treatment.
So, River Plate rejected Lionel Messi on the medical grounds.
Luckily, Charly Rexach, a team director of FC Barcelona noticed him and wanted to arrange a trial to test his football skills.
FC Barcelona is a Spanish professional football club located in Barcelona, Catalonia, Spain.
The FC Barcelona's youth academy hunts for the young talented football players across the world to provide training to them, in order to make them better at the game of football.
Losing a loved one-
Since his childhood, Lionel Messi was deeply attached to his maternal grandmother, Celia and she used to accompany him to training and matches.
He became very upset when she passed away and did not want to play football for many weeks altogether.
But Lionel Messi returned on the field when his father motivated him to play football.
This time, he was even more determined to play football with a renewed vigour to make his grandmother proud of him by becoming a successful professional football player.
Charly Rexach of FC Barcelona was very impressed by Lionel Messi's talent and skills and so, on 14 December 2000, he signed Messi's first contract on a napkin, as he was unable to find a paper.
This was his first FC Barcelona contract.
Lionel Messi's father readily agreed for this deal because he wanted his son to become a great footballer and also as he was unable to afford for his son's medical treatment.
FC Barcelona promised to take care of all the expenses of his medical treatment and his family believed that the treatment would make him big enough to play soccer.
The beginning of a new chapter-
In February 2001, Lionel Messi and his family relocated to Barcelona, Spain.
This marked the beginning of a new chapter in the life of the 13 year old Lionel Messi.
Unfortunately, he faced a new set of problems here.
Due to some rules relating to the foreign players, Lionel Messi rarely played football in the first year.
During this same time, his mother and siblings returned to their home country, Argentina.
This made him homesick as he got separated from his mother and also, he became very quiet as he could not play his favourite game, football.
Luckily, in February 2002, Lionel Messi was enrolled in the Royal Spanish Football Federation (RFEF), where he was allowed to play football.
Height no bar-
Lionel Messi at a height of 1.7 m (170 cm) is shorter when compared to the other football players.
As he was very short, his teammates were very surprised on seeing him.
All their doubts got cleared when they saw Lionel Messi playing on the ground.
As Lionel Messi also knew that his height was his shortcoming, he practised football very hard to compensate for his shortcoming.
During this time, he befriended Cesc Fàbregas and Gerard Piqué, who were his teammates.
On 16 November 2003, Lionel Messi made his first team debut when he was 16 years, four months, and 23 days old during a friendly against José Mourinho's Porto.
In October 2004, the senior players requested the manager, Frank Rijkaard to promote Messi.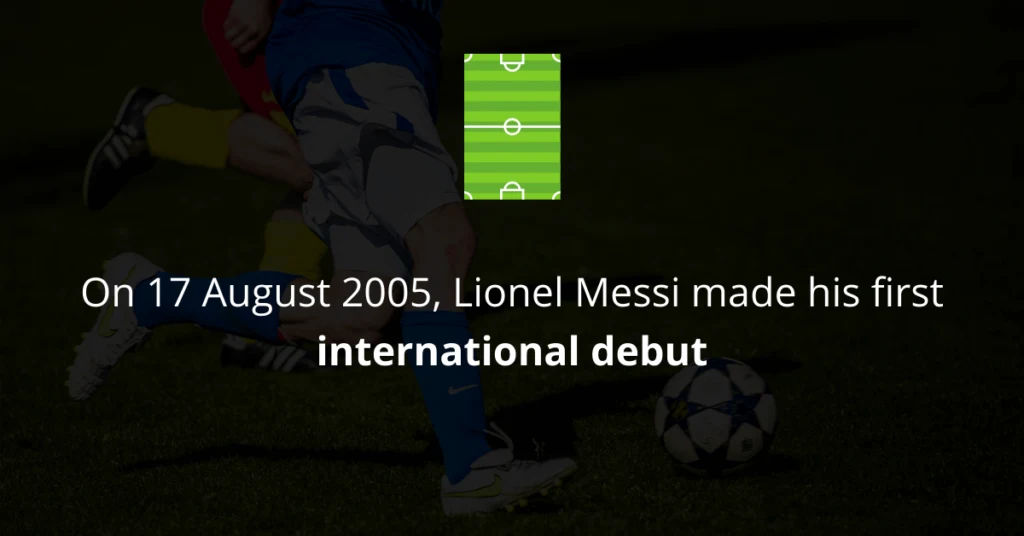 He made his first international debut on 17 August 2005 during a friendly match against Hungary.
Beginning of the success saga-
Lionel Messi became the youngest player at that time at 17 years to represent Barcelona in an official competition and to score a league goal for FC Barcelona.
In no time, he rose through the Barcelona club's ranks.
Lionel Messi never looked back again and made countless achievements in his football career.
Thanks to his amazing gameplay, Argentina won the 2005 FIFA World Youth Championship which took place in the Netherlands.
As Lionel Messi was the best player of this tournament and scored the most number of goals (six), he won both the Golden Ball and Golden Shoe.
The first hat-trick-
On 10 March 2007, Lionel Messi scored his first hat-trick.
He also won an Olympic gold medal at the 2008 Summer Olympics held in Beijing, China.
In 2012, Lionel Messi created a Guinness World Record for scoring the highest number of goals in a calendar year.
He scored a total of 91 goals, thus breaking the pre-existing record of 85 goals scored by Gerd Müller in 1972.
In 2014, Lionel Messi inspired the weaker Argentina football team and took it to the World Cup final.
In the final match, Germany defeated Argentina 1–0 and claimed the World Cup.
In this tournament, Lionel Messi was selected as the best player of the tournament and was awarded the Golden Ball.
One of the world's highest goal scorers-
Lionel Messi scored more than 500 goals in his football career which makes him one of the world's highest goal scorers in the history of football.
He is the only player in the world to win the European Golden Shoe (European Golden Boot) award six times.
For his whole career, Lionel Messi played for FC Barcelona.
FC Barcelona became one of the premier football clubs in the world, thanks to the contributions of Lionel Messi.
He also serves as the captain of the Argentina national football team.
Announcing retirement and later revoking it-
In 2016, during the final match of Copa América football championship, Lionel Messi missed a shootout, because of which Argentina lost to Chile.
This loss was very disheartening for him because under his captaincy, Argentina lost the final match for the fourth time.
This made Lionel Messi announce retirement from international football.
He finally revoked his retirement on 12 August 2016 after his fans requested him to do so by running a campaign with signs like "Don't go, Leo".
Once again, Lionel Messi captained the Argentina national football team in the 2018 FIFA World Cup held in Russia.
In the years 2009, 2010, 2011, 2012, and 2015 he won the World's Player of the Year award.
Lionel Messi also won six Ballon D'or awards.
His net worth is around $400 million.
Lionel Messi has signed numerous endorsement deals with brands like Adidas, Ooredoo, Huawei, Gatorade, Mastercard, Pepsi, Hawkers, Lay's, etc.
He is a very down to earth, gifted player who values his family.
Lionel Messi became successful because he made many sacrifices and worked hard with dedication.
Passing a rule-
Lionel Messi's achievements made him so popular in his country, so much that the parents started to name their children after Messi.
Thousands of children in his hometown, Rosario were named after Messi, this prompted the government to make a rule which banned the parents to name their kids Messi to avoid confusion regarding identifying the children.
Lionel Messi realised his dream of becoming one of the greatest football players in the world, after he developed a clear vision for his goal.
Why is Messi so interested in soccer?
From his very childhood, Lionel Messi was very passionate about playing football.
His passion not only made him world famous but also saved his life, as his football skills helped him to pay for his medical treatment.
So, Lionel Messi plays football not just for himself and his team but for something much bigger.
That is the reason why he points a finger on each hand towards the sky, every time he scores a goal.
Feedback from readers is highly appreciated; it helps me to deliver better results to you.
Frequently Asked Questions (FAQs)
What is Lionel Messi's story?
Lionel Messi's story is very inspiring.
He became one of the best footballers in the world despite struggling from a medical condition, poverty and many setbacks.
So, it's no wonder that Lionel Messi garnered so many fans across the world.
How did Lionel Messi become a footballer?
Since a very young age Lionel Messi was very passionate about playing football.
And his family also supported his passion.
At the age of 4, Lionel Messi joined the local football club Grandoli and received coaching from his father.
Thus, Lionel Messi became a footballer at a young age.
What is Lionel Messi famous for?
Undoubtedly, Lionel Messi is a very famous football player.
The following things made him famous-
• Being one of the highest scorers in football.
• Winning many awards like Ballons d'Or, FIFA World's Best Player awards, European Golden Shoes, etc.
• Being one of the highest paid footballers.
• Donating millions of dollars for social issues.
Is Lionel Messi a billionaire?
Yes, Lionel Messi is a billionaire.
In 2020, his career earnings exceeded $1 billion.
What is Lionel Messi's education?
Lionel Messi did his schooling from Escuela Primaria N° 66 "Gral. Las Heras" in Rosario, Santa Fe Province, Argentina.
He couldn't study further because he signed a contract with FC Barcelona when he was just 13 and became busy playing football.
Is Lionel Messi sick?
Thankfully now Lionel Messi is healthy.
At the age of 10, he was sick due to a growth hormone deficiency but fortunately, FC Barcelona paid for his medical treatment and helped him to get well.
Will Lionel Messi join Manchester City F.C.?
No, Lionel Messi has no plans of joining Manchester City F.C.
He prefers to stay with FC Barcelona.
Can Lionel Messi speak English?
No, Lionel Messi can't speak English but he can understand the language.
He can only speak Spanish and Catalan.
Featured image credit- Wikimedia Commons
Table of Contents