Bear Grylls is a world famous British adventurer popular for his adventures and Man vs. Wild television series.
Introduction-
Edward Michael Grylls (Bear Grylls) was born on 7 June 1974 to Michael Grylls and Sarah Ford in London, England.
When he was just a week old, his sister Lara Fawcett nicknamed him Bear.
His father Michael Grylls was a member of the Royal Yacht Squadron and he taught Bear Grylls climbing and sailing.
Becoming strong-
In school, Bear Grylls was bullied by some boys.
This forced him to work on himself to become stronger, so that he can defend himself against those bullies.
And Bear Grylls learnt martial arts like karate.
Eventually, he earned a black belt in Shotokan karate.
So, the bullies indirectly helped Bear Grylls to become tougher and more resilient.
Joining the British Army-
After completing his schooling, Bear Grylls joined the British Army.
And for the next three years from 1994–1997, he served in the British Army reserves.
Here, Bear Grylls received exhaustive training on carrying out special operations, desert and winter warfare and in combat, weapons, explosives, etc.
This training made Bear Grylls well-informed about almost all weapons.
Narrow escape-
Bear Grylls served as an army paratrooper in Africa, here an incident changed his life forever.
As Bear Grylls was a highly skilled special officer he was sent to Africa twice to carry out stealth operations and combat missions.
His first mission was successful but the second mission destroyed his career in the army.
Bear Grylls and his colleagues were instructed to reach their mission points with the help of parachutes and they were initially transported by a plane.
Bear Grylls performed free fall parachuting from the plane, from an altitude of 16,000 feet.
But unfortunately, the canopy of his parachute got ripped off at that height.
As a result, Bear Grylls came spiraling down rapidly and then, he dashed onto the desert violently.
This fall broke three vertebrae in his back.
Fortunately, the rescue team found him and shifted him to the hospital at the appropriate time.
And after this, Bear Grylls spent the next 18 months of his life covered in plasters and braces in a hospital in the United Kingdom.
The doctors opined that he could never walk in his life again.
Barring all these doubts, his childhood dream of climbing Mount Everest intensified in his mind.
A bold decision-
Even after sustaining severe injuries, Bear Grylls did not lose hope and continued to dream about climbing Mount Everest.
Just after 18 months of this gruesome incident, he conquered the summit of Mount Everest.
Nothing is impossible-
Bear Grylls proved that nothing is impossible with hard work and dedication as he climbed one of the toughest mountains, Ama Dablam in Nepal in 1997 and this made him the youngest Briton to climb Ama Dablam.
And on 16 May 1998, he climbed the summit of Mount Everest.
TV shows-
You will be surprised to know that Bear Grylls's first TV show was Escape to the legion and not Man vs. Wild as many believe.
The Escape to the legion TV show was aired on Channel four.
Only after this, he was appointed to perform for a new television format, known as Man vs. Wild.
The Man vs. Wild television series was released on March 10, 2006.
Initially, this television series was named as Born Survivor: Bear Grylls but later was changed to Man vs. Wild.
Man vs. Wild –
The first episode of the Man vs. Wild episode was The Rockies; it was aired on 10 March 2006.
And now, the Man vs. Wild television series has garnered billions of fans across the world.
Man vs. Wild is one of the most popular reality shows in the world and these shows are aired on the Discovery Channel, a television network.
This television series educates the general public regarding the survival skills required in the wild and during the emergency times.
His favourite weapon is Gerber Bear Grylls Ultimate Knife, a fixed blade knife survival knife.
Bear Grylls uses this knife in many of his TV shows.
A world-famous series-
The Man vs. Wild series is viewed in around 180 countries of the world.
This show is one of the most popular television shows in America and Bear Grylls has also garnered loyal fans across the globe.
Adventurous till date-
Even now, he regularly plays with the dangers and he narrowly escaped death numerous times.
In an episode in the forests of Vietnam, Bear Grylls accidentally cut his finger with a sharp bamboo.
In another incident, Bear Grylls was performing on the Canadian Rockies, a mountain range located in Canada.
The heavy camera equipment and sledge fell on his thigh.
And in Australia, Bear Grylls fought with a crocodile and eventually killed it.
World record-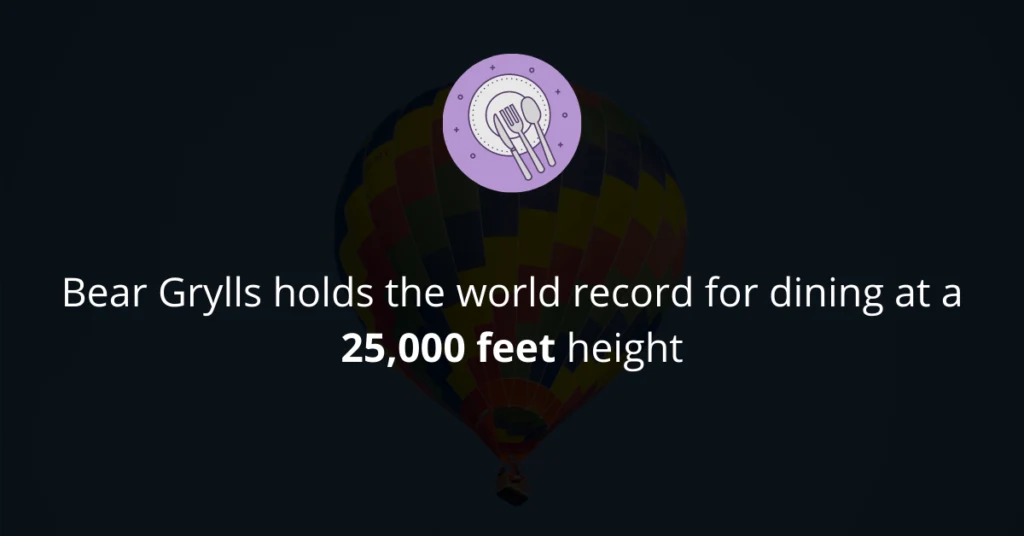 Bear Grylls holds the world record for hosting the world's highest dinner party in a hot-air balloon at a whopping 25,000 feet height.
In 2005, Bear Grylls and his fellow adventurer, Lieutenant Commander Alan Veal performed this amazing feat.
They dined up in the sky on a dining table which was fixed onto a hot air balloon.
There, they consumed a three-course meal which included asparagus tips, duck a l'orange and fruit terrine.
Bear Grylls and Alan Veal took around twenty minutes to complete their meal at a freezing -49 degrees Fahrenheit and dedicated this adventure to the royal queen Elizabeth.
Later, they descended by performing skydiving.
Philanthropy-
In addition to being an adventurist, Bear Grylls is also a philanthropist.
He donated to many non-profit organisations like The Prince's Trust, The JoLt Trust, Global Angels, Hope and Homes for Children, SSAFA Forces Help, Royal National Lifeboat Institution, The Duke of Edinburgh's Award Scheme, etc.

At the age of 35, Bear Grylls was appointed as the chief scout for The Scout Association.
Family-
In 2000, Bear Grylls married Shara Cannings Knight.
This couple is blessed with three boys namely, Marmaduke Mickey Percy Grylls, Jesse Grylls and Huckleberry Edward Jocelyne Grylls.
Three generations of adventurists-
We all know that Bear Grylls and his father, Michael Grylls are adventure lovers.
But you will be surprised to know that even the children of Bear Grylls do not shy away from being adventurous.
The seven year old Jesse Grylls saved the life of a girl when she accidentally fell into a stream.
Adventurous author-
Bear Grylls has authored many great books like-
Mud, Sweat, and Tears, How to Stay Alive: The Ultimate Survival Guide for Any Situation.
A Survival Guide for Life.
The Blizzard Challenge.
Facing Up: A Remarkable Journey to the Summit of Mt Everest.
Mission Survival 1: Gold of the Gods.
To My Sons: Lessons for the Wild Adventure Called Life.
The Sea Challenge.
Mud, Sweat, and Tears book is the autobiography of the Bear Grylls and it covers many interesting topics like motivation, survival techniques, adventures, etc.
His first book was Facing Up, this book stood as the top-10 best-selling books in Britain and this same book was released in the USA with the title, The Kid Who Climbed Everest.
Barack Obama-
In one episode of Man vs. Wild , Bear Grylls did trekking with Barack Obama, the 44th president of the United States in the forests of Alaska.
During this trek, they discussed various issues like fighting climate change, work-life balance, etc.
Narendra Modi –
In 2019, Narendra Modi, the Prime Minister of India, participated in a Man vs. Wild series along with the Bear Grylls.
The main purpose of this series is to spread awareness about animal conservation and environmental change.
This particular series has been shot at the Jim Corbett National Park, a wildlife sanctuary located in the Uttarakhand State of India.
Jim Corbett National Park is famous for flora and fauna like Bengal tigers, leopards, wild elephants, etc.
Feedback from readers is highly appreciated; it helps me to deliver better results to you.
Featured image credits: Jamie Gray/Bear Grylls/Wikimedia Commons
Infographic-
Table of Contents