Arunima Sinha is an Indian mountain climber and volleyball player.
Introduction:
Arunima Sinha was born on 20 July 1988 in Uttar Pradesh, India and was a national level football and volleyball player.
In 2011, she was travelling from Lucknow to Delhi to participate in an event, then an unfortunate incident occurred, she was mercilessly pushed from a moving train by a gang of robbers, when she resisted giving her gold chain to them.
Arunima Sinha was helpless as even though the train was packed with people, no one came forward to protect her from thieves.
Unfortunately, another train was running in the nearby track, with which she collided.
After a while, when Arunima Sinha tried to get up, she noticed that her limb was lost and blood was oozing out and her other leg was severely fractured and bones came out and her spine was badly fractured.
She was screaming all night for help but to no avail.
Soon she lost her sight, she used to sense trains by feeling the vibration of trains.
Almost 50 trains passed by Arunima Sinha.
After a while, rodents started to bite her body, she was fully conscious but her body gave away.
Getting hospitalized-
Next morning, Arunima Sinha was noticed by some villagers and they transferred her to a local hospital.
There doctors and medical professionals were discussing that they lacked blood for blood transfusion, anaesthesia, etc. they were worried on how to start treatment.

Arunima Sinha was able to hear their conversations; she called them to continue their treatment as she badly wanted to live.
Then, the doctor and pharmacist donated their blood to save her life.
And the doctor amputated her limb without any anaesthesia.
When Arunima Sinha's news reached the media, Arunima was transferred to a better hospital, All India Institute of Medical Sciences (AIIMS) trauma centre, in Delhi.
She was treated in that hospital for over four months.
When Arunima Sinha recovered a little bit, she came across newspapers, which for gaining attention wrote false news about her.
Those newspapers mentioned that she did not have a ticket, so she jumped out of train and another newspaper said that she attempted suicide by jumping out of a moving train.
Luckily, her family members stood by her side and condemned this false news.
Biggest decision-
Arunima Sinha then decided on the hospital bed that she would prove her worth by climbing Mount Everest and this was a very tough decision.
She was inspired by Yuvraj Singh who recovered from cancer and rejoined the Indian cricket team and on seeing him, she also decided to make a comeback.
When she put forth her idea, many people thought that she was crazy and demotivated her, by saying that she is unfit to climb Mount Everest.
Arunima Sinha was then taken to Bachendri Pal, who reached the summit of Mount Everest in 1984 for guidance in mountaineering.
She directly went to meet her from the hospital, with fresh stitches on her legs.
Arunima Sinha was affirmed by Bachendri Pal for her decision; she was the only person apart from Arunima's family to have confidence in her.

For Arunima, climbing Mount Everest was easy compared to the difficulties she faced in her life.
Scaling Mount Everest-
Then, Arunima Sinha went for training to climb the mountain.
When she walked from the road head to the base camp, it took her 3 hours.
A healthy person would cover that distance in less than 10 minutes but because her right leg's bones were still not properly united and her left prosthetic leg was swollen and the wound was still fresh, she took more time.

And when Arunima Sinha tried to walk, blood started to ooze out from her legs.
She took her mountain climbing training here, then, after a period of 8 months luckily she got a sponsorship and went on to conquer Mount Everest.
Fastest person-
Arunima Sinha was the fastest person in her group to climb Mount Everest.
But her seraph was not ready to help her because of her health condition, but after long negotiations, he reluctantly agreed.
When Arunima Sinha started to climb the mountains, her prosthetic leg used to slip on ice.
She however climbed till camp 3, but when she tried to climb camp 4, she noticed many mountaineers dying and many dead bodies.
When she climbed up from camp 4, Arunima Sinha noticed heaps of dead bodies, she even noticed a Bangladesh citizen wavering his hand, asking for help.
She noticed him to die after a few minutes due to lack of oxygen, she felt very fearful, but even then, she was determined to mount.
Arunima Sinha wanted to help him but was not able to do so, so then she decided that she will climb Mount Everest on behalf of all these people.
When she reached the south summit which is a little far away from Mount Everest, she was warned by her Seraph to descend as her oxygen was getting depleted.
Arunima Sinha did not want to miss reaching the top of Mount Everest, so she decided to move towards her goal.
After one hour she was on the crown of Mount Everest.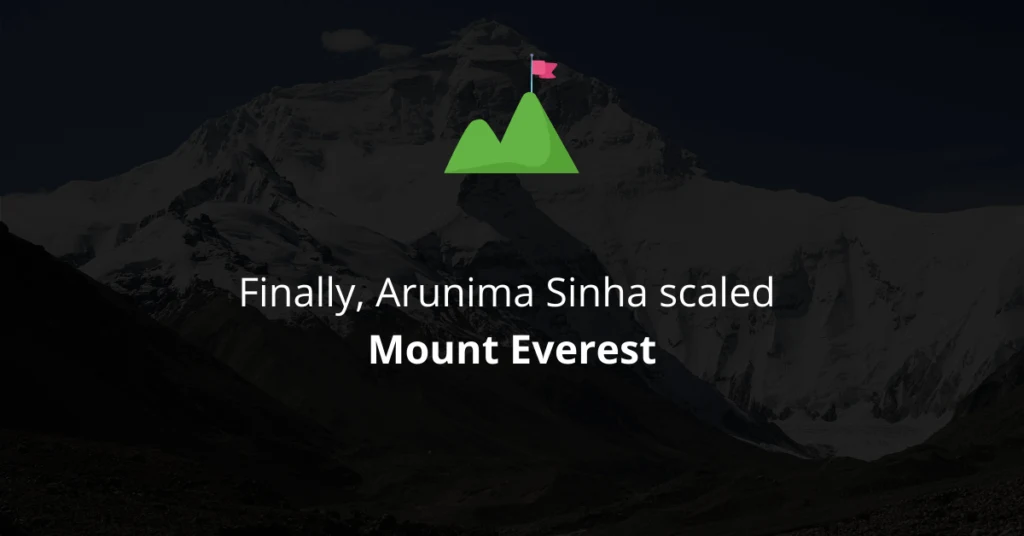 Arunima Sinha proved that physical disability is not a big issue but mental disability is a huge problem, which makes even able bodied men disabled.
She then realised that at 8848 feet, she was getting short of oxygen and even then she recorded her achievement in camera, so that even if she dropped dead, she can prove the world that she achieved her objective.
When she started descending Mount Everest, shortly her oxygen got completely depleted.
Luckily, Arunima Sinha found an oxygen cylinder which was disposed of by a British climber who had another oxygen cylinder.
But unfortunately, her prosthetic limb came out completely, and one of her hands was losing sensation due to the ice-cold temperature.
Then, Arunima Sinha secured her leg with the rope and in a cave she fitted her prosthetic leg.
She turned her weaknesses into her greatest strength.
Other Achievements–
Arunima Sinha scaled Africa's highest mountain- Mount Kilimanjaro, Europe's Elbrus and Mount Vinson in Antarctica, in Europe, Carstensz Pyramid in Indonesia, Kosciuszko in Australia, and Aconcagua in Argentina.
She also received many awards like Padma Shri, Tenzing Norgay,etc.
Feedback from readers is highly appreciated; it helps me to deliver better results to you.
Frequently Asked Questions (FAQs)
How did Arunima Sinha lose her leg?
Arunima Sinha lost her leg in 2011 when she was pushed by robbers from a moving Padmavati Express train when she resisted giving them her gold chain.
Why was Arunima Sinha travelling by train?
On 11 April 2011, Arunima Sinha was travelling from Lucknow to Delhi to attend an examination for joining the Central Industrial Security Force (CISF).
What was Arunima Sinha before the accident?
Before the accident, Arunima Sinha was completely healthy and was a national level football and volleyball player.
After the accident, she turned into a mountaineer.
Who is the first disabled person to climb Mount Everest?
On May 27, 1998, Tom Whittaker of the United States became the first disabled person to climb Mount Everest.
Whereas on 21 May 2013, Arunima Sinha became the world's first female amputee to climb Mount Everest.
How did Bachendri Pal encourage Arunima Sinha?
Bachendri Pal encouraged Arunima Sinha by showing confidence in her even when she wasn't in her best physical condition.
How does Arunima Sinha inspire us?
Arunima Sinha inspires us in many ways and some of them are as follows-
• Don't fear to dream big. Arunima Sinha determined to climb Mount Everest even when she lost a limb and even when she wasn't completely recovered.
• Be inspired. During the difficult times, Arunima Sinha got inspired by knowing the story of Yuvraj Singh.
• Train extensively. Arunima Sinha trained extensively for eight months for mountain climbing and this helped her to climb Mount Everest.
What were the problems faced by Arunima Sinha?
Arunima Sinha faced many problems in her life and some of them are as follows-
• In 2011, she lost her limb and was also severely fractured at many places.
• Arunima Sinha got disappointed when the media covered her story inappropriately.
• She was also saddened when the people around her discouraged her when she decided to climb Mount Everest.
• Also, during training and climbing mountains, Arunima Sinha faced many problems with her prosthetic leg.
Is Arunima Sinha a Bengali?
No, Arunima Sinha isn't a Bengali because she was born in Uttar Pradesh.